Ode to Odissi
S. D. Sharma

Dancer Dona Ganguly talks about the role and relevance of classical
artistes in times of commercialisation

Indian classical dance forms, divine in origin and with a spiritual grandeur, have been influencing the cultural life of art lovers since ages and with the passage of time, many genres have even evolved. But every form, be it Bharatnatyam, Odissi, Kathakali, Kathak, Manipuri or Kuchipudi, exudes its own aura and breathes its own mood and character," opines acclaimed Kolkata-based Odissi dancer Dona Roy Ganguly, the life partner of cricket legend Sourav Ganguly.
Hailed as a bright star on the horizons of Indian classical dancing, Dona has carved a niche for herself in this realm with an impressive dossier of performances the world over, bringing laurels, glory and revitalising its rich cultural tradition.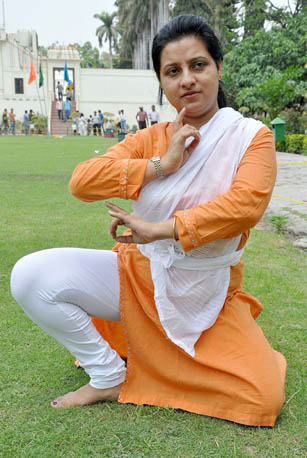 Dona Roy Ganguly feels classical performers are paid much less compared to film artistes Photo: Parvesh Chauhan

Born and raised in the affluent business family of Sanjeev Roy and Swapna, child prodigy Dona was at a very early age initiated into classical dance by her mother. While studying at Loreto Convent, Dona started by learning Kathak under a foremost disciple of Pandit Birju Mahahraj and Amala Shanker, wife of the great Uday Shanker. But later, the lyrical movements and grace of Odissi lured her and she decided to make it her calling. After
learning Odissi under Giridhari Nayak, she came under the blessed tutelage of the late Kelucharan Mahapatra, who embellished her aesthetic potential, subjecting her to the rigours of riyaz. Dona performed with brilliance at top festivals in India and abroad. Rightfully decorated with coveted honours in India, the UK, the US and other countries, Dona, an "A" grade artiste and a regular performer for Calcutta Doordarshan, also runs a yoga, dance and music centre called Diksha Manjri, with over 2000 students, where she herself teaches Odissi.
In the city recently for a performance at the famous Pinjore Mango Festival, she shared her views on diverse subjects. Excerpts follow here.
Being the life partner of the Maharaja of Cricket, Sourav Ganguly, do you think you deserve to be decorated with the sobriquet of Maharani of Odissi?
As a mark of appreciation, art lovers bestow such honours on me but looking at the contribution of the dance stalwarts, the celestial rishis and maestros, who never aspired for any honour or recognition, I truly feel 'mere liye abhi Dilli bahut dur hai'. You know, the classical dance traditions dates back to over 20 centuries, the era of Bharat Muni's Natyashastra and great artistes had made substantial contributions, which we just carry forward. Cricket, however, is just a century-old affair though immensely popular. Besides, Sachin, Sourav and others are admired as legends, but I wish to be content as a humble danseuse, wife and mother.
Being neighbours for long and staying not too far from each other, how come the marriage happened so late?
(Gives an innocent but mega-watt smile). Yes, we were very good neighbours owning big mansions. In fact, I was the only child while Sourav lived in his joint family. We were good friends and became good life partners. We have a charming and talented daughter Sana (9), who, I hope, will certainly emulate me and carry forward our legacy.
How do you see the future of Indian classical dances, especially Odissi, in India and abroad?
You see, all classical dances have their roots in cultural and folk traditions, the common bond humanity shares with nature and life. Our dance compositions touch the inner feelings of spectators, who relate it to their own milieu and relish it. The audience remains spellbound in any dance recital, even while its thematic content, normally woven in Indian mythology, is beyond the grasp of a foreign audience. It seeks to arouse the inner consciousness, not just give momentary melodic pleasure. Though centuries' old Indian classical music and dance have no parallel in the world, we make our productions by blending tradition with modernity so as to counter the impact of alien influences. Catching on with young minds, Odissi as such stands revitalised and is gaining popularity.
But classicism nevertheless has its own place and we as such attempt to relate its themes with contemporary life and times. In my institute, a maximum number over 500 students have opted for Odissi.
Commercialisation has invaded the classical arts, too. Comment.
In fact, any production of classical dance is not just a copy of filmy choreography but a project entailing a classical-based theme, script, soothing music recordings, choreography, a series of rehearsals involving only trained, versatile and experienced dancers. Classical dance is a complete art in itself which embodies a harmonious blend of acting, painting, music, singing and literature.
I have never compromised on quality`A0in my dozens of productions, especially on the classics of Guru Rabindranath Tagore, and still, compared to the filmy artistes, the classical performers are paid much less. But it is the love of art and our heritage which keeps them rejuvenated and reaching out for heights.
Do you favour talent hunt TV shows for budding classical dancers ?
A big no, please. Aesthetic potential cannot be judged with just a small performance, it is more of an exploitation of our musical guru-shishya tradition.
Will you agree that if Sachin Sourav, Dravid, Sehwag or others score a zero in a match, they are not good players at all? Consistency in a performance is necessary. Instant rejection kills the artiste's spirit.
Your new projects and impressions of the city?
In Chandigarh, the people are more warm and devout listeners.
After my M. Phil from the Pracheen Kala Kendra, I am at present pursuing my doctorate in dance from there under Kathak guru Shobha Koser.