ART & LITERATURE

'ART & SOUL
ENTERTAINMENT

TELEVISION

GARDEN LIFE

NATURE

FOOD TALK

CONSUMER, BEWARE!

FASHION

GLOBOSCOPE

BRIDGE

ULTA-PULTA
EARLIER FEATURE

TRAVEL

RELATIONSHIPS

DREAM THEME

TIME OFF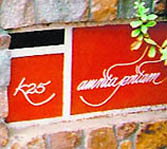 Heritage havoc
Punjabi's grand dame of letters Amrita Pritam had willed that her house in the Capital should be preserved as a memorial to her and that her partner Imroz should live there. However, just five years after her death, it has been sold by her son to builders, who have lost no time in razing it to the ground. While writing an ode to the house that Amrita built, Nirupama Dutt recounts the insensitive attitude we, as a nation, have to our cultural heritage
THe month of May was not a merry one, certainly not for the lovers of art and literature, for it marked the sad end of a dream, a dream turned into reality by one of the most celebrated poets of our times, who enjoyed a cult status in her lifetime and continues to do so even now.
Shoot at sight
The madness to go on is what explains Raghu Raghu's stupendous success and mind-boggling vision, says Nonika Singh in a chat with the one-click photographer
Raghu Rai ... India's most celebrated lensman! Yet another interview with the man about whom much has been written, and who has himself said enough about his works and creativity. Now what more insights can be gained into him? But with Rai, nothing is the same or predictable.
Legal fight for right
Domestic violence against slum women is common in North 24 Parganas district of West Bengal. NGO Sutanatir Sakhya today provides the victims with legal knowledge and support through a literacy programme, writes Ajitha Menon
Afsana Bibi, a resident of Rajarhat, a slum on the outskirts of Kolkata, had been a silent victim of domestic violence for many years. The beatings began immediately after marriage but it was nearly six months before the 20-year-old could even tell her parents about it.
Treasure beyond measure
Indian hand-made jewellery is a rage in the global market, especially with connoisseurs, says Homai Sagar
STEP outside the modern world of machine-made jewellery and experience unique, hand-made items. Many fine jewellery stores have a special section where you can actually have unique hand-made pieces just for your individual desires.
Caves of beautiful contradictions
Though the Ajanta caves were created for celibate monks, there is nothing austere about them, write Hugh and Colleen Gantzer
IN the heat of a Maharashtrian summer, we climbed a cliff, trudged into caves, and stepped into a challenging ancient world. The quandaries of the Ajanta caves are complex, contradictory and very creative.
Indian gods, American prayers
Photographer, author and American historian of Indian art, Stephen Huyler's frequent visits to India have resulted in numerous books and a new photo exhibition, writes Shobita Shivshankar
HE says he first had a vision of India 40 years ago. As an 18-year-old he sought the advice of an elderly uncle on what career he should take up. He was told to study and explore India.
Wall decor
Vimla Patil
Anyone who has admired the palaces of the rich in Rajasthan, the havelis of Bengal, residences in Andhra Pradesh or the old Wadas of Gujarat and Maharashtra, will have admired the wonderful wall paintings created by unknown artists in the centuries gone by.
Adieu girls
here come item boys
With the big boys of Bollywood doting on their new found love for item numbers, here's looking forward to a new crop of item boys, who are all set to give a stiff competition to the item girls, writes Shama Rana
BAD news for Munnis, Sheilas, Shalus, Razias and jalebi bais; their days in the industry are numbered. Item boys have joined the ranks and are here to sizzle the silver screen. Item songs have long been a bastion of female actors. But Bollywood hunks, with their stylish looks and incredible dancing skills, are queuing up and are in a mood to give these girls some serious competition.

'I want to quit smoking'
Shah Rukh Khan, who will soon be seen playing a superhero in science fiction film Ra.One, in conversation with Sreya Basu
Why is the villain of the film called Ra.One and the superhero G.One?
Ra.One (pronounced as Ravan) is Random Access: Version One. But it also stands for a bad or negative person made with 10 of the worse ... you can mythologically connect it to Raavan and his 10 heads. G.One (pronounced as Jeevan) is the life giver, the one I am playing.