M A I N N E W S
36 killed as Kalka Mail derails in UP
13 bogies of the Howrah-Kalka Mail go off the rails at Malwa, 120 km from Lucknow
Shahira Naim/TNS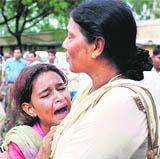 A girl breaks down after seeing her motherís body. ó AFP/ PTI
Lucknow, July 10
As many as 36 persons were reportedly killed and over 210 injured as 15 bogies of the Kalka-bound Howrah-Kalka Mail derailed near Malwa station, 120 km from here.
Chief Medical Officer (CMO), Fatehpur, KN Joshi said 36 of the passengers had died. The derailment took place at 12.20 pm when the packed train from Howrah reached near Malwa station, nearly 120 km from Lucknow. It took hours for the railway relief trains to arrive from Kanpur and Allahabad to start the rescue and relief operations.
The accident comes three days after 33 persons died when the Mathura-Chhapra Express crashed into a stationary bus in Kanshi Ram Nagar district on July 7.
The seriously injured were initially rushed to the district hospital in Fatehpur from where they were shifted to Kanpur, Allahabad and Lucknow hospitals.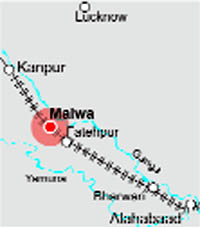 The number of dead and injured can go up as a large number of wailing passengers were still trapped inside the derailed bogies with relief work going at a snailís pace.
As there was just one gas cutter, police personnel and railway staff was attempting to cut the thick sheet of the railway coaches with hammer and chisel.
The relief work caught speed only after 5 pm after the arrival of the army from Kanpur and Allahabad. Army helicopters, troop and vehicles immediately got down to work bringing a sign of relief to the injured.
At least 7 bogies climbed atop each other reducing the coaches to mangled steel making relief work very difficult. For the first two hours it was the villagers from the surrounding areas who tried to pull out the injured from inside the trapped bogies.
The derailed coaches include four AC coaches, five sleeper coaches and two general bogies and two pantry cars. The most seriously impacted was S2 and B 4.
Minister of State for Railways Mukul Roy has announced Rs 5 lakh ex-gratia to the next of the kin of the deceased, Rs 1 lakh for those who sustained serious injuries and Rs 25,000 for victims who have suffered minor injuries. Additionally, the state government announced a compensation of Rs 1 lakh for the dead, Rs 50,000 for the seriously injured and Rs 25,000 for those with minor injuries.
A resident of Rewari village, some five km away from the accident site, heard a loud blast and rushed towards the site. A shocked survivor occupying seat number 28 of S2 said that after a huge blast and all fell on top of her with a thud.
No clue about cause, probe ordered
Kolkata: The minister of state for railways Mukul Roy refused to make any speculation at this stage on the causes of the accident. The accident could be due to technical or human failure. The Commissioner for Railways Safety (CRS) will inquire into the accident. ó TNS
Blast derails train in Assam
As many as 50 persons were injured after four bogies of Guwahati-Puri Express derailed following an explosion near Rangia in Assam, say officials. ó TNS
n Seven bogies climb atop each other making relief work difficult
n Rail traffic on the Delhi-Howrah mainline completely disrupted
n The train was travelling at 105 kmph at the time of accident