M A I N N E W S
US puts aid to Pak military on hold: Report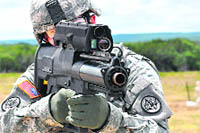 Washington, July 10
In a move that could further strain the US-Pak ties, the Obama administration is suspending and, in some cases, cancelling millions of dollars of aid to the Pakistani military to chasten it for expelling American military trainers, a media report said today.
"About $800 million in military aid and equipment, or over one-third of the more than $2 billion in annual American security assistance to Pakistan, could be affected," the New York Times reported.
This aid includes about $300 million to reimburse Pakistan for some of the costs of deploying more than 100,000 soldiers along the Afghan border to combat terrorism, as well as hundreds of millions of dollars in training assistance and military hardware, the paper said quoting half a dozen Congressional, Pentagon and other administration officials.
The move illustrates the depth of the debate inside the Obama administration over how to change the behaviour of one of its key counter-terrorism partners, the NYT said.
The news of halting or withdrawal of aid comes days after US military chief Admiral Mike Mullen's remarks linking the Pakistan government to the murder of a journalist.
Some of the curtailed aid is equipment that the US wants to send but Pakistan now refuses to accept, like rifles, ammunition, body armour and bomb-disposal gear that were withdrawn or held up after Pakistan ordered more than 100 Army Special Forces trainers to leave the country in recent weeks.
American officials say they would probably resume equipment deliveries and aid if relations improve and Pakistan pursues terrorists more aggressively, the paper said, adding the cutoffs did not affect any immediate deliveries of military sales to Pakistan, like F-16 fighter jets, or nonmilitary aid.
While the American aid cutoff would probably have a small impact on the overall military budget, it would most directly affect the counterinsurgency campaign, it said.
While some senior administration officials believe that Pakistan will never be the kind of partner the US hoped for when President Obama entered office, others emphasise that the Washington cannot risk a full break in relations, it said.
But many of the recent aid curtailments are clearly intended to force the Pakistani military to make a difficult choice between backing the country that finances much of its operations and equipment, or continuing to provide secret support for the Taliban and other militants groups, it said.
The decision to hold back much of the American military aid has not been made public. But it is well known at the top levels of the military, and a senior Pakistani official described it as an effort by the Americans to gain "leverage", the paper said. — PTI
Side Effects
n About $800 million in military aid and equipment could be affected
n The cut-offs did not affect any immediate deliveries of military sales to Pak or non-military aid
n While the cutoff would probably have a small impact on the overall military budget, it would most directly affect the counterinsurgency campaign