M A I N N E W S
Punjab not keen on project to tame Ghaggar: Centre
Says offers to execute Rs 1,150-cr river project have been ignored by the state
Naveen S Garewal
Tribune News Service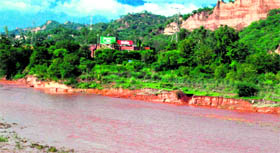 Chandigarh, July 10
The Centre has rubbished Punjab's allegation that the former has done nothing to tame the Ghaggar ahead of the monsoon. Reacting to statements by Chief Minister Parkash Singh Badal on the issue, a senior official of the Planning Commission has said that Punjab, apparently for political considerations, has chosen to keep mum over various communications sent to the Punjab Government offering help to tame Ghaggar water.
The Planning Commission has already received a memorandum of understanding from the Himachal Government and an in-principal approval from the Haryana Government that they would de-link the taming of the Ghaggar from all existing inter-state water disputes. This was a pre-condition of the Planning Commission for funding the inter-state national project on the Ghaggar.
Copies of letters available with The Tribune suggest that the Planning Commission had first written DO letter No.1-16/NRAA/WM/2008 on May 31, 2011, to N.S. Kang, Financial Commissioner, with a copy to G. Vajralingam, Principal Secretary (Irrigation). The letter read that a national project of Rs 1,150 crore for recharging flood water into ground water of the Ghaggar basin was under active consideration of the Planning Commission. The basic principle is to convert weaknesses of storm water into strengths or threats of floods into opportunities of sustaining ground water irrigation, agricultural productivity and production.
Since there was no response from Punjab, the Planning Commission again wrote another DO No.1-16/NRAA/WM/2008 on June 13, 2011 to Chief Secretary SC Aggarwal. But a month later, the Centre is yet to hear from Punjab in this regard. The letter said the inter-state (national) project was being considered for converting recurrent threats of floods into opportunities of enriching fast-depleting ground water resources of the region.
The Planning Commission further told Aggarwal that both Himachal Pradesh and Haryana had agreed to delink this project from all existing water disputes between the participating states. The Centre said, "Before giving the final approval, the Planning Commission would like to ensure that this innovative national pilot project on 90:10 sharing basis does not get bogged down under the existing inter-state agreements". This letter, too, has so far not got a response.
Badal has made repeated statements saying that the Centre would be responsible if the flooding of the Ghaggar caused any damage in Punjab. At the same time, Haryana Irrigation Minister Ajay Yadav has without mincing words said politicians in Punjab were getting reports planted in newspapers with a view to get political mileage in the forthcoming elections.
Breaching of the banks of the Ghaggar causes heavy loss to villages in Punjab and Haryana each year, but in the absence of Punjab responding to the Planning Commission, the Rs 1,150-crore inter-state (national) project may never see the light of day. Incidentally, the Ghaggar causes devastation in most parts of Malwa bordering Haryana that also houses the assembly constituencies of political bigwigs.