The bangle story

To begin with, the story sounds so familiar-three daughters of marriageable age, their mother is worried about their marriage to the extent of suffering from a nervous breakdown, a doting father who treats them no less than sons....At any point of time, a dozen serials have the same story running with slight changes, inspiration Pride and Prejudice perhaps.

All in the family: Cast of Kach Diyan Wangan. (Below) Indrajeet Arora

Child's PLAY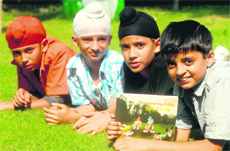 Writers are born. This applies to 12-year old Azal Dosanjh who has published his first book, a play, Dreaming Kids.He is ready with the book's second part, including a Punjabi version Sufney Lende Bachche. The book has been translated into Punjabi by Jaswinder Singh. The illustrations of dramatic narratives on every page are by another painter Ekam Pannu, a Class 11 student at DAV school Jalandhar.

Book mark: Azal Dosanjh poses with the book

Call of an actor
Emma Watson might have spent almost a decade in the Harry Potter films, but it is only now that she has been feeling like a true actress after watching her performance in the new and final installment of the wizard series.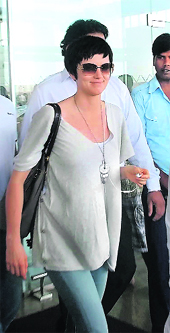 Guest appearance: Yana Gupta at the Chandigarh Airport, on her way to Ludhiana to perform at a wedding. Photo: Vinay Malik
Rain rain go away!
Heavy rains that lashed the city recently after a long lull set some of the Bollywood personalities complaining though few of them appeared to enjoy it.
Celina stranded!
Blue - eyed beauty Celina Jaitly had a very troublesome experience while traveling, recently.Celina was on her way home from a trip to Maldives when she had to stop over at Colombo for a connecting flight en route Mumbai.
Shehnaz' take on Delhi Belly
You may be wondering why the cute and chirpy girl, Shehnaz Tressuriwala was not around for promotions. Well that's because she was abroad.
No great expectations
Filmmaker Mahesh Bhatt gave actors like Sushmita Sen, Kangana Ranawat and Mallika Sherawat their first big break in the Hindi film industry, but they never worked with him after their first films.
Shahid invites fans at the launch of Mausam
The first look of Shahid Kapoor and Sonam Kapoor starrer Mausam will be launched with much fanfare on July 11. The actor has invited his fans to watch the movie, which also marks the direction debut of father, Pankaj Kapoor, at a Mumbai theatre.
Soul journey
Hollywood superstar Jennifer Aniston said Yoga is an "important" part of her life, which helps her stay connected with her spirit."
Night ban lifted for Robert De Niro's film
Hollywood star Robert De Niro has been allowed to shoot for his upcoming film The Big Wedding after officials at a town in Connecticut lifted a 13-year ban on night filming.
Not so soon
Rock of Ages director Adam Shankman has shot down reports that Tom Cruise's daughter, Suri will join him in the movie musical. Reports in the US media had suggested that five-year-old Suri will make her screen debut with a cameo in the film.
Pun'jab' Sandeep Joshi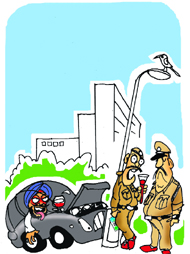 TIPSY-turvy: But, Sir, his alcohol level was within prescribed limit.
Goldilocks in the making?
She has topped many beauty lists but Hollywood star Megan Fox says she wanted to be a blonde in her younger days. The brunette beauty says she envied actresses like Pamela Anderson when she was younger because their lighter locks seemed "exotic" to her, a publication reported.
Tom Hanks and all that
Hollywood star Tom Hanks, who opted for the director's chair a second time in Larry Crowne feels acting is like a vacation compared to his stint behind the camera. Hanks first directorial effort was That Thing You Do!
Charlie Sheen turns rapper
Hollywood hell raiser Charlie Sheen is set to star in a rap video. Sheen, 45, who was axed from Two and a Half Men earlier this year due to his erratic behaviour and turbulent personal life, was subsequently replaced by Ashton Kutcher.
Numbers to vie for
Remember the majestic appearance of the sedans owned by Aamir Khan's character in 'Ghajini', all bearing a series of exclusive numbers? How intoxicating that can be! Ask anyone who dreams of not just a dream car but also the exact number he or she wants to name the proud possession with.
It's never too much
An average woman packs nearly twice as many clothes as she requires for a holiday, a study has found.A woman needs 34 items for a week-long break, but takes 60 "just in case".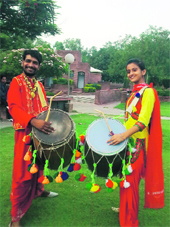 O kudiyedhol bajake!
An inquisitive Jahan Geet wanted to know the relevance of drum beating onfestivals, spiritual congregations, folk dances, wedding ceremonies and parties. This ninth standard slim student of St Annes Convent School, Chandigarh, Jahan Geet resolved to learn playing the dhol to grasp its salient features.Her classmates who wanted to learn Spanish guitars or keyboards, laughed at her wish to learn playing the dhol. Jahan Geet began learning from Kartar Singh, a bhangra coach.After years of practice she now gives short solo performance and claims to be the only school girl storming intothe male bastion much to the delight of her proud parents HarcharanSingh and Parminder Kaur, both proponents of folk musical arts.

Desi girl: Jahan Geet playing the dhol at Kalagram, Chandigarh.

Go easy breezy
To enjoy the monsoon all you need is to be in comfortable clothes. Light and breezy is what girls in Chandigarh are wearing as their style. Kurtis teamed with jeans are the most popular for that Indian look while wearing kurtas with pajamis or leggings comes a close second. Stretchable is the feature that makes them so popular.
MASTER CHEF
A nutty surprise