M A I N N E W S
New law to curb doping on cards
Ministry wants WADA norms applicable to all sports
New Delhi, July 11
Rattled by the doping scandal that has rocked Indian athletics, the Sports Ministry is planning to bring a new law to deal with the menace in the forthcoming monsoon session of Parliament.
"We are going to the Cabinet in this regard and wish to bring a specific law on doping in the monsoon session of Parliament," said Minister for Sports and Youth Affairs Ajay Maken, on the sidelines of a workshop on population held at Vigyan Bhawan here today.
"We also want that the WADA (World Anti-Doping Agency) norms be applicable to all sports. In case the norms or international sports bodies are different from those of WADA, or are in conflict, then the norms of international sports bodies would be applicable."
When asked about the Board of Control for Cricket in India, which does not adhere to WADA norms on doping, the minister said: "I am not talking about any one sport. This will be made applicable to all sports."
"Mostly, the norms of various international sports bodies are in consonance with those of WADA. We expect that all such sports bodies adhere to WADA norms. But in case of a conflict, the norms of international bodies would apply."
"We have already started conducting raids. Surprise checks were carried out on Saturday at the NIS in Patiala and such raids are being conducted at Bangalore today," the minister said. — PTI

2 more athletes' B-samples fail
Aman Sood/TNS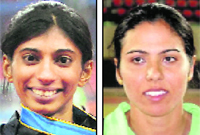 Ashwini Akkunji and Priyanka Panwar
Patiala: Tainted athlete Ashwini Akkunji's dreams of making it to the London Olympics are effectively over after her 'B' sample also tested positive for anabolic steroids. Giving her company on the same dope positive list is quarter-miler Priyanka Panwar's whose 'B' sample also returned positive for the same steroid.
Both athletes had got their 'B' samples tested on Thursday at the National Dope Testing Laboratory in New Delhi, and the results were declared today after the weekend. The results have confirmed the presence of Methandionone in their samples, similar to the 'A 'sample tests.
Meanwhile, the International Association of Athletics Federation (IAAF) has already made the going tough for the National Anti-Doping Agency (NADA) and shot them a letter stating that IAAF would not have any problem with NADA taking up the disciplinary panel hearings, especially of Juana Murmu and Mandeep Kaur, who are of international level. The letter has asked NADA to strictly comply with the IAAF anti-doping rules.
The prospect of a two-year ban already looms large over Asian Games and Commonwealth Games medalist Sini Jose, Murmu and Tiana Mary Thomas after their 'B' samples emerged positive for anabolic steroids last week. With the current findings, the same fate awaits Akkunji and Panwar.
"Their (Akkunji and Panwar) reports have been received and it has been established by the NADA laboratory that their B samples have the same banned substance as that of their earlier sample, and as such they stand suspended," claimed ML Dogra, Director Athletics Federation of India.
Akkunji and Panwar, who were caught for doping just hours before they were to go for the July 7-10 Asian Athletics Championships in Kobe, Japan, will now be heard by a NADA disciplinary panel. "Their cases would now go to the NADA disciplinary panel, which would hear their pleas, if any, and pass further orders. But till that happens, they would not be able to take part in any of the competitions," Dogra added.
This would leave Akkunji, double gold-medallist in the Asian Games in 400m hurdles and 4x400m relay, without any chance to qualify for the London Olympics and would further mean that she would miss the August 27-September 4 World Championships in Daegu, South Korea, where she had qualified for the event in 400m hurdles.
A disciplinary panel appointed by NADA would soon hear their cases and decide the quantum of punishment.