M A I N N E W S
Manmohan inducts 8 new faces, axes 7
Jairam elevated but loses Environment, Khursheed takes over Law from Moily in much-anticipated Cabinet rejig; Trinamool's Dinesh Trivedi gets Railways, Beni Prasad Verma Steel

New faces



V K Chandra Deo, Cabinet Minister-Tribal Affairs
Panchayati Raj, Jayanthi Natarajan, MOS (Ind charge)-Environment and Forests, Paban S Ghatowar, MOS (Ind charge)-Dev. of NE Region



Srikant Jena MOS (Ind charge)-Statistics and Prog. Implementation and MoS-Chem & Ferti,Rajiv Shukla
MOS-ParliamentaryAffairs, Milind Deora MOS-Commerce
and IT



Jitendra Singh, MOS-Home Affairs,Charan Das Mahant
MOS-Agri. and Food Processing Ind, Sudip Bandopadhyaya
MOS-Health and Family Welfare
New Delhi, July12
Controversial minister Jairam Ramesh was today elevated to the Cabinet rank and shifted from the high- profile Environment Ministry and Veerappa Moily replaced by Salman Khursheed as the Law Minister in a substantive reshuffle of the Union Council of Ministers in which several ministers continued to hold additional charge of some key portfolios.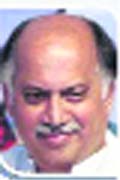 Resigned: Gurudas Kamat was given MoS Drinking Water & Sanitation, but he refused to take oath and sent his resignation.
Significantly, after carrying out the much-talked about exercise, Prime Minister Manmohan Singh said this was the last reshuffle before the next Lok Sabha elections.
However, he made it clear that he has kept two slots vacant for the DMK, whose two ministers resigned under a cloud.
Manmohan Singh did not touch the 'big four' - Finance, Home, Defence and External Affairs -and also kept four ministries, including the Telecom and the Civil Aviation, as additional charge.
Ramesh, who stoked controversies by his handling of environment issues with his proactive approach, gets the Rural Development Ministry from where Vilasrao Deshmukh has been shifted to Science and Technology and Earth Sciences.
In another significant change, Manmohan Singh also took away the Law portfolio from M Veerappa Moily in the light of several embarrassments to the government in the Supreme Court and brought Salman Khursheed in the ministry. Trinamool Congress leader Dinesh Trivedi has been elevated to the Cabinet rank and given the important Railways portfolio, which was left vacant by Mamata Banerjee after she became the West Bengal Chief Minister.

Prime Minister Manmohan Singh says it's last reshuffle before 2014 LS polls

The 'big four' ministries - Finance, Home, Defence and External Affairs - were not touched

With today's changes, the strength of the Union Council of Ministers goes up to 68

The PM made it clear that he has kept two slots vacant for the DMK, whose two ministers resigned under a cloud
Beni Prasad Verma becomes a Cabinet minister for Steel, a portfolio he earlier held as Minister of State with an Independent charge.
The eight new entrants and three others who were elevated to the Cabinet rank were sworn-in by President Pratibha Patil at a function in Rashtrapati Bhavan in the presence of a host of dignitaries, including Vice-President Hamid Ansari, the Prime Minister, UPA chairperson Sonia Gandhi and Leader of Opposition Sushma Swaraj.
With today's changes, the strength of the Union Council of Ministers goes up to 68 with eight inclusions and seven resignations.
The other new faces in the Council of Ministers are Jayanthi Natarajan who gets Environment and Forests, Dibrugarh MP Paban Singh Ghatowar (DONER), Trinamool Congress leader Sudip Bandopadhyaya (Health and Family Welfare), Alwar MP Jitendra Singh (Home), Milind Deora (Communication and IT) and Rajiv Shukla (Parliamentary Affairs).
Today's exercise, however, left two ministers --- Srikant Jena and Gurudas Kamat --- not entirely satisfied over their elevation as Ministers of State with Independent charge.
Talking to reporters after the swearing-in of the 11 ministers at Rashtrapati Bhavan, Singh said the reshuffle reflects a "balance necessary between various states, consideration of efficiency, consideration of continuity" in the government.
"As far as I am concerned this is the last reshuffle before we go to polls (in 2014)," he said, adding that "this exercise is as comprehensive as possible." Asked whether he anticipated problems after the reshuffle because of some ministers being unhappy, Singh said: "There are bound to be problems when there is some redistribution of portfolios. We have taken into account the best interests of the country."
Jena and Kamat, unhappy over the reshuffle, did not attend the swearing-in ceremony at the Rashtrapati Bhavan. Ministers who have been dropped from the Cabinet are MS Gill (Statistics and Programme Implementation), BK Handique (DONER), Kantilal Bhuria (Tribal Affairs), Murli Deora (Corporate Affairs) and Dayanidhi Maran (Textiles).
Ministers of State for Steel and Rural Development A Sai Prathap and Arun Yadav, respectively, were also dropped.
While Maran had resigned last week in the wake of his being named in the 2G scam, 74-year-old Deora had offered his resignation citing his age and had reportedly sought a berth for his son Milind.
The Prime Minister said two ministerial slots have been kept vacant for the DMK. "It is part of our coalition dharma...I hope their decision will be coming soon," he said. Asked about shifting of controversial Jairam Ramesh, the PM said he has been "given more extensive responsibility. His experience will be better utilised in this portfolio." Queried why Rahul Gandhi was still not included in the Council of Ministers, the Prime Minister said, "I requested him several times to join the Cabinet but he has said he has responsibilities in the organisation."
The restructuring exercise appeared incomplete with additional charge of Textiles and Water Resources being given to Anand Sharma and PK Bansal, respectively. Sharma retains Commerce and Industry and Bansal Parliamentary Affairs. HRD Minister Kapil Sibal continues to hold additional charge of Telecom, while Overseas Indian Affairs Minister Vayalar Ravi retains additional charge of Civil Aviation. Kishore Chandra Deo, veteran Parliamentarian from Andhra Pradesh, made it to the Cabinet for the first time to be the second minister from the state after Jaipal Reddy. Jena, who nursed a grudge when he was made Minister of State in 2009, has got a promotion being given Independent charge of Statistics and Programme Implementation.
However, he continues to be MoS in Chemicals and Fertilisers where DMK's MK Alagiri continues to be a Cabinet minister.
The lone Congress MP from Chhattisgarh Charan Das Mahant makes a debut as MoS in Agriculture and Food Processing.
Gurudas Kamat has been shifted from Home and Communication ministries to a new ministry of Drinking Water and Sanitation with an Independent charge. He too was unhappy. Minister of State for External Affairs E Ahamed has been also been allocated the HRD portfolio. Ministers of State V Narayanasamy and Ashwani Kumar shed Parliamentary Affairs portfolios which have gone to new entrant Rajiv Shukla and Harish Rawat, who retains MoS for Agriculture and Food Processing.
Minister of State for Shipping and Railways Mukul Roy has been divested of the Railways portfolio. — PTI

Some young Blood, Some Seasoned Players in Manmohan Singh's NEW team
Five-time MP from Assam

Paban Singh Ghatowar comes from Assam, from where the Prime Minister himself is a Rajya Sabha member. The five-time Dibrugarh MP first entered the Lok Sabha in 1991 after a long innings in the Indian National Trade Union Congress, Assam, where he was general secretary, working for the welfare of several lakh tea garden labourers.
He first became a Deputy Minister in the P V Narasimha Rao government and was later made a Minister of State for Health and Family Welfare. His wife is an MLA in Assam. — PTI
Loves to pull the right strings
Shiv Kumar/TNS
Mumbai, July 12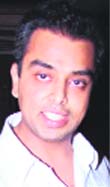 Ever since his election as Member of Parliament from South Mumbai in 2004, Milind Deora, 34, has come across as a politician with a difference. For someone who runs into him at a pub in downtown Mumbai, Milind is a yet another typical SoBo (South Bombay) brat hailing from a wealthy family. He is a regular at jam sessions setting the dance floor on fire with his renditions of Jimi Hendrix's numbers strumming away at an electric guitar.
Even after he was elected Member of Parliament, Milind did not give up his dalliance with the stringed instrument though he has become a celebrity singer in his own right. The buzz has it that Milind has simply shifted his stage to venues in the national capital.
Obviously groomed for a political career by his ambitious father and Congress party bag man, Murli Deora, Milind set up a non-government organisation called Sparsh which aims to provide training in computers and information technology to children from under privileged families.
Milind is well networked among the grassroots level workers of the Congress party in his constituency. Armed with a laptop, he has all the details of South Mumbai's demographics at his finger tips and keeps abreast of the latest in social networking tools like Twitter and Facebook.
Well educated - Milind lists Mumbai's Sydenham College and the Boston University and a degree in Business and Political Science in his CV - he comes across as an urban citizen who is easily at home among the poor as well as the richest in the country.
A trained pilot, Didi's troubleshooter

A suave and widely travelled man, Dineshbhai Trivedi has stood by Trinamool Congress chief Mamata Banerjee through thick and thin.
The new Railway Minister is a trained pilot who has been Mamata's troubleshooter in the national capital. Known for filing public interest petitions, sometime back he had reportedly offered to resign as minister of state for health and family welfare in support of social activist Anna Hazare and his movement against corruption.
A former Congress man, the 61-year-old politician switched over to the V.P. Singh-led Janata Dal. He made his maiden entry to Parliament as a Rajya Sabha member in 1990 and remained there till 2008. In the 2009 Lok Sabha elections, he won from the Barrackpore constituency. He was subsequently inducted into the Union Council of Ministers as a minister of state for health and family welfare. — PTI
Rahul's pointsman and first-time MP

A first-time MP, Bhanwar Jitendra Singh, one of the closest political aides of Rahul Gandhi, makes his debut in the Union Council of ministers to become the country's junior home minister.
The scion of the Alwar royal family, 40-year-old Singh's proximity to the AICC General Secretary has given him a certain profile in politics.
Singh, who was elected from Rajasthan's Alwar constituency in the 2009 Lok Sabha polls, was one of the 10 candidates associated with the Youth Congress whom Rahul handpicked and gave a ticket.
The grandson of Sir Tej Singh Prabhakar (1911-2009), the last ruling Maharaja of Alwar, Singh was born as the "Bhanwar" (son of the Crown Prince) in the royal family of Alwar in Rajasthan. His father died in 1976, leaving him as heir apparent.
Before fighting the parliamentary battle in 2009, Singh was a two-time MLA from Alwar city and elected to legislative assembly first in 1998.
Alwar District Congress Committee President Ashok Dixit is elated at Singh's achievement.
"Jitendra Singh is a soft-spoken person and a dedicated parliamentarian who responsibly fulfils his duty as a public representative. People of the area are quite happy," Dixit said. One of the secretaries of the AICC, Singh is seen as Rahul's pointsman in the Congress. He assists Rahul in handling Youth Congress affairs.
Trained in automobile engineering from Germany (he interned at the BMW unit), Singh's Lok Sabha victory was far from easy. — PTI

A veteran parliamentarian, Kishore Chandra Deo returns to the Union Council of Ministers after more than three decades. The move is aimed at giving due representation in the UPA ministry to Andhra Pradesh, where the party is fighting a stiff challenge posed by the agitation on the Telangana issue and the increasing support for former party rebel Jagan Mohan Reddy. One of the tribal faces in the Congress, 64-year-old Deo was until recently a member of the Congress Working Committee(CWC). He has a rich experience in Parliamentary affairs and has been in the forefront in fighting for the rights of tribal people. A low-profile and media-shy leader, Deo expectedly got the Tribal Affairs and Panchayati Raj portfolio. One of the notable Congress faces from Andhra Pradesh, Deo's name was doing the rounds for the post of Lok Sabha Speaker after the 2009 general elections, but the party opted for Meira Kumar who became the first woman presiding officer of Parliament. He was first elected to Parliament in 1977 and was re-elected four times. He also served one term in Rajya Sabha. — PTI
The most popular Cong face in TN

Day in and day out, Jayanthi Natarajan has been defending the UPA government and the Congress party in television debates.
She has now been rewarded with the portfolio of Environment and Forests as Minister of State with independent charge.
The 57-year-old leader was earlier Minister of State in the Civil Aviation and Parliamentary Affairs ministries in the United Front government when she was a member of the Tamil Maanila Congress (TMC).
She is the first minister of state for the Congress from Tamil Nadu. Granddaughter of former Tamil Nadu Chief Minister M. Bakthavatsalam of the Congress, Natarajan, a lawyer by profession, is the Congress spokesperson and a former newscaster for Doordarshan.
She is certainly the most popular Congress face in Tamil Nadu. Natarajan practised in the Madras High Court and also did pro bono work for many social organisations. Daughter of C.R. Sundararajan and Rukmini Sundararajan, Natarajan got elected to the Rajya Sabha first in 1986. — PTI

A Rajya Sabha member, a journalist, a political commentator and a television host, Rajeev Shukla is truly a multi-faceted personality.
He started his career as a reporter with a leading publication in Uttar Pradesh. Since then, he has written for leading publications. He also worked for Sunday magazine as its Political Editor.
His political career started after he got elected to the Rajya Sabha in 2000. He was nominated as secretary of the All-India Congress Committee in January 2006.
Shukla is also vice-president of the Board of Control for Cricket in India (BCCI). What will perhaps stand Shukla in good stead as Minister of State for Parliamentary Affairs will be his ability to communicate across party lines. He gets along with leaders of almost all political parties. — PTI