M A I N N E W S
9 minutes bring back memories of 7/11
Mumbai, July 13
Within a span of nine minutes, the memories of the bloody evening five years ago revisited the Mumbaikars as three explosions shook the city leaving at least 21 dead and over 141wounded. On July 11, 2006 seven blasts had ripped through local trains claiming 187 lives.
The city was rudely shaken out of time-induced sense of security when the first blast ripped through the crowded Zaveri bazar at 6.54 pm outside an eatery near Mumbadevi temple in south Mumbai. Zaveri Bazaar was also one of the targets during serial blasts in 1993 and 2003.
"The entire lane was splashed with blood... There were four-five mutilated bodies lying around and people were fleeing the spot in fear," Vijay, a carpenter and eyewitness, said.
At 6.55, another blast took place at Opera House in Charni Road which has offices of diamond traders.
Jayesh Lavdhi, a member of the Mumbai Diamond Merchant Association, after hearing the explosion rushed down from his office at the Panchratna building and saw injured men and shards of glass strews around. As chaos reigned supreme, the locals were seen helping the wounded and rushing them to hospitals.
The third and last blast, reportedly of lesser intensity than the first two, occurred near Dadar junction at 7.03 pm where two lines of the suburban rail network, the city's lifeline, intersect.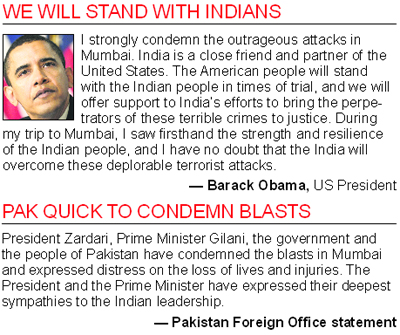 Splattered blood, glass shrapnels, damaged vehicles, dazed and bleeding people were seen at Kabutar Khana on the western side of the railway station, which got its name from a place where pigeons (Kabutars) are fed by bird lovers.
Policemen swarmed the area with their bomb and vapour detection gadgets and armoured vehicles within minutes of the explosion.
All the three scenes of the blasts have been cordoned off as the police, ATS and forensic experts are scouring the area for clues. Politicians, top police officers and media thronged the blast sites.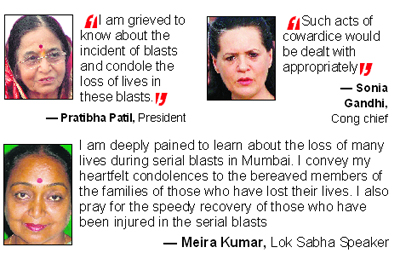 Telephone lines got jammed soon after the blasts as anxious relatives tried to get in touch with their near and dear ones to know if they were out of harm's way.
"While rushing to Zaveri Bazaar, I ran into a tempo full of injured persons. As the driver did not know the way to the hospital I led him to GT hospital. However, the police constable there said that there was no space after which we took them to St Georges hospital." Many of the victims were writhing in pain and pleading for water. Most had burn injuries, he said. — PTI