Murdoch's News Corp. withdraws bid for BSkyB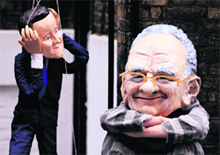 A protester wearing a caricature giant head depicting Rupert Murdoch sits next to a puppet of Britain's PM David Cameron outside Murdoch's apartment in London on Wednesday. — Reuters
London, July 13
Rupert Murdoch's empire suffered a body blow today as Prime Minister David Cameron launched a wide-ranging investigation into the British press and the media mogul's News Corp. dramatically withdrew a bid to take over satellite broadcaster BSkyB.
Outraged by the scandal, Cameron said the phone-hacking scandal was a 'massive firestorm', and announced the setting up the judge-led inquiry to go into the scandal and make recommendations about the relationships between the press, politicians and the police.
"In my view, this business should not be focused on mergers and takeovers, but on clearing up the mess and getting their house in order," Cameron said in a packed House of Commons on the scandal involving newspapers owned by the 80- year-old Australian.
He said the inquiry, led by Lord Justice Brian Leveson, would have the authority to summon "newspaper reporters, management, proprietors, policemen and politicians of all parties to give evidence under oath and in public."
The inquiry would report in one year, he said, adding that the aim is to "bring this ugly chapter to a close and ensure that nothing like it ever happens again." Murdoch's company needs "root and branch change," Cameron said in the wake of the accusation that victims of phone hacking included a missing 13-year-old girl, Milly Dowler, who was later found to have been murdered. Murdoch's withdrawal of the bid was described by ministers and MPs as a "huge victory of the British people", who forced parliament and politicians to take a strong stand on the issue. — PTI
UK PM names judge for hacking probe
Britain's PM David Cameron appointed a prominent senior judge, Brian Leveson, on Wednesday to lead an inquiry into phone hacking allegations at Rupert Murdoch's News Corp , with first findings due within one year. The probe will also examine media ethics and the relationship between media organisations and police and politicians. Leveson will be assisted by senior independent experts, and will first examine the regulation of the press, its practices and relationship with the police and politicians.