Spoil sport
Fingers have been pointed at many a person in the dope scandal but a lot of the blame also rests on the system, writes M.S. Unnikrishnan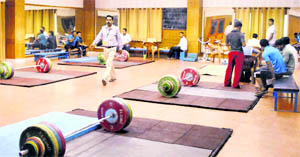 Milkha Singh and P.T. Usha have been world-class athletes, but they never won an Olympic medal. Perhaps, they lacked that cutting edge to triumph on the biggest theatre of sporting action; perhaps they took pride in representing the country, and winning honours through fair and square means, but not for enriching themselves.

The Sports Ministry, the National Sports Federations, the Sports Authority of India, coaches, doctors, support staff and athletes have all been responsible for the doping scourge taking deep roots in the country Photo: PTI
Doctor No
The fallout of dope taking is very severe as the athletes would have to pay a heavy price in the long run. Dr Deep Sharma, a leading orthopaedic surgeon, says the use of steroids causes serious physical problems in the long run.
YOGILATES yeah!
Yogilates is a fusion workout that is great for people who want to combine the spirituality of yoga and the muscle toning of pilates in one exercise
Yogalates is a complete workout that tones and strengthens your body while also relaxing your mind, creating the perfect solution to our stressful lives. It creates a union between body and mind and improves overall well-being.