M A I N N E W S
No sports please, this stadium is for booze &'baraat'
R Sedhuraman
Legal Correspondent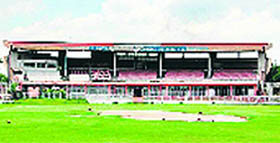 The Nahar Singh Stadium in Faridabad has been leased out to the District Cricket Association
New Delhi, July 17
The Supreme Court has asked the Punjab and Haryana High Court to check the misuse of the Nahar Singh Stadium at Faridabad for running a bar and restaurant and conducting marriages and other functions.
A bench comprising Justices RV Raveendran and HL Gokhale has also asked the HC to find out whether other stadia and sport facilities/complexes in the state were being misused and issue orders for preventing such malpractices.
The SC delivered the verdict while disposing of a PIL against the use of the Faridabad stadium for commercial purposes. Pointing out that the HC had dismissed the PIL on January 29, 2007 in limine and thus failed to exercise its jurisdiction, the SC has remanded the matter back to the HC.
Constructed on 38 acres of land by the Faridabad Municipal Corporation and maintained through the District Sports Council, the Nahar Singh Stadium has north and south pavilions, a football ground, basketball and athletics fields and large vacant grounds.
In August 1998, the Sports Council leased out the Kapil (south) pavilion building measuring 784 sq yds and the open area in front of the pavilion measuring 5,713 sq yd to the District Cricket Association (DCA) Club on a token annual rent of Re one per year.
However, in December 2003, the DCA Club let out the open space to a tent house for holding parties. Subsequently, a PIL was filed in the high court in 2006 by Krishan Lal Gera contending that the leased area was being misused for illegal activities. However, the HC dismissed the petition with a one-line order: "No public interest is involved in this petition. Dismissed." The petitioner came to the Supreme Court challenging the HC order.
"What we find in this case is the common malaise found in various parts of the country in regard to sports stadia and sports facilities:
Firstly, inadequate and inappropriate use. Secondly, poor maintenance. Thirdly, lack of access to students, public, athletes and sports persons."
Instead of developing the entire area into a vibrant stadium for sportsmen, the District Sports Council "has pushed sports activities into the background by converting the pavilion into a club with a bar room, restaurant and developing the space meant for sports activities into a party lawn for marriages," the SC noted.
The Supreme Court has framed nine issues that should be decided by the HC. These include the basis for the Council leasing the property to the DCA Club, the club sub-leasing it to the tent house, whether the sports facilities are accessible to the public or only to the club members, amount spent by the club on sports activities and whether the lease to DCA Club should be cancelled.