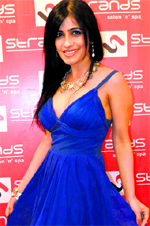 Songstress returns
"It's Madonna and Michael Jackson who inspire me,' says Shibani Kashyap as she walked in a blue dress in Panchkula to inaugurate Strands Salon 'n' Spa. "And, just like them, I want to make my own music," says this singer, composer. Music happened years ago, she won Channel V's award in 1998. It's only two years back that she moved her base to Mumbai. The pretty singer does the explaining, "From childhood I knew that I want to make my career in music. But my family values education big time." Daughter of an Army personnel and educator, Shibani finished her college before she set out to chase her dream.

SINGING STAR: Shibani Kashyap
Beauty with a brain
Femina Miss India 2011 Aparajita Sharma credits her dream come true to Bachchan bahu. Yes Aishwarya was the inspiration for Aparajita to be a beauty queen. It all began when Aparajita saw Aishwarya being crowned Miss India.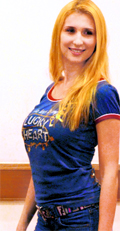 Bigg Boss to B town
Much has been said and heard about Claudia Ciesla, the blonde beauty from Bigg Boss, trying hard to create a place for herself in Bollywood. She did try hard, and manage to rustle a few controversies too. At present Claudia, with her controversy that she wants to bury in the hatchet and a reality show has moved down south for some more work. What did you think; she has better things to do than just run the gossip mill running. In city to walk the ramp as a showstopper for the show, Claudia who is now the brand ambassador for Pearl Group is happy with her stint down south as leading lady of a film.



Here she comes: Claudia Ciesla
With strings attached
Kids giggled no end as they watched the story of five mice unfold through the shadow puppets at Rent Me Toy Library, Panchkula, on Sunday morning.

Of myth and facts
His acting career dates back to costume drama Chandrakanta on Doordarshan 15 years back, but it was with Sanjay Khan's mythological Jai Hanuman in which this actor played Pawan Dev and emperor Bali that he grabbed the headlines with his talent.

history Pages: Nimai Bali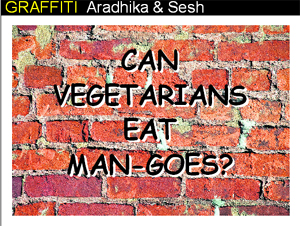 Ali Merchant back with a bang
After Bigg Boss, his marriage and divorce and all tamasha, Ali Merchant has returned to television with a bang. He limped back with the role that suited his personality the most- the cheeky Rituraaj in Star Plus' Yeh Rishta Kya Kehlata Hai and later he signed on Imagine's Looteri Dulhan and even a cameo in Sony's Adaalat.
More khushi and kabhie gham
Amitabh Bachchan had made a mention of a sequel to Kabhie Khushi Kabhi Gham on his blog a while ago. The picture, a continuation of the 2001 hit, is all set to become a reality.
Dobriyal admires RGV
Actor Deepak Dobriyal, who has acted for the first time with filmmaker Ram Gopal Varma in forthcoming film Not A Love Story, says the director is a genius when it comes to filmmaking.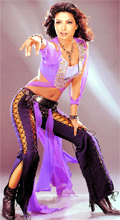 Priyanka heads home
After a break in Los Angeles, Bollywood actress Priyanka Chopra is heading back home to celebrate her 29th birthday with her family, post the Mumbai blasts. "Heading home..LA"s been amazing...but looking forward to seeing my family... my dad n my brother esp with everything that"s happening wanna b home (sic)," Priyanka posted on her Twitter page. She flew to Los Angeles straight from the International Indian Film Academy (IIFA) weekend and awards ceremony in Toronto last month.




BIRTHDAY BABE: Priyanka Chopra
A romantic at heart
Pankaj Kapur has spent four years on planning, writing, and directing Mausam. The first look of the film was unveiled earlier this week. The respected actor-turned-director is pleased with his labour of love. He talks about making his beloved film.

Sohail to debut on television
Bollywood actor-filmmaker Sohail Khan is ready to make his small screen debut, following the footsteps of his elder brother Salman. He will be seen as a judge on comedy reality show Comedy Circus: Comedy Ka Naya Daur.


FOLLOWING BROTHER: Sohail Khan
Road less travelled
He has played a bookie, a pimp and an ambitious gangster. Emraan Hashmi says the road that he has chosen to walk on in Bollywood has only one traveller. Hashmi has scored success with erotic thriller Murder 2, which saw him playing an ex-cop with mixed morals and the actor wants to continue taking up on-the-edge characters.

Zarine's no bikini babe
At a time when a volley of actresses are sweating it out to get in shape, actress Zarine Khan feels her body is not meant for a bikini and dismisses reports that she will be donning the two-piece in her upcoming film Houseful 2.



FUN SIDE: Zarine Khan

Kim feels marginalised
Kim Cattrall says she feels "marginalised" as an actress because she is offered roles which is similar to her Sex and the City character Samantha Jones. The 54-year-old actress says casting agents fail to hire her for roles which is different from her man-eater character in the hit TV show. "Nobody wants to hire me unless I"m playing Samantha Jones. Do you know what it"s like to be 54 and marginalised? It doesn"t get any easier as you get older," she said.

Brad to try his hand at baseball
Hollywood star Brad Pitt now can also try his hands in baseball as he has been described as a pretty good player by former San Francisco Giants sportsman Casey Bond. The 47-year-old actor was so impressive in his training for upcoming film Moneyball - in which he plays a baseball manager - that he surprised his co-star, Bond.



NEW GAME: Brad Pitt

Harman's fitness mantra
Bollywood's tall and lean actor Harman Baweja follows a fitness routine but he doesn"t believe in body building. "Normally, I give myself 40-45 minutes a day in whatever form I can. I have pretty much given up on proper workout in a gym because now I believe in fitness and not in body building," Baweja said.



standing tall: Harman Baweja
trendsetter
Sauvé 'n' smart
Fashion is in the air and it leaves hardly a young one untouched by it though there maybe students or budding professionals. Trends too become a passion to be followed especially if they suit the persona of the wearer. Debonair in his elegance Dr Divyanshu Malhotra from DMCH, Ludhiana, is known for his suave dressing.
Master Chef
Vedic fare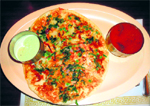 We associate Udipi cuisine with the ubiquitous masala dosa, never looking beyond our nose at the other parts of the spread! This form of cooking from Karnataka adheres strictly to the Vedic tradition, using no onions or garlic or meats. But we don't necessarily have to chant Vedic mantras within our homes while doing Udipi fare! My all time favourite in this cuisine remains the utthappam. It is not as fiddly as the dosa, for it doesn't threaten to stick to the fry pan.
Grey matters
A new study, which examined gender-specific influences of binge drinking on spatial working memory (SWM), has found that female teens may be particularly vulnerable to the negative effects of the habit. Binge or "heavy episodic" drinking is prevalent during adolescence, raising concerns about alcohol's effects on crucial neuromaturational processes during this developmental period. Heavy alcohol use has been associated with decrements in cognitive functioning in both adult and adolescent populations.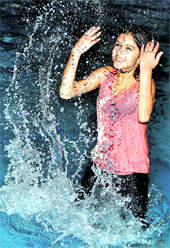 Fun splash
It was all fun, frolic and hullabaloo as the guests danced and enjoyed under the cool showers at the Splash bash rain dance party organised by Sparkle's Family Club, Ludhiana, on the weekend. It was a merry time for the whole family as the kids splashed around the toddler's pool while the others grooved to foot tapping music under sprinklers and showers with the coloured aqua lighting from the back giving that eclectic ambience. DJ Bhanu provided non-stop music. The newly renovated pool was the ideal setting for a monsoon evening. To appease the hunger pangs there was a spread of Avadhi food, grilled delicaciesand mocktail.


Photo: Himanshu Mahajan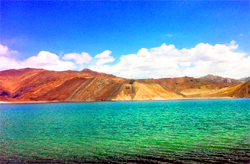 Road to paradise
Everyone knows that Jammu and Kashmir is called the paradise on earth but if one actually has to see that, must visit Leh Ladhakh once. Situated between two world's highest mountain ranges Himalaya and Karakoram, Leh Ladakh, surrounded by the perennial snow capped peaks, beautiful landscapes, golden yellow valleys, gorgeous lakes brings to mind an artist at work.
tweetie pie