Take off with Avionics
Avionics was pioneered in the 1970s to cater to military rather than the civil aviation needs
Avionics is a multi-disciplinary field which opens up a vista of opportunities for graduates. Derived from "aviation" and "electronics", avionics chiefly concerns electronic systems used in aircraft, satellites and spacecraft, comprising communications, navigation and the display and management of multiple systems. It also includes the hundreds of systems that are fitted in aircraft to meet individual roles, these can be as simple as a search light for a police helicopter or as complicated as the tactical system for an airborne early warning platform.
Careercature
Sandeep Joshi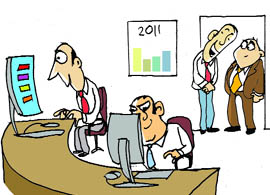 Sir, I think we must give them a raise. One is an expert tweeter and the other is a champion in cards.

Career Hotline
Why is maths a good choice?
Q. I have just stepped into Class XI. I plan to pursue biotech or medicine as a career. My parents have forced me to take maths with physics, chemistry and biology. I want to know why I should study maths along with the other relevant subjects, since I fail to see its relevance to my career.

n TOEFL facts
n Eligible for PMT
n Special benefits
n Pursuing space science
Course watch
PR institute
In an industry-academic initiative, the public relations consultancy Fourth Estate launched Indian School of Public Relations (ISPR) recently. It is India's only institute exclusively for PR courses. The institute will offer three courses:
OFFICE Mantra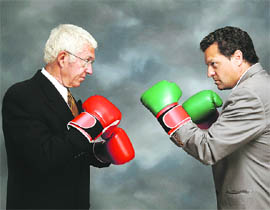 Positive face off
Standing up for oneself both in professional and personal life is essential. However, most of us struggle when it comes to standing up to the boss. We often worry that voicing our disagreement with a higher-up will make us appear disrespectful, argumentative or even unqualified for the position. As a consequence we let our bosses get away with too much simply because we are afraid of losing our job or creating a tense situation had we stood up for ourselves.
career scape
Catering industry
Golden platter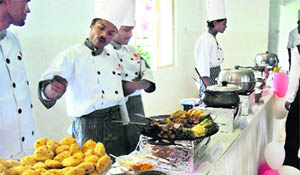 The hospitality industry is indeed assuming greater significance and is fast developing into a lucrative career choice. A training programme in hospitality management encompasses various aspects of the business of hotel, travel and tourism related industries and housekeeping and catering in the hospitality industry (including customer care executives). The focus of the training is on the applicability of management principles to the hospitality industry. It equips students with the required skills, knowledge and outlook to discharge supervisory responsibilities efficiently.
Region trends
A blend of skill and creativity
Fashion is a major industry in India now having excellent job opportunities for youngsters. The aura of glamour and the thrill of expressing creativity makes students opt for fashion designing courses. Such courses are a rage not only in metros and big cities but in small towns like Hamirpur in Himachal Pradesh. The number of students opting for this course has increased substantially in this small town over tha past few years.
Ruling with rules
Business consultant for Sears, E. Richard Johns, says, "Rules are made to be broken….ask any teenager. Or what about you?"
Happiness @ work
Gems of ancient wisdom
Nobody does everything
For the sake of team morale, no member of the team, especially the leader, should announce that he does everything. After the Mahabharata war, it was time to honour the heroes. So it was decided that every charioteer should garland the respective warrior one steered during the war. All charioteers, but one, completed the ritual. Krishna kept sitting on the driver's seat. Why does my charioteer Krishna not honour me? Haven't I killed warriors like Bhishma, Jayadratha, Bhagdatta and Karna, thought Arjuna sadly.