M A I N N E W S
India-US strategic dialogue

US committed to N-deal: Hillary
n Says US cannot tolerate safe haven for terrorists
n Pushes for nuclear liability issue
Ashok Tuteja
Tribune News Service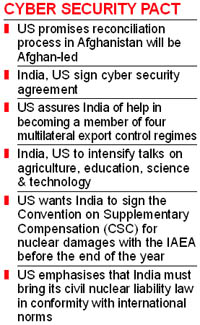 New Delhi, July 19
Even as she described Pakistan as a key ally in the fight against terrorism, US Secretary of State Hillary Clinton today expressed Washington's frustration with Islamabad for its failure in bringing to justice the perpetrators of the 26/11 Mumbai terror attacks.
The US has forcefully made it clear to Pakistan that it has a special obligation to "transparently, fully and urgently" bring the masterminds of the Mumbai attacks to justice. "Obviously, there is a limit to what both the US and India can do but we intend to continue to press (Pakistan) as hard as possible,'' she said at a joint press conference with External Affairs Minister S M Krishna at the end of the second India-US strategic dialogue here.
Asserting that counter-terrorism was "first and foremost" on Washington's mind after last week's Mumbai bomb blasts, she pledged "full" support to India's efforts to protect itself from terror attacks.
However, differences continued to plague the two sides on the civil nuclear deal though Clinton expressed the Obama's administration commitment to implementing the accord in letter and spirit, notwithstanding the recent decision of the nuclear suppliers' group (NSG) to deny access to enrichment and reprocessing (ENR) technologies to countries which are not signatories to the NPT.
But one major positive that emerged from the strategic dialogue from India's perspective was Washington's commitment to New Delhi that the process of reconciliation with the Taliban in Afghanistan would be Afghan-led and Afghan-driven, and not dictated by Pakistan or any other country. Krishna conveyed to the American side New Delhi's concerns on the situation in the embattled nation, saying "it is necessary for the US to factor in ground realities so that it can appreciate what Afghanistan requires to defend itself against terrorism.''
A joint statement issued after the strategic dialogue said the two sides covered a wide range of bilateral issues as well as global developments during the four-hour talks. The two countries signed a MoU to promote closer cooperation and the timely exchange of information between the organisations of their respective governments responsible for cyber security.
Defence, security and counter-terrorism were high on the agenda since the dialogue took place within a week of the Mumbai blasts. The dialogue, which was originally scheduled to be held in April, was postponed to July in view of the developments in North Africa and the assembly elections in India. There were apprehensions that it could be deferred yet again after the July 13 explosions in Mumbai but Clinton decided to stick to the schedule.
The US secretary of State, who arrived last night, also had meetings with Prime Minister Manmohan Singh, UPA Chairperson Sonia Gandhi, Finance Minister Pranab Mukherjee, Leader of the Opposition Sushma Swaraj and National Security Adviser Shiv Shankar Menon.
On the issue of terrorism, Clinton was quite forthright in telling Pakistan that it was in its own interest to deal with violent extremism. "Pakistan is a key ally in the fight against terrorism. We have made it clear to Islamabad that terrorism threatens Pakistan itself… bombings in mosques, markets, police stations and government buildings. Pakistan must act on its own behalf to protect its territorial integrity and sovereignty.''
In a clear reference to the US raid that found and killed Osama Bin Laden in Abbottabad in early May, she said: "We want mutual recognition that we cannot tolerate a safe haven for terrorists anywhere. When we know the location of terrorists whose intentions are clear, we need to work together. We do not believe there are any terrorists who should be given a safe haven or free pass by any government."
On the civil nuclear cooperation, Clinton, while reassuring Washington's commitment to the 123 agreement, wanted India to sign the Convention on Supplementary Compensation (CSC) for nuclear damages with the IAEA before the end of the year. "The US remains fully committed to the civil nuclear accord…we stand by it.'' There was nothing in the NSG guidelines that should detract Washington from its commitment to the India-US accord. She, however, emphasised that India must bring its civil nuclear liability law in conformity with international norms. "We need to resolve the issues that still remain," she said.
The main problem for US operators is a clause in the Indian law that makes the suppliers of reactors liable for 80 years for any accident at a plant. Private US nuclear firms are unwilling to sign up, mainly because they are unable to find insurance to cover them for potentially crippling claims for damages.