On the face of it...
And our mothers back home think they are the only people on this earth engaged in a 24X7 job, which is the most challenging, tiring, taxing and at the same time thankless! We met a bunch of people who do almost the same job and never complain. Instead, they enjoy every bit of their work. Here they are the petite, have-to-be-looking good all-time models who will walk the ramp for INIFD's passing-out fashion show, INIFD Designer Medley 11, on Wednesday. No matter what you say, they don't have the luxury to look like us (pun intended). They can't afford a bad hair day, or acne popping at strategic places on the face. It is mandatory to put their best face forward. Who is complaining anyways!

Hail controversy!
Believe in his story. Without applying logic, without contemplating at all, go by whatever Nalin Singh had to say. "Accidentally, I found a photograph of Anupam Kher outside the press conference venue. In a usual situation I would have kept it with me but after what the veteran actor has done, I don't have a choice," and he tears the picture into pieces. Believe that he 'never intended' to do this and it was a 'spontaneous reaction'! Writer and actor of the film, Gandhi to Hitler, along with former Miss India Universe, Nikita Anand and, lyricist Pallavi Mishra were in the city to promote the film on Tuesday.
Be Indian, Play Indian
Foreign superheroes and characters will have to make way as the Indian-themed games laced with Bollywood masala, Indian cricket fever and ancient mythology make their presence felt on the social gaming scenario.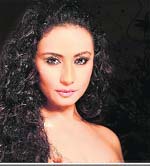 Jai ho Mumbai!
My phone was flooded with calls and SMSes like "R u ok?? We heard there were blasts in Mumbai." I was at a film narration when I heard that. Mumbai, a city that never stops! Everyone here is running to make a living. It is a city that is always buzzing with activity. People constantly on the move, suddenly stopped with a jolt! In one of the most densely-populated cities, where people in thousands do their routine stuff, carry on with business as usual and chai at the regular joint, discussions, rushing to another place, worrying about a tomorrow, how would they know, it was the last day for them, taking.
On the scene


Taking classes in acting from Jim Carrey, Johny Depp; sharing life experience and faculty streaming in from Los Angeles, 21-year-old Navinder Pal Sidhu, is living a dream. Student of Academy of Art University, San Francisco, Navinder is ecstatic after finishing his first year in the four-year course.
Wear the pants ladies!
If you have a little black dress, keep it in the closet. For that small piece of fashion-must has been elbowed out by trousers and fashionistas like Sonam Kapoor, Deepika Padukone and Priya Chatwal are busy flaunting their hour-glass figures in them.
Women cheat through 'sexting'
Women are more likely to send nude photographs or sexually explicit text messages than men, a new study has revealed. In fact, two-thirds of the women surveyed in the study, 'Let My Fingers Do the Talking: Sexting and Infidelity in Cyberspace,' said that they sexted while only half of the men did.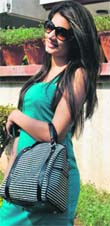 Glam dame
Every person has a sense of style. Yet there are only few who'd attract a second glance, those who have the power to make the camera zoom in on them. It could be tousled hair, it could be torn jeans. This week's face in the crowd, Manika Chanana, a student of NIIFT, Mohali, who likes to keep it glam when it comes to dressing up.
Your sense of style is…
I would like to call myself, simple and sensibly fashion forward. I like simple clothes, love bright colours and absolutely love the English blue colour. My wardrobe consists of mostly dresses, in summers I prefer shorts and jumpsuits to jeans.
Latest addition in the wardrobe…