M A I N N E W S
Pranab: Govt committed to reforms
Sanjeev Sharma/TNS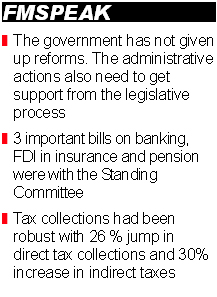 New Delhi, July 21
In an exercise aimed at countering the negative perception surrounding the government, Finance Minister Pranab Mukherjee today strongly dispelled the notion that "things are not moving" and sought to outline several reform measures that were in the pipeline. He emphasised that the Indian economy was doing reasonably well.
In a briefing with select journalists, the Finance Minister said he wanted to dispel the feeling of despondency and cynicism that had developed. He also pointed out that headlines of mis-demeanours and aberrations (another way of defining scams) was painting a picture as if that is the only thing happening in India.
With the Cabinet reshuffle out of the way, the UPA government, reeling under scams and controversies is trying to correct the perception of a policy paralysis in the government.
Mukherjee emphasised that even with problems in major parts of the global economy like the US, China and Europe, the Indian economy was doing reasonably well. On inflation, he said though recent figures show some moderation, he expected inflationary pressures to continue till the third quarter of the fiscal year. Only by March next year, he expected inflation to settle down at 6-7 per cent.
He said that three important bills on Banking, FDI in Insurance and Pension were with the Standing Committee. He added he was not sure how many could be taken up in the Monsoon session beginning in August.
On the GST Bill, he said the aim was to get it through in the Winter Session of Parliament.
On black money, the Finance Minister said that it was true that some people had kept money in foreign banks but he said that the only way to get information was when those sovereign countries and jurisdictions cooperate. He said there have been questions as to why the government has not got the information. He said that those countries have elaborate procedures about passing resolutions on these matters and information from Switzerland which was supposed to come in April is likely to come in by September-end.
Mukherjee listed out several decisions that had been taken in recent months or were work in progress. These include the new formula for oil prices, clearance of several road projects, norms for private sector banks, fertilizer subsidy, direct transfer of subsidy with the Nandan Nilekani panel. He also said that the group of ministers will be meeting regularly to put in operation the revival of Air India. The Food security Bill will go to the Cabinet now and so will the Mining Bill which should also get introduced in the Monsoon session.
He added that once some big ticket projects are approved, FDI inflows will pick up.