Zip zap Zirakpur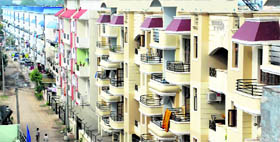 Proximity to Chandigarh and its status as a gateway to three states - Punjab, Haryana and Himachal - has kept the realty scene in Zirakpur very dynamic for the past several years. While the enthusiastic initial investors did have a jittery time as the sleepy town's fragile infrastructure crumbled drastically under the weight of "high profile and high speed" construction activity

Zirakpur is fast gaining a reputation as a good living option for those wanting a home near Chandigarh Photo Nitin Mahajan



Price Index
DELHI-IV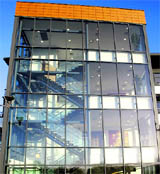 LAJPAT NAGAR I-IV
10000 TO 11000
LAKSHMI NAGAR
6800 TO 7500
LAWRENCE ROAD
7000 TO 9200
M.B ROAD
9700 TO 10800
MANSAROWAR GARDEN
5500 TO 7000
MALVIYA NAGAR
7000 TO 12000
MAYUR VIHAR I-III
8900 TO 10000
MASJID MOTH
6100 TO 6500
MEERA BAGH
10000 TO 12000
MEHRAULI
4000 TO 5500
MODEL TOWN
9000 TO 10500
MUKHARJI PARK
6500 TO 7300
MUNIRKA
10000 TO 11000

Please note:Price may vary according to the "age" of the building and its location.
Source: Nirmal
Infrastructures. Mohali
[email protected]
Tax Tips


Land acquisition


Construction mandatory to save tax


Short-term gains are taxable


No tax liability


Rent as commission
Realty Bytes
Ireo Fiveriver
Ireo, the first and the largest Private Equity fund dedicated to the Indian real estate sector, launched its new integrated township project "IREO - Fiveriver" in Panchkula earlier this week. Spread over an area of 200 acres, the project will have a mix of recreational and wellness facilities catering to multiple ages and tastes.
Ground Realty
Saving with second-hand bricks Jagvir Goyal
The last decade has seen a spurt in real estate development. Many new builders have stepped in and launched fresh residential projects. While the outskirts of almost all cities are witnessing hectic construction activity, the already developed pockets in the cities are being identified and purchased by developers to build malls, shopping centres and apartments.
Real Talk
Quality living for seniors
Increasing life expectancy and the trend of nuclear families in India has given a fillip to the need for quality housing solutions for the elderly. In their quest for an independent and good quality lifestyle in the "silver" age, more and more elders are exploring the option of retirement homes.
On The Anvil
U-pin to straighten ownership issues
The Union Government is working on a proposal to issue a Unique Identity Number (UID) in order to provide a clear title deed of property. A working group set up by the Ministry of Urban Development has suggested doing away with the current system of registration and transfer of property.