March of the botox brigade
Botox, liposuction, hair transplants, derma peels and the scalpel have become a staple Bollywood fare. Salman Khan has got a fresh crop of hair from his recent Dubai visit, while Kangna acquired a Jolie-esque pout and Bbuddah Hoga Terra Baap star Amitabh Bachchan sports a sharp jaw line. Deepa Karmalkar reveals some well-kept age-defying, beauty-enhancing secrets of the tinseltown




Dr Jaishree Sharad cosmetic dermatologist
Emma Watson, heroine of Harry Potter, recently declared that she won't be shifting to Hollywood, "If I have to work out four hours a day, and count calories... and have Botox at 22, and remain obsessed about how I look the whole time, I will go mad. I will absolutely lose it," she reasoned. Young Emma has put a finger on the mounting pressure of 'good looks' in showbiz. Also very recently, Transformers star Megan Fox, 25, posted four self-portraits on Facebook to quell botox rumours. Her album entitled "Things you can't do with your face when you have botox" showed her frowning, smiling and putting on expressions that are inhibited by botox use!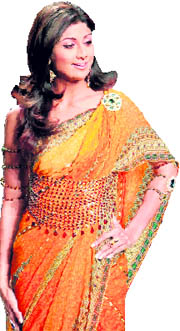 It was Shilpa Shetty, who really brought plastic surgery out of the closet by admitting publicly to a nose job
Back home, we had Kangna sporting a fresh bee-stung pout that she conveniently blamed on seafood allergy and Katrina Kaif flaunting a sculpted waistline in her recent release, Zindagi Na Milegi Dobara and not owing up to liposuction! But the fact remains that showbiz denizens are increasingly resorting to cosmetic procedures for beauty and youth enhancement.


Best and worst plastic trophies
Hollywood's best: Angelina Jolie, Tom Cruise
Hollywood's worst: Arnold Schwarzenegger, Jane Fonda


Angelina Jolie


Arnold Schwarzenegger

Bollywood's best: Salman Khan, Katrina Kaif, Aamir Khan in 3 Idiots, Hema Malini


Aamir Khan in 3 Idiots


Hema Malini

Bollywood's worst: Dharmendra, Minissha Lamba, Preity Zinta, Shabana Azmi (Based on findings from the Internet and medical sources)


Dharmendra


Preity Zinta
Never mind the 'age-gracefully' propaganda by Hollywood biggies like Johnny Depp and Julia Roberts, Dr Jaishree Sharad, cosmetic dermatologist, informs that Hollywood is far ahead of us when it comes to cosmetic procedures. "If I am using 20 vials of botox a month here, my Hollywood contemporaries use 500-1,000 vials per month," she adds.
So the popular belief is — thin is in, large breasts look good and more hair is better. "There is an overriding desperation to remain in the reckoning. Bollywood is obsessed with youth unlike Hollywood, and we have terrible notions about how young and nubile a heroine must look and how strong and handsome a hero must look. I wonder in the present scenario, what slot talent tornadoes Meena Kumari and Sanjeev Kumar would find?" wonders Rauf Ahmed, a senior film journalist.
So, in a profession mostly dependent on your good looks, the cosmetic fix-its appear to be a godsend. "It is a personal choice – just like your wardrobe – you can choose what to do with your face. But remember, it takes courage to undergo 'the procedure'. I wouldn't go for it, but each to his own," remarks Bhavna Somaiya, veteran film chronicler, who has penned several books on Bollywood stars, including the latest A to Z of Amitabh.
Sources (on condition of anonymity) reveal that Salman Khan's Dubai visit replenished his bald spot with a thick mop of hair (indeed, with a hair transplant) and added to his perennial youthfulness at 47, earning him the top billing as a star as well as "best cosmetically enhanced Bollywood star". Katrina Kaif, reveal sources, too, has arrived on the surgical world by having her form sculpted to a desirable perfection. The dapper and elegant Amitabh Bachchan may not be able to use botox, as it is dangerous for him because he is a patient of myesthenia gravis, but "the sharp jaw line and his rejuvenated looks must have been acquired through some expert handiwork" is what the plastic surgeons fraternity guesses.
The talented Tabu adores liposuction while Priyanka Chopra (nose and lip), Preity Zinta (deepened dimple and face glow), Shruti Hasan (sawing off the aquiline sharpness of her nose) have resorted to aesthetic surgeries. Though in vehement denial mode, but Kangna has certainly got a lip augmentation done – for that new saucy pout. While Aamir Khan, too, had opted for botox shots for his young avatar in 3 Idiots, he used it professionally and judiciously. Aamir is back with his wrinkles now, looking his age. And that is how this age-defying injection should ideally be used.




Priyanka Chopra as a Miss World contestant




Priyanka Chopra in Dostana. She is reported to have got done a nose and lip correction surgery
The frozen expressions are a result of "overdose" and not merely the "use" of botox. "Botox makes certain facial muscles less responsive, thereby smoothing out the lines and wrinkles. The effect of the shots must wear out and only then can a fresh shot be given. But in the fear of getting wrinkled, patients often opt for frequent shots, often not respecting the time-gap between two shots, which render the lazy muscle lazier and that eventually ends up in that frozen look," elaborates plastic surgeon Dr Varun Dixit.




Salman Khan's Dubai visit replenished his receding hairline with a thick mop




Kangna Ranaut sported a fresh bee-stung pout after her reported lip surgery that she conveniently blamed on seafood allergy
So is the greed of the users proving to be their undoing? "Greed on the part of both the demander as well as the supplier, is to be blamed for this," replies Dr Dixit, who has voluntarily opted out of botox practice as he doesn't wish to dilute his surgical focus.
Rauf Ahmed harks back to the genealogy of cosmetic procedures in Bollywood, "The first cosmetic beauty enhancement was Sadhana's fringes that covered up her forehead. But the first plastic job in Bollywood was Sridevi's nose," he recalls. There were always rumours about Dev Anand's facelifts to enhance his evergreen status. However, it was Shilpa Shetty, who really brought plastic surgery out of the closet by admitting publicly to "a nose job". Then came Sushmita Sen's silicone breast implants like those of Pamela Anderson. Sushmita, too, was forthcoming about her assets. Aishwarya Rai Bachchan, like most Miss Indias, admits only to, " got my enamel bleached" but the grapevine has it that she's got her cheek implants and her jaw and teeth re-contoured.
Bhavna Somaiya argues that most stars of her generation have aged gracefully — Zeenat Aman, Sarika, Dimple and Hema Malini. Rauf Ahmed relates an interesting observation made by Waheeda Rehman. "She rued that by the time you mature as an actress, it is time to get out and be replaced by nymphets prancing around in the rain."
In an industry where careers are short-lived yet highly rewarding, it is but natural that film folks should resort to cosmetic fix-its to prolong their screen tenure. But the likes of Julianne Moore, 50-year-old Hollywood star famous for her radiant skin and youthful looks, ruled out cosmetic intervention and she attributed it to "ashthanga yoga three times a week" and " run a couple of times a week". As Dr Dixit concludes, "Improving lifestyle will take you a long way – balanced diet, regular exercise, adequate rest and a good night's sleep need to be followed. Otherwise, life in the fast lane is bound to take its toll!"
Lethal lipo




Vivek Shauq (47) died following a heart attack after a liposuction operation in January this year
Vivek Shauq, a character actor and comedian, died following a heart attack after liposuction operation at the age of 47 on January 10, 2011.
Shauq shot to fame as Jaspal Bhatti's brother-in-law in Flop Show and later became popular in films like Gadar-Ek Prem Katha, Aitraaz and 36 China Town. After undergoing a liposuction operation in Thane, Shauq's condition turned critical.
e suffered a heart attack. He was later put on life-support system but slipped into coma and could not be revived. Shauq died of septicemia. Reportedly, Shauq did not reveal that he was a cardiac patient.
So, plastic surgeon Dr Varun Dixit warns, "Please do not take plastic procedures lightly, weigh the pros and cons cautiously and meticulously. Keep your doctor informed about your health status."