Contest Of The Czars
Apart from testing fortunes, the match at Lordís will serve to resurrect Test cricket in this age of racy T20s and ODIs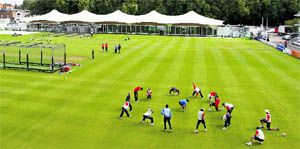 Test cricket is dying. In these fast-paced times, we have neither the time nor the inclination to watch the intricacies of a fabulous sport unfold over the duration of five long-winding (usually boring) days. Yes, Test cricket has travelled a very long way from the time the first ever such match was played in 1877 between England and Australia.
Gluten Guide
Wimbledon champion Novak Djokovic credits a gluten-free diet for improved fitness
There was a recent news that read: "Gluten Free Tennis? Is Novak Djokovicís new gluten free diet behind his winning streak?" Every sportsperson began to wonder how avoiding gluten could increase stamina. Fortunately, this story is not just tennis gossip; it is a remarkable opportunity for critically needed health awareness.