Crimes of passion
While the rise in ambitions and financial independence of women are leading to greater promiscuity, it is intolerance and a lack of life skills that are eliciting more and more violent reactions to acts of adultery, as seen in the Grover murder case
Vibha Sharma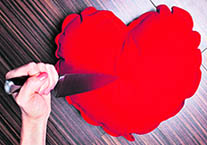 ONE morning in the May of 2008, naval officer Emile Jerome Mathew walked into the apartment of his fiancée, small-time actress Maria Susairaj, and killed media executive Neeraj Grover after finding him there.

Love sex aur dhokha
WITH women stepping out of their homes in the quest of equality, sociologist Rajesh Gill pegs the ratio of men and women indulging in extramarital affairs at a an equal ratio of 50:50. "Women have become more ambitious, they believe that they have only one life and want to make the most of it," she says.
Battle on another front
Mental healthcare has become a big issue in militancy-ridden Kashmir. Women volunteer-counsellors have emerged as icons for traumatised people, writes Aditi Bhaduri
IT was just another mundane day for Munira Manzoor until a knock on the door changed her life. That moment marked her journey of transformation — from being a school dropout to a respected paramedic in her village of Zuhama, in Kashmir's Budgam district.
The sunniest European capital
Associated with many adventurers like Vasco da Gama and Prince Henry the Navigator, and often called the city of explorers, Lisbon is a perfect destination for dreamers and those romantic-at-heart, writes Tanushree Podder
LISTED as one of the top 10 cities to visit by the Lonely Planet, it is the warmest and sunniest capital in Europe — sunny, because of its location, and warm because of the sunny-natured Lisboêtas that inhabit the place.
The fading notes
M. L. Dhawan takes a look at the rise and fall of ghazals in Hindi film industry
GHAZAL has been rightly described as the soul of Urdu literature and most popular form of Urdu poetry. It has always been an integral part of Bollywood. Beginning from the 1940s, legendary singers like Talat Mahmood and K. L. Saigal had immortalised this genre.
Loo & behold
Comedy in Indian cinema often touched the outlines of normal bodily functions but Delhi Belly crashed all delicate barriers, writes V. Gangadhar
THE current joke among film buffs is that Aamir Khan should have held the world premiere of his latest hit film Delhi Belly inside a public toilet for its realistic sound and smell effects! It would have been the first of its kind. 'King' Aamir promoted each film of his with typical flair but missed out on this.
Delightful entertainer
The National Award-winning film I Am Kalam comes across without sloganeering or sentimental melodrama and is sure to motivate millions of children across India, writes Shoma A. Chatterji
Chhotu is a 10-year-old fatherless boy. But his brain is razor sharp and he has incredible grasping power. He has never gone to school but has learnt to read and write all by himself. When his widowed mother, with a baby tucked in her arm, brings him to work in a dhaba in Bikaner, he picks up the skills of the trade quickly.