Wedding beat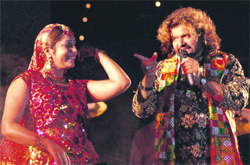 We aren't sure where marriages are made anymore-in heaven, on social networking sites, in office cubicles or elsewhere, but one thing is for sure, there are umpteen interesting things about marriage. To begin with, funny quotations, like this one-'A long marriage is two people trying to dance to a duet and two solos at the same time.' And second thing is the ceremony.




Soul searching

: Hans Raj Hans


A woman's man
Twists and turns in the plot keep the audience hooked, feels Rahul Mittra, producer of Saheb Biwi Aur Gangster. He has many in real life. Starting as a journalist, Rahul ventured into PR, established his company Brandsmith, started as branding and communication consultant and has ventured into films with Brandsmith Motion Pictures.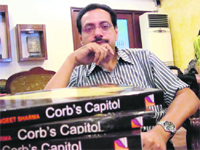 When the pen brakes…
Since ten days, she could not add a word to what she had written; while earlier ideas effortlessly took the form of words, this time Neel Kamal Puri struggled to streamline her thoughts after completing the first chapter. In no time, she realised it was the writer's block!





Logical end

: Sangeet Sharma

Sallu goes the Rajni way
With action films like Wanted, Dabangg and now Bodyguard, Salman Khan seems to be fast becoming the Rajinikanth of Bollywood, but the actor is frank enough to admit that it will take him 20 years to be anywhere near the South superstar.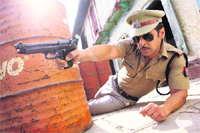 COPing up with the crime scene
Ajay Devgn gets back into the police inspector mould with Singham. The intense and versatile actor can pull off any role. We take a look at other actors and stars that have played cops in recent times
This blockbuster revolutionised Salman Khan's career and resuscitated Boney Kapoor as well.



DABANGG COP

: Salman Khan


Bumper time for adult films
Delhi Belly has shocked quite a few with its toilet and sex scenes and generous use of expletives, but the A-certified film got a bumper response.

Flexible approach
Aamir Khan plays a gymnast in Dhoom 3 and he has to be super flexible. He keeps reinventing himself for roles and that is quite amazing.

Change for better
Bend It Like Beckham launched the Hollywood career of Keira Knightley and Jonathan Rhys Meyers but film's lead Parminder Nagra says it is "frustrating" at times to be passed on because of her Indian background.

Star attraction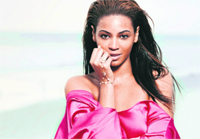 Beyonce Knowles has had it all before turning 30, yet is still humbled by what she calls "the biggest opportunity of my life" -- the lead role in Clint Eastwood's remake of the film, A Star Is Born.The singer and burgeoning actress, whose fourth solo album 4 debuted at No. 1 on pop charts after its release in June, says she felt lucky to have landed the iconic role previously played by Barbra Streisand and Judy Garland.



HUMBLED

: Beyonce Knowles


Another love story
Hollywood actor Leonardo DiCaprio and Blake Lively have hinted of a "steady relationship" after they were spotted shopping togetherThe couple, who has refrained from admitting their relationship, seems to have put recent reports of a split behind them as they went on a shopping spree in Santa Barbara, California.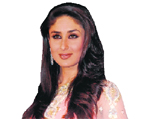 Bebo's favourite Khan
Kareena Kapoor is close to all the Khans: Aamir, Salman, and Shah Rukh. Saif Ali Khan goes without saying. When asked who her favourite Khan was, she replied that it was Salman Khan. Sporting Salman teased her about Shah Rukh because he knows they are close.



KHAN-DAAN

: Kareena Kapoor

Another love story
Hollywood actor Leonardo DiCaprio and Blake Lively have hinted of a "steady relationship" after they were spotted shopping together.

JJ's design disappoints
Unlike previous seasons, designer JJ Valaya's show on the opening day of Synergy1 Delhi Couture Week (DCW) was not up to expectation as his collection featured some of his past designs with a touch of his signature luxe.

Astro turf