Back pain is common in menopause
Dr Meenal Kumar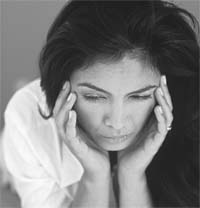 Jaspal Kaur has been a dedicated computer worker for the last several years. Lately, she has started complaining about back pain after day-long work. This has become more accentuated after she celebrated her 45th birthday. After a bout of sneezing her backache became acute. Besides scanty menses, hot flashes, frequent urination, lack of interest in physical intimacy, insomnia, protruding tummy, back pain has been constantly bothering her. Why?
It is a well-known fact that most women in the menopausal zone are deficient in calcium because of its low intake through their diets, and then there is erosion of their bones, especially the spinal bones, due to hormonal imbalance. The required calcium intake for most postmenopausal women is 1200 mg/day. Besides osteoporosis, back pain most often occurs from strained muscles and ligaments, from improper or heavy lifting, or after a sudden awkward movement.
Sometimes a muscle spasm due to stress can cause back pain. In some cases, back pain may be caused by bulging or ruptured disks. Arthritis in the spine can also lead to a narrowing of the space around the spinal cord, a condition called spinal stenosis. Scoliosis, a condition in which your spine curves to the side, also may lead to back pain. In the case of Jaspal, several factors came into play!
Prevention
The following factors that increase one's proneness to back pain need attention: Female gender, smoking, obesity, older age, physically strenuous work, sedentary work, stressful job, anxiety, depression, etc.
You may be able to avoid back pain by doing the following:
1. Regular low-impact aerobic activities. Walking and swimming are good choices.
2. Quit smoking.
3. Reduce weight, protruding tummy is no asset.
4. Stand smart and sit smart. Consider placing a pillow or rolled towel in the small of your back to maintain its normal curve.
5. Give attention to your mid-life health, consult a gynaecologist and start hormone replacement therapy, if advised.
What specific exercises can you do to stretch and enhance comfort?
Sit in a chair and press your buttocks together. This will strengthen the muscles that help support your back and legs. Hold for five seconds, relax and repeat. Work up to 20 repetitions a day.
Lie in a bed and bend each knee to your chest. Gradually increase to l0 repetitions each, then pull both knees to your chest and hold for six seconds. Repeat, increasing to l0 repetitions.
Lie on your back and move your feet and legs in the air as if you're riding a bicycle while counting to five. Relax and repeat, gradually increasing to l0 repetitions a day.
To stretch your hips, lie on your stomach in the bed or on a padded floor. Raise your leg, and leg and foot off the bed or floor, keeping your knee straight. Hold for five seconds. Repeat, and work up to 10 repetitions. Repeat with the other leg.
When should you seek medical advice?
When pain is constant or intense, especially at night or when you lie down
Pain spreads down one or both legs, especially if it extends below the knee
Causes weakness, numbness or tingling in one or both legs
Causes bowel or bladder problems
Is associated with pain or pulsation (throbbing) in the abdomen, or fever
Follows a fall, blow to your back or other injury
Is accompanied by unexplained weight loss
Over-the-counter pain relievers may be all that you need if the pain is occasional and not severe. Low doses of certain types of antidepressants have also been shown to relieve chronic back pain. A physio-therapist can apply a variety of treatments such as heat, ice, ultrasound, electrical stimulation and muscle-release techniques to your back muscles to reduce pain. If other measures don't work, your doctor may inject cortisone — an anti-inflammatory medication — into the space around your spinal cord. Surgery is usually reserved for pain caused by a herniated disk and nerve compression.
The writer is a senior gynaecologist based in Chandigarh.