M A I N N E W S
Lokayukta's report nails Yeddyurappa
Worried BJP summons K'taka CM to Delhi
Shubhadeep Choudhury/TNS
Bangalore, July 27
Karnataka Lokayukta Santosh Hegde's report on illegal mining, submitted to the state government here today, accused Chief Minister BS Yeddyurappa of corruption and asked the Governor to take action against him under the Prevention of Corruption Act.
With Hegde making these revelations, the CM, who has been under considerable pressure for the past week after a leaked report indicated that he has been indicted, now may be left with little choice but to resign from his office.
Shortly after submission of the report, a worried BJP leadership summoned Yeddyruppa to Delhi as a section of the party is said to be of the view that he should be removed so that its anti-corruption campaign is not affected. After a meeting of the BJP leaders at LK Advani's house, spokesman Ravishankar Prasad put up a brave face saying the voluminous report has to be first studied before the action promised by party president Nitin Gadkari could be taken.
The report was handed over to Chief Secretary SV Ranganath by Lokayukta registrar MKN Mule. Soon after, Hegde, while addressing the media, said: "In the course of the investigation, it was found that a trust run by family members of the Chief Minister had received a donation of Rs 10 crore from a firm dealing in iron ore."
Citing another instance of illegal gratification received by Yeddyurappa's kin, Hegde said they sold a plot near the Bangalore airport to a mining company at an exorbitant price. Describing the price as "abnormally high", Hegde said while the guidance value of the plot suggested that its price should not exceed Rs 1.4 crore, it was sold for a staggering amount of Rs 20 crore. On the money received by the Prerna Trust run by Yeddyurappa's two sons (including Raghavendra, a Lok Sabha MP from Shimoga), Hegde said the South West Mining Company, affiliated to the Jindal group, had to borrow money from others for making the donation.
"I find it extremely difficult to accept that someone has to borrow money for making a donation", Hegde said. He said the nature of the two payments — the donation and the purchase of the land from CM's sons by a mining company — has led him to conclude that the "payments were made for reasons other than the genuine reason".
He said that in the light of these two cases, he indicted the CM under the Prevention of Corruption Act and made a recommendation to the Governor, who is the competent authority for acting against the CM, "to take further steps in this regard".
Hegde said he had sent a copy of the report to the Governor HR Bhardwaj.
The report, consisting of 25,228 pages (actual report is 943 pages, the remaining pages are annexures), also names the two Reddy brothers, Janardhana and Karunakara, both Cabinet ministers in Karnataka, V Somanna, also a member of the Yeddyurappa-led Cabinet, JD(S) leader and former Chief Minister HD Kumaraswamy and Congress MP Anil Lad.
Hegde said his report has exposed the two Reddy brothers, who have been claiming that that their mining activity was confined to Andhra Pradesh and they were not involved in mining in Karnataka. On Kumaraswamy, Hegde said the former Chief Minister was named in his report in connection with mining leases that he had controversially sanctioned to two companies during his tenure.
He said he had recommended prosecution of all those found guilty by him.
Hegde said about 100 companies were found guilty during the investigations. He has suggested cancellation of their mining leases. The total loss to the state exchequer caused due to illegal mining during the period under investigation (2006-10) was an estimated Rs 16,085 crore.
Following a Supreme Court guideline, Hegde has suggested that four times the amount should be recovered from the persons named in his report.
Mining report: lokayukta's Damning indictment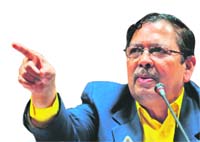 Rampant illegal mining in Bellary, Chitradurga and Tumkur areas.
Racket cost the exchequer Rs 16,085 crore between 2006 and 2010.
Big shots named in report: Chief Minister BS Yeddyurappa, ex-CM and JDS leader HD Kumaraswamy, Reddy brothers (ministers in K'taka Govt and and mining magnates), another minister H Sriramulu, Congress MP Anil Lad's wife.
The report castigates the BJP government, in power since May 2008, for its failure to check mining irregularities and illegalities.
A mining company donated Rs 10 crore to a trust managed by CM's kin who also sold a piece of land to a mining firm for Rs 20 crore far above its value of Rs 1.4 crore.
In Kumaraswamy's case, the probe found "misconduct" on his part in granting 2 mining leases.
Hegde's prescription
Prosecution of accused under the Prevention of Corruption Act and other laws.
The government should cancel mining licences, compute the quantity of loss and treat it as "stolen iron ore" and recover money from people concerned at the market rate.
Yeddyurappa takes a hard hit

It appears that there is a repetition of old points on (illegal) mining in the report. Most of the points are pending before the Supreme Court and the high court.
— BS Yeddyurappa, CM
The voluminous report has to be first studied before the action promised by party president Nitin Gadkari could be initiated.
— Ravishankar Prasad, BJP