M A I N N E W S

India, Pak talk peace, list cross-LoC CBMs
Ashok Tuteja/TNS

New Delhi, July 27
Refraining from rhetoric with a clear intent to keep the dialogue process on track, India and Pakistan today announced additional cross-LoC travel and trade confidence-building measures (CBMs) and resolved to find a peaceful solution to the Kashmir issue by narrowing down differences and building convergences.

At the talks between External Affairs Minister SM Krishna and his young Pakistani counterpart Hina Rabbani Khar, New Delhi extracted an assurance from Islamabad to fight and eliminate the scourge of terrorism in all its forms and manifestations.

India did express its sense of dissatisfaction over the progress in trial of the seven accused lodged in Pakistani jails for their involvement in the 26/11 Mumbai attacks. "We are very concerned about the Mumbai trial…there is a need for speedily completing the trial and bringing those responsible for the crime to justice," Krishna is understood to have stated during the talks.

However, there was no reference to the Mumbai

attacks in a joint statement that was released after nearly two-and-a-half hours of deliberations. The statement touched all outstanding issues between the two countries that have bedevilled their ties and reaffirmed the importance of carrying forward the dialogue process.

Significantly, the usual acrimony associated with an India-Pakistan dialogue was clearly missing this time around as Krishna set the tone for talks by declaring that India desired to see a stable, peaceful and prosperous Pakistan and wished the people of the neighbouring country well. The two sides have perhaps learnt a lesson from what happened in July last year when Krishna's joint press conference with his then Pakistani counterpart Shah Mehmud Qureshi in Islamabad ended in a disaster, giving a setback to the attempts to revive the dialogue process. Therefore, a joint press interaction by the two ministers was carefully avoided.

Krishna and Khar just gave soundbytes at the conclusion of their meeting and did not take any questions. Instead, the two sides fielded Foreign Secretary Nirupama Rao and her Pakistani counterpart Salman Bashir to address the media.

"I can confidently say that that our relations are on the right track. We have some distance to travel, but with an open mind and a constructive approach, which has been demonstrated in this round of dialogue," Krishna said after the talks.

On her part, Khar said Pakistan desired a genuine interaction with India in order to maintain cooperative relations. "We feel the relationship between the two countries should not be held hostage by the past." She said officials on both sides must be "respectful of the reality of the two countries". She carefully avoided the "K" word during her brief media interaction.

Apart from holding talks with Krishna, she reached out to the BJP leadership by calling on party veteran LK Advani and Leader of the Opposition Sushma Swaraj. She also met Prime Minister Manmohan Singh.

The glamorous Pakistani minister, however, did earn the wrath of New Delhi for meeting separatist leaders from J&K yesterday shortly after her arrival here.

"We have expressed our concern (to Pakistan) over yesterday's events…as far as we are concerned, there are bilateral structures to resolve all bilateral issues, including J&K," Rao said, when asked about the meeting between the Pakistani minister and Hurriyat leaders.

Bashir sought to play down the meeting, saying "in a democratic polity, it is our intent to reach out to everyone…we should not read more into it." Pakistan's position with regard to Hurriyat leaders or Kashmiri lobbyist Ghulam Nabi Fai in the US was well-known.

New Delhi also drew Pakistan's attention to the anti-India statements being made on a regular basis by some key terrorist leaders like Jamat-ud-Dawaa (JuD) chief Hafiz Mohammed Saeed. The Pakistani side again sought to brush the provocative statements under the carpet, saying one should not consider the views held by an individual as those of the state.

On the Mumbai trial, Bashir defended the actions taken by Pakistan. "A lot has happened which is not available on the surface." He also asked India to share the details of investigations into the Samjhauta Express blasts. To this, the Indian official said New Delhi would share the details once the Home Ministry had completed the investigations.

Rao aptly summed up the talks, saying, "We are fully aware of the complexities involved, but it is important for the fog to lift from the relationship."

The way ahead
Travel

Travel to be expanded

Srinagar-Muzaffarabad & Poonch-Rawalakot buses to ply every Monday

Nod to multiple entry cross-LoC travel permits

Trade

The list of 21 products of permissible items to be respected by both countries

Number of trading days to go up from two to four per week

The joint statement

Issues to be resolved through result-oriented talks

Undiluted commitment to fight & eliminate terrorism

Countries to convene separate meetings of experts on nuclear, conventional CBMs in Islamabad in September

Indian Foreign Minister to visit Pak in early 2012

Pakistan casts Hina spell on India
Ashok Tuteja/TNS
New Delhi, July 27
Pakistan launched a "charm offensive" on India by unleashing photogenic and glamorous Foreign Minister Hina Rabbani Khar. The spotlight was clearly on Khar as she held talks with External Affairs Minister SM Krishna to review the progress in the India-Pakistan dialogue process.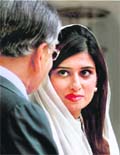 Pakistan Foreign Minister Hina Rabbani Khar. — PTI
As she stepped into the majestic Hyderabad House for talks, arc lights were clearly focussed on the 34-year-old minister. After a warm, extended handshake with Krishna, 45 years her senior, she made some extempore remarks while the Indian minister read out from a prepared statement for the assembled journalists.
She was quite careful not to mention Jammu and Kashmir during her brief media interaction lest she should touches any raw nerves in India. What will be its implications in Pakistan will be known only when she returns home tomorrow. But if the dialogue process succeeds, Khar, too, will obviously share the credit.
The Pakistani minister, on her first major diplomatic assignment, was found, as one official put it, as someone India could do business with comfortably.
In Pakistan, headscarf-wearing Khar has drawn inevitable comparisons with Benazir Bhutto, the charismatic Pakistani leader who was assassinated in 2007.
A postgraduate in hospitality and tourism from the University of Massachusetts, Khar comes from a wealthy feudal family in southern Punjab and owns Lahore's posh Polo Lounge. Her father is a landowner from Muzaffargarh. Her uncle Ghulam Mustafa Kar was the subject of "My Feudal Lord", written by his fifth wife Tehmina Durrani. Khar is known to be fond of polo and trekking.
She has become Pakistan's 26th Foreign Minister at a time when her country is suffering a serious image crisis and is being dubbed as a safe haven for terrorist groups of all hues.
In a country where it's the military and the ISI that make and determines foreign policy, particularly with respect to India, Pakistan President Asif Ali Zardari justified her appointment, saying it would "send positive signals about the soft image of Pakistan".