M A I N N E W S
Ramdev aide Balkrishna lives life king-size
Sandeep Rawat/TNS
Haridwar, July 27
Despite hailing from a simple Nepali family, the rise of Yog Guru Swami Ramdev's aide Acharya Balkrishna in recent times has been quite amazing. He has been the right-hand man of the Yoga Guru and sole managing director of more than 30-odd companies. Besides, he is Vice-Chancellor of Patanjali Yogpeeth.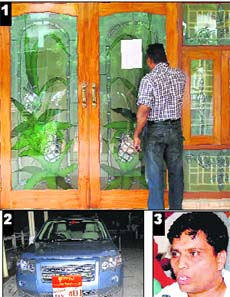 (1) A man reads the CBI notice pasted on the office-cum- residence of Balkrishna in Haridwar on Wednesday; (2) The Land Rover of Balkrishna (3).
Tribune photos: Rameshwar Gaur
Though Acharyaji, as he is fondly called, is normally clad in a white dhoti, seeing his ashram's fleet of cars, licenced revolvers, state-of-the art office and a daring attitude, the saint could be mistaken for a corporate honcho. Testimony to this is his luxurious life style that includes a personal luxurious Land Rover, which costs around 1 crore in the Indian market. This when Swami Ramdev is known to preach a simple life style!
Acharya Balkrishna has also got a VIP number for the vehicle. The car registration number is (08 V 001). But preceding one are zeros designed in ascending style. This amounts to flouting traffic rules. As per the Motor Vehicle Act, the number should be in roman having three-inch format black inked on a white plate. In this case, the plate has white background with alphabets-numeric in yellow.
Terming this as a violation of traffic rules, Assistant Regional Transport Officer Dwarika Prasad said the name plate flouted the transport department rules and action could be taken against the vehicle owner.
Just above the number plate is a board indicating the designation of Balkrishna as VC of Patanjali University.
May be arrested today
New Delhi: Balkrishna, Yoga Guru Ramdev aide, may be arrested by the CBI on Thursday for allegedly furnishing fake documents to get his passport. The CBI has summoned Balkrishna to appear in connection with the case as he could not be traced at his residential address in Haridwar, CBI sources said. — PTI

Disappearance of Ramdev's guru
Haridwar SSP promises probe
Controversies don't seem to be leaving Swami Ramdev. Now Yoga Guru looks embroiled in another controversy - that of his alleged hand in disappearance of his spiritual mentor — Guru Swami Shankar Dev.
Founder of Patanjali Yogpeeth, Swami Shankar Dev has been missing from Diyva Yog Mandir Trust in Haridwar since July 1997 who made Swami Ramdev and Acharya Balkrishna his disciples.
Though special investigation has been going on, Akhil Bharatiya Akhada Parishad and other saints have raised the issue once again. SSP Haridwar Kewal Khurana has assured them of a time-bound investigation so that the reason behind the suspicious disappearance of Shankar Dev could be found out.