Ties of FAITH
Swati Rai checks out some interfaith marriages in a society where religion still plays an important role when it comes to choosing a life partner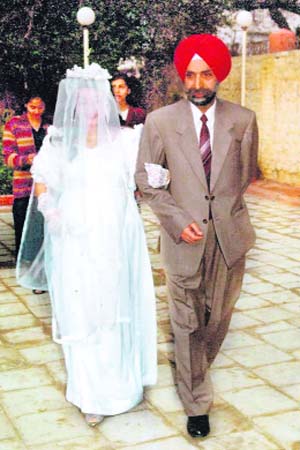 Navreet, a Sikh from Kashmir, who got married to Milton, a Protestant, walks down the aisle with her father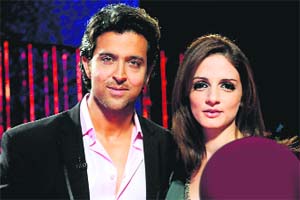 Hrithik Roshan and Suzanne Khan had an interfaith marriage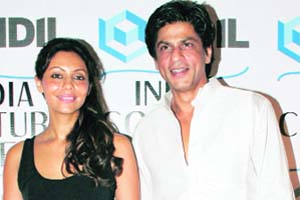 Shah Rukh Khanís wife Gauri is a Hindu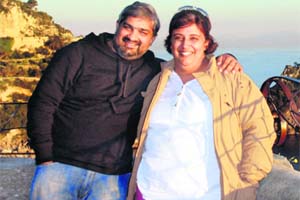 Mohan Krishnan, a Hindu, with Sikh wife Maneesha Singh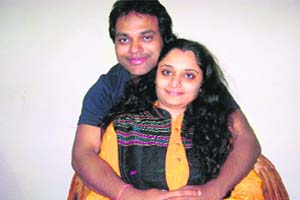 Kamal Dash, a Brahmin, and Loveleen Kaur, a Sikh, married against their parentsí wishes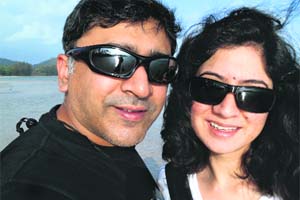 Nupur Amarnath, a Brahmin, with husband George Koshy, a Christian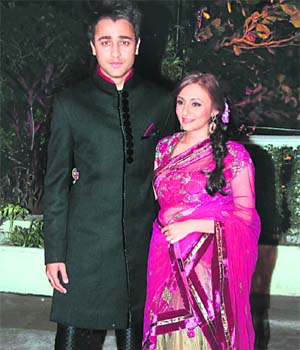 Imran Khan recently got married to a Hindu girl Avantika Malik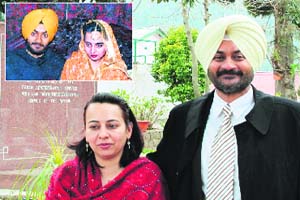 Alice, a Hindu, is married to a Sikh, Manav Inder Singh Guram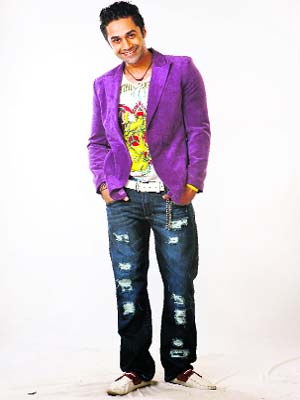 Hrishant Goswami is anchoring Channel Vís Love Kiya Toh Darna Kya
IN India, both marriage and religion are sacrosanct. Can the two mix and live happily ever after? What is the fate of interfaith marriages in the Indian society? Is there an acceptance of such alliances? Are religious differences a cause of matrimonial discord? What are the dynamics of such a marriage vis-ŗ-vis the couples and their respective families?
According to sociologist Zafeena Suresh, "The concept of marriage has undergone a change due to increased spatial mobility and emphasis on individualism."
Dr Simmi Waraich, Consultant Psychiatrist, Fortis Hospital, Mohali, adds, "The increasing number of late marriages and nuclear families are the reasons why key matrimonial decisions are in the hands of todayís youth."
Mohan Krishnan, a Hindu, got married to a Sikh, Maneesha Singh, this January. Theirís was a workplace romance that got solemnised at a court wedding. Says Mohan, "Parental support helped us in being able to take such a decision in peace."
About rituals of which religion were followed while solemnising their marriage, Maneesha comments, "We are against following rituals. Since we are self-reliant professionals, we organized the court proceedings and the reception too!"
On whether such marriages are on the rise, Mohan Krishnan says, "We do not think such marriages are anymore visible now than they were previously. Surely there is more transparency about preferences for individuals to make a more informed choice."
This sentiment is echoed by newly weds Nupur Amarnath and George Koshy, who got married in March this year. The groom is a Syrian Christian, and the bride, a Hindu Brahmin. Both media professionals had met each other at a friendís place.
On choosing a life partner from a different religion, George says, "I think religion should be excluded from matrimony, business and politics. Faith is a bad way to judge a personís character.
What we were looking at were issues of compatibility and understanding. I donít believe in organised religion but in spirituality and in being a good human being."
Is the tide turning?
Is there a change in the matrimonial cosmos, or is it merely a flash in the pan? Have we been able to shatter our bourgeoisie mentality of finding a socially "appropriate" match? Yes, it is true that in a country with 1.21 million people, the same-faith matchmaking saga still continues. Says Dr Waraich, "The Indian parent is over indulgent and invests immensely in his child. Consequently, the Indian child is comparatively less individualistic and does take social harmony into account while taking such decisions.
Ours is an intrusive society and so, even the Ďloveí marriages at a majority level are of the same-faith variety, barring those in metros or among Indians living abroad. Though there is a certain practicality attached with same-faith marriages, but interfaith marriages is a trend that seems inevitable."
So when faith succumbs to love, does the story of the star-crossed lovers have a happy ending? How do their respective families and most importantly, the couples themselves resolve their religious equation?
Kamal Dash and Loveleen Kaur, former a Hindu Brahmin and the latter a Sikh, met at Jawaharlal Nehru University, New Delhi, in 2004 and tied the knot against the wishes of their parents in 2009. Kamal elaborates, "There has been stiff opposition from my family, which has been extremely painful. Acceptance from both families has been superficial and that has caused tension in our lives."
Loveleen adds, "Our parents were unhappy, firstly because we married to a partner of our own choice and secondly because we had an interfaith wedding.
We do try to understand their perspective and try to balance it with our need to live together. So we try to be happy and intend pursuing our creative and professional passions."
Is this the secret of post-marriage happiness in an interfaith marriage? According to Zafeena, "Understanding issues of an interfaith marriage is extremely important even before the marriage takes place. Faith of children, family ties and security are some major issues that affect the marriage."
Kamal and Loveleen speak of their marital balancing act, "We strongly believe that God exists and we pray according to our traditions. We both go to our respective places of worship.
We both do yoga and study Hindu and Sikh scriptures." Kamal believes that when they have a child; he/she will be given a common interfaith name and the freedom to choose her religion.
Another such couple is that of Navreet Michelle Milton and her husband, who belongs to the Army. Navreet is a Sikh from Kashmir and Milton is a Protestant. Recounts Navreet, "As a child I was exposed to all religions and customs, so my parents did not have any objections to the alliance.
But my relatives stiffly opposed this match." Navreet, who got married in 1999, believes that to balance religious equations in the family, one religion has to be given priority, which, in their case is of the fatherís.
Navreet adds, "Yes, my sons do go to gurdwara and church but I wanted them to identify with one religion; so they have been baptised. I also, purely by choice, follow Christian customs."
She concludes that each marriage is unique, though perhaps more adjustments have to be made in an interfaith one, but it does not work if the compromise is one-sided.
Does love conquer all?
Though there is intense media exposure about the celebrity inter-religious marriages, yet this trend remains limited to page 3 circles and to metros.
There still exists social anxiety and ill-reception of such alliances. Channel Vís Love Kiya Toh Darna Kya is a show where much in love GenNext couples try to woo their parents into accepting their partner, who may be of a differing caste or religion.
Prem Kamath, General Manager, Channel V, says, "This show is a reflection of the obstacles and issues faced by a majority of Indian youth in their personal relationships. We try to help such couples break the barriers of rigid cultures.
We have had couples from cross-country love, to inter-caste conservative matches. Though some family members have agreed to give time to the children yet, in most cases, accepting such relationships becomes a no-no for families." `A0
So even the younger generation, with a superficial freedom to choose a life partner, have to bear parental rejection.
Alice and Manav Inder Singh Guram is a couple who had an interfaith match, much before this trend became the in thing in the media. The bride a Hindu and the groom, a Sikh, were classmates till they decided to tie the knot in 1992.
Elaborates Alice, "My family was not overtly religious, so there was no question of opposition. Yes, there were some adjustments that I had to make post marriage, primarily because I had been exposed to a cosmopolitan culture.
Sometimes, though there isnít overt rejection of the inter-religious ties but when you scratch the veneer of acceptance, then peopleís reservations peep through. Such alliances, therefore, are more conspicuous in metros."
Whether these alliances are on the vrise or not is debatable, but we are still bound by the unwritten societal norms. Each of these couples has tried to balance the cultural, social and religious equation of their marriage in their unique way.
There isnany blueprint to ensure the success of such a marriage; but whatever be the case, one can safely say that a marriage, among other things, still remains a matter of faith!


Survival kit

According to Dr Simmi Waraich, a partner should not impose oneís religious choices on the other. Here are some more tips to smoothly navigate an interfaith marriage:
Understanding, respecting and accepting each otherís religious beliefs will help overcome marital obstacles.
In a marriage, mature communication is integral. It is best to communicate to each other of oneís religious leanings and the role that they would play in life, post marriage.
Involving parents on both sides can not only bring wisdom to the table but will also ensure a stress-free environment.
A well chalked out plan of action will leave less room for errors of judgment. Post marriage, there are issues that may crop up that may cause friction, like planning holidays, family functions and having children.
In an interfaith marriage the key to survival is tolerance and acceptance of each otherís religious rituals and traditions. Not making an ego issue of simple belief and practices is the mantra to follow.
ó SR