Nature in melody
Violin is popular in Indian music. The instrument is also taught as an independent subject at various universities, reports Hemant Kapil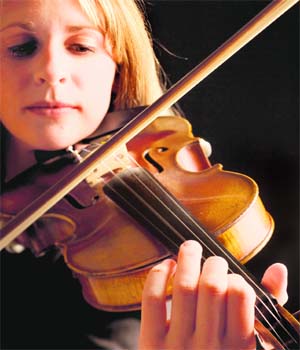 A number of foreign music composers are working with Indian violinists and developing sonorous European melodies Thinkstockphotos/Getty Images
THE very reference to music generates a feeling of rare happiness in our hearts. This sweet sensation reminds us of the rise and fall of sea waves, flow of winds, chirping of birds, murmuring rivers and rustling waterfalls. We observe the same rhythm and melody in every object of nature.
Instruments form an essential part of music, without which both song and dance remain incomplete. From time immemorial, instruments have been an integral part of music.
Violin is a highly popular instrument in Indian music, whether it is Hindustani or Karnatic style. Learned music scholars have established the truth that violin is basically an Indian musical instrument. It is more and more used in classical, semi-classical, orchestra, folk and film music. Today, violin is taught as an independent subject at Benaras and Kheda Universities. Similarly, at school and college musical symposia, stage performance, contests and functions, violin players enchant the audience.
Violin was introduced through the South Indian music in the country. According to Narayan V. Pandit, violin was first observed in the court of the South Indian state of Tangavur. Later, the king of Tranvancore, Swati Tiroonal, imported three violins from Europe, and commanded his three competent musicians to practice and master this instrument. With the passage of time, Balaswami Deekshiter (1786-1858) came under the impact of the European violinists of Tangavur.
Balaswami along with Vadivelu (1810-1897) made several experiments with violin and introduced it in the Karnatic music system. Moreover, P. Sombpurti differs with this observation. He contends that violin as a musical instrument was in vogue in the South Indian music even before the 18th century. Whatever the arguments, there is no denying the truth that violin was properly introduced in Indian music by Balaswami Deekshiter, and he can well be considered its founding-father in the South Indian music system.
In the recent 20th century, Govindswami Pillai and Kamal Krishna Aiyyar have made novel experiments and have firmly established violin in the Karnatic music. It is violin that holds the most prominent position among all the South Indian musical instruments. It is heard everywhere. Some of the South Indian violinists like Dr S. Balamulkrishan, L. Shankar, L.Vaidyanath, Dr L Subramanyam, Sri Ganesh, T.N.Krishanal and many others have won worldwide recognition.
Violin had a late start in North India. It travelled from Bombay, Madras and Kolkata and reached North India only in the 20th century. Prominent North Indian violinist such as Gagan Chandra Chatterjee, Ustad Allaudin Khan, Pt Gajanan Rao Joshi and V.G.Jog are the illustrious stars of violin music in North India. Actually, the entire credit to popularise violin is North India goes to Vishnu Digamber Pulaskar. Ustad Allauddin Khan started learning violin in 1911 and he made successful experiments in combining the Indian and European style of violin playing.
Today violin is often used as an accompanist instrument in alliance with khyal gayaki. Gagan Babu of Allahabad is considered a past master in the gat style. M. Rajam and Kala Ramnath are considered chief exponents of the Hindustani violin recital. Whereas one notices the impact of Omkar Nath Thakur on the violin recital of M.Rajam, Pt Jasraj seems to be an inspiration for Kala Ramnath.
After the era of the dumb movies, it was in 1935 that Bombay Talkies produced the film Jeevan Naiya, where famous violinist S.N. Tripathi introduced most musical notes in the film. Later, Husnlal brought out a violin revolution in the Indian film industry between 1943 and 1960. Today a good number of foreign music composers are working with Indian violinists and developing sonorous European melodies.
Violin is widely used in ghazal recitals of Jagjit Singh and Deepak Pandit. The history of violin jugalbandi can be traced from the times of Ustad Allaudin Khan. He experimented it with his famous disciple, Pt Ravi Shanker (sitarist). Similarly, V.G.Jog and the great shehnai artiste Bismillah Khan enthralled the audience with their jugalbandis.
The writer is a lecturer in music, S. A. Jain College, Ambala City