Justice delayed… and denied
The aging parents of the first martyr of the Kargil war, Captain Saurabh Kalia, continue to live at Palampur, Himachal Pradesh, in the hope that the perpetrators of the atrocities committed on their son and his five comrades will be brought to book, writes Navreet Milton

Maa, tum dekhna, ek din aisa kaam karunga, saari duniya mein mera naam hoga (Mother, you will see one day I will perform such an act that the entire world would acknowledge it)." "These were the last words my son said to me over the phone," recollects the misty-eyed Vijaya, mother of the first martyr of the Kargil war, Captain Saurabh Kalia.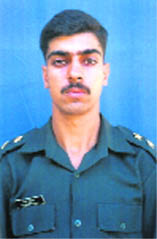 Captain Saurabh Kalia of 4th Battalion, Jat Regiment, was the first Indian soldier to report Pakistani incursion in the Kargil sector in 1999

Captain Saurabh Kalia of 4th Battalion, Jat Regiment, then 22, was the first Indian soldier to report Pakistani incursion in the Kargil sector in 1999. He was taken captive by Pakistani troops at the 14,000-feet high altitude post of Bajrang while on a patrol along with five of his comrades on May 15, 1999. The Indian patrol was held in captivity for almost three weeks and was brutally tortured in the most inhuman way, making a mockery of the Geneva Convention of which both India and Pakistan are contracting parties.
The parents of Saurabh waited anxiously day after day in the hope of the release of their son coming through but this was not to happen, as one sorrowful day they read in the newspapers that the bodies of the missing Indian soldiers have been returned in the most barbaric state. "I was just glancing through the newspapers like every day, and in a twinkling of an eye my whole world came apart when I read in bold letters that the bodies of the missing soldiers have been returned by the Pakistan government, and one of the bodies is that of Saurabh Kalia," reminisces a tearfully-heartbroken Dr N. K. Kalia, father of Saurabh.
It has been 12 frightfully long and desolate years now and the aging parents of Saurabh Kalia, Dr Kalia, along with his wife Vijaya, continue living at Palampur (Himachal Pradesh) in the grim hope that their lone battle to highlight violations of human rights and brutalities committed on their son and his five other comrades will one day be won, and that the perpetrators of this heinous atrocity will be brought to book, thus enabling them and many other such parents to live the rest of the days of their lives in the satisfaction that they were able to get justice for their dear ones. This would also have given faith to many of those parents who have been reluctant to send their sons to the armed forces after the brutal act conducted on these brave soldiers of India.
Dr Kalia has been running from pillar to post and has approached many national and international organisations to pressurise Pakistan to identify the culprits and punish them for their inhuman act towards the Prisoners of War, but so far that ray of hope does not seem to be coming forth.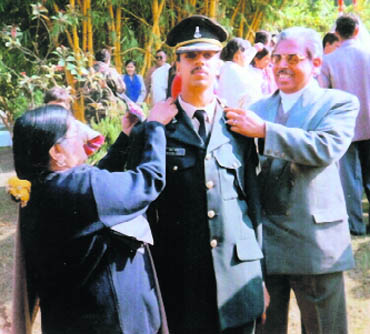 Dr N. K. Kalia (right), Saurabh's father, has approached many organisations to put pressure on Pakistan to identify the culprits and punish them for their inhuman treatment of prisoners of war

Are 12 years too short a time to forget the pain and anguish the loved ones are going through, still trying to come to terms with the tragic bereavement? Or has the organisation in olive green distanced itself from next of kin of unsung heroes? Dr Kalia, as a matter of fact, points out that even on the occasion of the 10th anniversary, which was conducted by the Army on a large scale, there was no intimation from the Kargil Army authorities that such a remembrance ceremony for Kargil martyrs is being organised. "It was only much later that we received intimation of any sort. This was very disheartening, indeed," he laments.
He further adds: "Sadly, we live in a country where our netas are more internationalists than nationalists. For them, their image is more important abroad, and they can stoop to any level to bargain the national interests. Exposures in recent years vouch for that. We are all aware that the culprits responsible for the brutal deaths of Saurabh and his men are in Pakistan, but has anything been done about it? What have we done to Kasab and Afzal Guru, who have inflicted one of the worst crimes in recent history? They are still in our custody and enjoying at our exchequer. What a shame! Can a sane-headed person expect any action from the government?
"Though General Malik, the then Army Chief, on a visit to our house in Palampur in October 1999, did promise to take up the issue with GOI and later wrote, too, but I have been explained by the Army that this sensitive issue involves two nations, and only can be taken up by the MEA or the PMO. The Ministry of Defence can only urge the government."
Dr Kalia has started a signature campaign to fight for justice against the barbaric acts committed on Saurabh Kalia and his men, which should have been pursued vigorously by the Government of India. But due to the lackadaisical attitude of the "white-collared babus," he has been left shamelessly to wage a lone battle. Not to be undone, Dr Kalia has garnered support against the barbaric atrocities from over 17,000 individuals both from India and abroad in a signature campaign. He intends handing over this document shortly to the Prime Minister.
Dr Kalia adds: "We are indebted and overwhelmed by the in-numerable people all over the world who showered their immense love, respect and a deep sense of belonging on us in all these years. Over 1.55 lakh emails and 40,000 handwritten letters vouch for that. Honestly, we will have to take several births to repay all that."
In the meantime, the Kalias are leading a retired life in the quaint little town of Palampur, where they are running the gas agency allotted to them by Indian Oil in honour of Captain Saurabh Kalia, who, at the tender age 22 and after donning the olive greens for barely six months, gave the supreme sacrifice for his motherland in the highest traditions of the Army.