Vaseline tweet: Vaughan tries to put VVS on slippery wicket
Laxman accused of using jelly on his bat to manipulate the Hot-Spot technology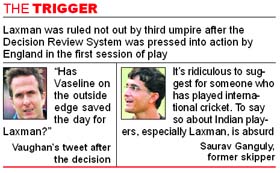 Nottingham, July 31
It was jelly beans four years ago and it is Vaseline this time as a controversy erupted in the second India-England Test here when VVS Laxman was accused of using it on his bat to manipulate the Hot-Spot technology in the Decision Review System.
"Has Vaseline on the outside edge saved the day for Laxman?" tweeted former England captain Michael Vaughan after Laxman was ruled not out by third umpire after the Decision Review System (DRS) was pressed into action by England in the first session of play.
The Indian batsman was on 27, in the total 48 for 1, when the last delivery of James Anderson's ninth over passed his bat. The bowler and the rest of England players promptly went up in appeal for a catch behind the stumps and began gathering around the batsman.
As umpire Asad Rauf ruled in Laxman's favour, England skipper Andrew Strauss went for the DRS but that too didn't favour the home side.
Kevin Pietersen and Laxman were seen getting into a bit of an argument and later Stuart Broad told mediapersons his side was convinced it was a nick.
"Players feel Hot Spot sometimes doesn't show faint edges. It's a bit of a flaw," said Broad.
But what kept the controversy lingering was the Vaughan tweet which virtually accused Laxman of wrong-doing since Vaseline or any liquid on the bat don't show up on the hot-spot technology.
Broad actually went ahead and checked Laxman's bat if there was any Vaseline or liquid applied to it.
"I had a cheeky feel of the edge of his bat as the ball went past him. There was no Vaseline, no liquid there. It's just that Hot Spot is not showing very faint edges," he said.
It is the second time Vaseline has quite infamously figured in Test matches between the two countries who recently celebrated the 100th Test between them at Lord's last week.
When England toured India for the 1976-77 series, England's left-arm fast bowler John Lever was accused by Indian skipper Bishan Singh Bedi of using Vaseline to gain undue swing with his bowling during the Delhi Test-and end up with 7 for 46 and 3 for 24 in his debut Test. — PTI