Skin rejuvenation mantras
Dr Gurinderjit Singh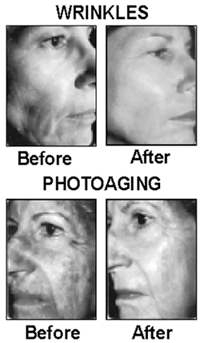 As life expectancy has increased and "baby boomers" have begun to enter middle age, interest has increased in slowing the aging process. There are two main processes of skin aging, intrinsic and extrinsic. Extrinsic aging reflects the genetic background of an individual and results from the passage of time. It is inevitable and thus beyond voluntary control. Extrinsic aging is engendered by external factors such as smoking, excessive use of alcohol, poor nutrition and sun exposure. Since this aging is not inevitable, it can be reduced with effort in many cases. That is why this is often referred to as premature skin aging.
The desire to maintain or restore a youthful appearance has become a significant concern for many people in today's world. Evidently, "wrinkles" are considered one of the major obstacles in this arena. Cetaneous wrinkles, defined as furrows or ridges on the skin surface, appear to be multifactorial in etiology and occur as a consequence of intrinsic and extrinsic aging. Aging is a process that occurs in all organs but is most visible in the skin. The skin may very well reflect or act as an outward sign of processes occurring in the internal organs. Let us discuss some recent skin rejuvenation procedures.
Fat graft
Isolated fat cells when re-injected as droplets survive in living tissue. It is now believed that fat is a rich source of stem cells and this stem cell component acts as a natural rejuvenant. Fat grafted under the skin helps erase the creases and wrinkles and thus is a procedure most sought after for the hands, neck and face. The fat is also used to augment breasts and even buttocks, and the procedure may have to be repeated every year or so to maintain the desired shape. The added or double benefit of fat grafting is the reduced contour of the donor site. Thus, "robbing Peter to pay Paul" helps sculpt the outline better and that too in a single surgical exercise.
Fractional laser
Fractional laser treatment helps to restore skin and return it to its original beautiful glow. Each fractional laser treatment targets between 20 and 25 per cent of the skin's surface, leaving the remaining 75-80 per cent available to heal the treated areas quickly and thoroughly. Since this treatment is so precise, it is effective in delicate skin areas like the neck, chest and hands. Simply put, fractional treatment promotes skin's own healing process resulting in natural rejuvenation that removes years from the appearance.
Radiofrequency
As we age, the collagen in our skin breaks down resulting in wrinkles, creepiness and even sagging skin. Non-ablative radiofrequency procedures righten and renew the skin's collagen deep down, through all the three skin layers. This advanced technique safely heats the deeper layer of the skin, stimulating the existing collagen and promoting new collagen growth. The result is the skin that looks and feels noticeably smoother and tighter.
Injectables
The very fact that our faces are so expressive leads to expression lines, which become wrinkles past 30. Since we continue ignoring them they take the form of deeper static lines, that become permanent on our face. The treatment of expression lines in botox, which when injected softens the facial expression. It has dramatic result in treating crow's feet at the outer corners of the eyes and frown lines between the eyebrows. This makes the two vertical lines between the brows, often referred to as '11', to temporarily diminish for a smoother appearance. The treatment of static lines, which are due to volume loss, lies in the injection of fillers. These are injected below the outer skin layer especially for the correction of perioral lines and nasolabial folds (lines around mouth and nose). Skin rejuvenation has now assumed worldwide importance.
The writer is Chief Dermatologist, Mohan Dai Oswal Multispeciality & Cancer Hospital, Ludhiana.
Chewing food 40 times secret of shedding the pounds
LONDON: A new study has suggested that chewing each mouthful of food for longer might help you lose weight, and also reduce the amount of calories consumed during a meal. The study showed that volunteers who chewed each mouthful 40 times ate 12 per cent less food than those who chewed just 15 times. It is thought that chewing for a long time checks over-eating as the brain is given more time to receive signals from the stomach that it is full. It also apparently lowers the levels of ghrelin, a hormone that controls hunger by circulating in the digestive system. Researchers at Harbin Medical University in China carried out a couple of experiments on 16 slim men and 14 obese men in their late teens or twenties. — ANI