Realm of DESIGN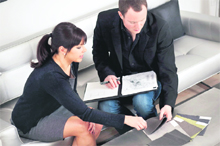 Designing for interior spaces has become popular as a specialisation only in recent years. Interior architecture/design is one of the most creative and challenging design careers on offer today. It deals with the designing of spaces keeping in mind their function, aesthetics and building technology. It is a programme which addresses the cultural needs and aspirations of people regarding their habitat.

Designing spaces as per their function, aesthetics and building technology is a challenge that an interior architect takes up on a day-to-day basis



Ethical way


BE DIRECT AND PERSUASIVE


Keep it simple


Test for law graduates
Hot option
An important factor that differentiates the education sector in this decade from the previous ones is the increased craze for management courses among students. So many courses and institutes are there that deciding about the right course is a difficult decision for management education aspirants.
BSc programmes
The Indian School of Business & Finance( ISBF), an affiliate center of the University of London in association with the London School of Economics & Political Science (LSE), has invited applications for its three-year full-time undergraduate honours degree BSc. Programmes in Economics, Economics & Management and Business.
smart strategy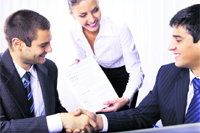 The bargain game
Prudent negotiation of salary or designation can give an extra edge to your career, writes Charandeep Singh
The initial euphoria of getting a new job fizzles out soon if one is unable to get the desired deal. If you find yourself in this predicament then it is a clear indicator of the fact that you are not a good negotiator, because if you had negotiated hard, then you would not have landed yourself a raw deal.
The balancing ACT
With entrepreneurial skills and excellence no longer being only a man's domain, several women are stepping into their shoes accepting unique challenges with grace and pride, leaving no stone unturned to make their presence felt in the industry. However, in this journey on the road to success, the work-life balance continues to be a tough challenge for women entrepreneurs and other working women everywhere.
office mantra
Tackle with tact
Tact is best defined as a subtle perception of the suitable things to do and say. More than that, it is a sensitive perception of the things "not" to do or sayThis subtle and sensitive perception is vitally important in dealing with colleagues seniors as well as juniors in offices. Use of tact can lubricate relationships and the lack of it can cause conflict or confusion.
Industry ready
Centum U, an initiative of Centum Learning — a Bharti Associate company, has achieved 100 per cent internships for its first batch of students. Centum U, through its four campuses in New Delhi, Pune, Mohali and Hyderabad offers UG and PG programmes aimed at creating employable workforce for the country by converging professional skills with formal degrees.
Careercature
Sandeep Joshi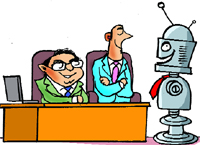 Have faith in me, Sir, I can multi-task without emotional intelligence

INDIAN JOB MARKET
On the cusp of
optimism Notwithstanding the wave of layoffs worldwide triggered by tough business conditions, Indian employment market remains optimistic primarily driven by buoyant hiring prospects in the retail sector.
Happiness @ work
Set the stage for juniors
Firms put in a lot of effort during interviews. What use are talented and committed juniors if they don't get to performWhen 15th century saint Shankar Dev visited Jagannath Puri, he got a chance to hear the recital of the Srimad Bhagwat Mahapurana for the first time. Some years later, Jagdish Mishra got a copy of the epic for him that Shankar Dev translated into the local language.