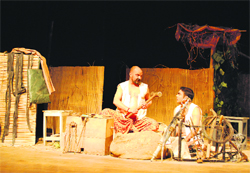 If theatre is happening, play on
With six stimulating, scintillating performances from students of National School of Drama, New Delhi, a full-fledged Tagore Festival that began this Tuesday and Lillete Dubey's Aadhe Adhure in between, theatre scene in Chandigarh is on a roll.



Act right:

Theatre artistes showcase the play Lohakut


Order of the chef!

After making Chiless en Nogado with the right permutation and combination of spices and sauces, it could be something as ordinary as 'aloo mutter' that they want to dig into at the end of the day! What's more, they could be as vegetarian as spinach when they head home. Whatever you order, eat, comment, criticise or even compliment, reaches right up till the chef. For a change, we take the chef's order.


Pallav Singhal, executive chef, JW Marriott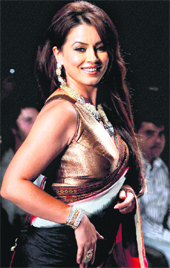 Golden Girl:

Bollywood actor Mahima Chaudhary walks the ramp during the IIJW 2011 fashion show, in Mumbai. — PTI

On wings of dreams
It's not easy to convince your parents if you want to join the glamour industry. There're too many ifs and buts tagged along with a long list of apprehensions. Femina Miss India 2011 contestant Asmita Sood, who's now a model and Tollywood actor, had a good experience of all this when she announced to her parents that she had made up her mind to be a model. The announcement got a cold response!
Girls have all the fun!
Ragging is unexciting at the best and dreadful at the worst. There's nothing cool about it. It's a kill-joy. That was the verdict of girls at the Guru Nanak Girls College in Ludhiana on Wednesday, as they had oodles of fun at Masti Da Funda show organised by the ETC Channel Punjabi.
Abhay: Up, close and personal!
Abhay Deol is known for choosing quality cinema (Aisha is a pardonable mistake made by him) such as Dev D, Oye Lucky Lucky Oye and Zindagi Na Milegi Dobara, etc. He talks about the success of Zindagi Na Milegi Dobara and his hopes for his next, Shanghai.
Of systems and security
The internationally acclaimed film, The Gandu is facing opposition, no support and non-security in spite of going the legal way of screening it.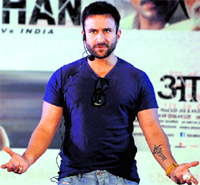 No reservation:

Bollywood actor Saif Ali Khan during the promotion of his new film Aarakshan in Mumbai. — PTI Photo

Sonakshi's hate list
It is a known fact that Sonakshi is at logger heads with Katrina Kaif and other B-town actors. She has recently declared that she is at cold war with Neetu Chandra. This war begins with the Bhojpuri version Kaun Banega Crorepati.
One at a time
The buzz is that Madhuri Dixit has signed Ishqiya 2 and Satte Pe Satta. Madhuri denies the news, "Even I have read about the news but I have not been approached for Ishqiya 2 and not signed Satte Pe Satta.
Debut diaries
She debuted in 1920 and everyone loved her. After that Adah Sharma was seen in many ads as she was choosy about signing films and now she is back with Phhir. "If 1920 was a big challenge, then Phhir was even tougher, since I had to portray my character without expressing too much," says Adah. Here the pretty girl talks about her film and more.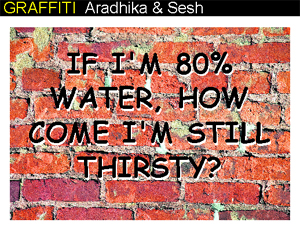 Salman the saviour
Salman Khan has made a hit with his production, Chillar Party. But the buck does not stop there. He is making sure that each kid has a bright future, especially the street kid, Irfan Khan. He is the boy who plays the car-wash boy with the dog in the film.
Super-duper July!
Bollywood has had a spate of hit films in July. Take a look at the rare phenomena.
We are family
Seems like Charlie Sheen and his estranged wife Brooke Mueller are ending their long-running feud for the sake of their kids. The former couple, previously embroiled in a bitter custody battle over their two two-year-old twins, released Tuesday a picture of the group posing together during a weekend get-together at Sheen's Hollywood mansion.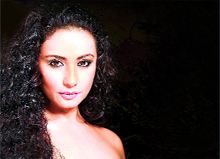 Celeb Point
Varanasi was a beautiful trip, my film Monica was screened at a film festival and was received well with a standing ovation. After the screening, I took ma for the 'aarti' at the Banaras ghat. No car was allowed, so I and ma hired a cycle rickshaw. It was after ages that I sat on a rickshaw but what fun. I covered my face with a dupatta but a few curious people recognised me, "Oye dekh! Divya Dutta! And the others would shut him up, "Paagal hai kya?"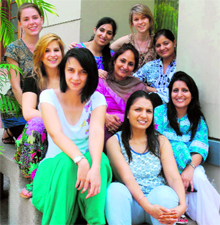 Planting a SAPLING
It is the thought that matters, whether it is about changing one's own attitude in life or doing something for the society. Neenu Vij, chairperson, Saplings, an NGO working for environment awareness, is someone who has a plan and is also working for it. The NGO is organising Earth Connection, an exhibition of paintings, starting from August 4 at the Government Museum and Art Gallery, Sector 10, Chandigarh. If you think paintings are all about bold strokes of expression, Neenu, an artist herself, sees paintings as impressions that have lasting affect.



green brigade:

Members of the NGO, Sapling

TROUBLE SHOOTER
Win back your love
I am a married man of 35 years of age with a daughter. I and my wife are facing intimacy issues. I have started getting attracted towards men. The more I try not to think about men, the more I am. What should I do? I feel guilt because of this problem. Please suggest a way out as I am very much upset.

The self-obsessed network
Social networking websites Facebook and Twitter have created a generation obsessed with them, with a short attention span and a child-like desire for constant feedback on their lives, an Oxford scientist said.




Master Chef
Leafy dressing
Salad dressing is vital; they can make them more appetising and wholesome by adding a touch of originality, freshness or distinction or spoil them by being inappropriate or overdone. Match the ingredients of a dressing to the salad ingredients. Too much dressing spoils the taste and texture of the ingredients. Make the dressing 30 minutes before to allow the flavours to develop and add herbs just before tossing. Thin dressings are usually used for leafy salads while thicker ones are suitable for firm textured ingredients.

A true mentor
Remember Salman Khan, first winner of Zee TV's most popular dance reality show Dance India Dance, he has got a break with first Bollywood film as an actor. He will be playing the male lead in a film directed by well-known choreographer turned director Remo De'souza. The shoot of the show will start in October.