Fitness mantra
Green tea for great shape
Celebrities swear by the slimming and feel-good effects of green tea and more and more youngsters are making it a part of their weight-loss diet since they are ready to follow in the footsteps of the fit and famous
Nancy Sahni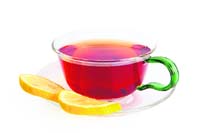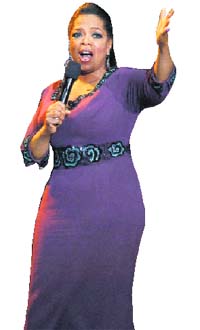 Celebrity devotees of green tea include Oprah Winfrey (above), Gwyneth Paltrow, Courtney Love and our very own Shilpa Shetty (below)


A CUP of tea gives that morning kick to make it a 'good morning' for us, but if it is green tea, then it can make a 'good life ever after' for everyone.
Green tea is made from unfermented leaves of camellia sinesis. Green tea has been used traditionally for more than 4,000 years in Chinese and Indian culture and medicine, to treat everything from headaches to depression. Why don't other teas have similar health-giving properties? Green, oolong, and black teas all come from the leaves of the camellia sinesis plant. What sets green tea apart is the way it is processed. Green tea leaves are steamed, which prevents the EGCG (epigallocatechin gallate) compound from being oxidised. By contrast, black and oolong tea leaves are made from fermented leaves, which results in the EGCG being converted into other compounds that are not nearly as effective in preventing and fighting various diseases.
Research says that since green tea contains the highest concentration of powerful antioxidants, these might help in delaying the ageing process, improve heart health, treat flatulence (gas problem) promote digestion and also improve mental health! More recent studies have found it to be helpful in conditions like cancer, arthritis, inhibits the formation of dental plague, lowers the risk of Type-2 diabetes and may even help increase lifespan. The source of these medicinal properties found in green tea is the high concentration of catechin polyphenols.
So many benefits, but the 'most happening' benefit that is making youth of today going ga-ga over green tea is its role in weight loss and helping in keeping them fit as a fiddle.
So, the health benefits of green tea are beyond dispute, but how does it help you to stay slim and burn off those extra pounds? Green tea can actually help you lose weight in two ways:
Firstly, green tea regulates blood sugar levels by reducing the amount of insulin produced. This prevents fat being stored and keeps your appetite under control.
Many studies point out that green tea results in a significant increase in energy expenditure and thus weight loss. Researchers suggest that if the average person were to drink five cups of green tea a day, they would burn an extra 70 to 80 extra calories through an effect known as thermogenesis —the process of heat production in organisms. Research suggest that thermogenesis in green tea occurs to some degree beyond its caffeine content from epigallocatechin gallate (EGCG), which increases the metabolism of fat. Studies show that 3-5 cups a day of green tea is enough to get the maximum benefits .The average cup of green tea contains between 50-150 mg polyphenols (antioxidants).
Drink a cup of green tea each morning since it's a proven, natural metabolism booster and having your metabolism boosted first thing in the morning will help in efficient calorie burning throughout the day.
You may make green tea a part of your meals by just drinking it along the food. People in China and Malaysia do so and it's difficult to find anybody overweight and fatigued !
You can even carry it in a thermos to drink wherever you are since it tastes delicious as a refreshing cool summer drink! You won't have that urge to gulp down that coke if you have a chilled lemony minty refreshing green tea thermos in your bag.
Steeping is the process of making a cup of tea; it is also referred to as brewing. Generally, two grams of tea per 100ml of water, or about one teaspoon of green tea per five ounce cup, should be used.
The hottest steeping temperatures are 81`B0C to 87`B0C (180`B0F to 190`B0F) water and the longest steeping times two to three minutes. The coolest brewing temperatures are 61`B0C to 69`B0C (140`B0F to 160`B0F) and the shortest time is about 30 seconds. Steeping green tea too hot or too long will result in a bitter, astringent brew. Preferably, the container in which the tea is steeped or the teapot should also be warmed beforehand so that the tea does not immediately cool down.
For summer months, as a refreshing cool drink you may add few drops of lemon juice, mint leaves and a little sugar and rock salt, chill the tea and enjoy.
For winters, turn the green tea into a warm delight by adding cinnamon, black cardamom and ginger and sip it hot.
Seeing the mad rush of life in which we all are a part, be it physical (trotting around the whole world to attend a conference here and a meeting there and a wedding somewhere else), and mental stress (meeting deadlines of work job or home job or kids), it's all so much stressful everywhere since everybody wants to achieve more in less time! So, good dietary habits can prove to be great stress buster as well as boost our well being factor. Sipping green tea is one of them. Yes, it does help you in losing weight and keeping you in good health, but remember it is no magic wand. One has to follow other good lifestyle management techniques, of which green tea is a part.
The writer is a dietician with the Department of Dietetics, PGI