'art & soul
Metalware from the South
The inspiration of Bidri, fine inlay of silver on objects made of metal alloy, seems to have come from Islamic lands like Iraq and Persia where the art of metal engraving and inlay had been perfected and attained greatness centuries ago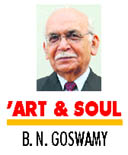 I never cease to be struck by how poetry seems to cling to nearly everything in our land: our ways of life, our daily routine, relationships, rituals, even to objects of everyday use. Just the other day, I was going through a short project report on the pottery of a district in Uttar Pradesh and there, in a description of simple earthenware, a poetic composition jumped off the page. It was a verse inscribed in black letters on the inside of a shallow saucer, the potter having evidently collaborated with a versifier. This is how the words ran:
"Khaaksaaron mein intikhaab hoon main,
ya'ani mitti ki ek qa'ab hoon main;
aap ki mez par jageh jo mili
ab bulandi mein aaftaab hoon main."
(An earthen saucer — a qa'ab as it is called in Urdu — speaking out to its user, saying: 'Even though just a qa'ab am I, made out of clay, I am the elect among my peers. Why? Because I have found a place on your table and thus risen above everyone else, like the sun in the sky.')
Then there is the poetry of form of which distinguished, very distinguished, examples can be seen. In Bidri, for example, the metal craft that takes its name from the erstwhile state of Bidar in the Deccan. Jagdish Mittal, the famed collector and connoisseur from Hyderabad, who recently held an exhibition of Bidriware in his museum, recalls how he saw some Bidri objects lying in a wayside stall some 60 years ago, and was completely seduced. As years went by, he collected with his usual passion more and more of Bidriware — huqqa bases, sword hilts, ewers and bowls and vases and trays: fine examples could still be acquired then — and read more and more on the craft which was once prized by princes and aristocrats.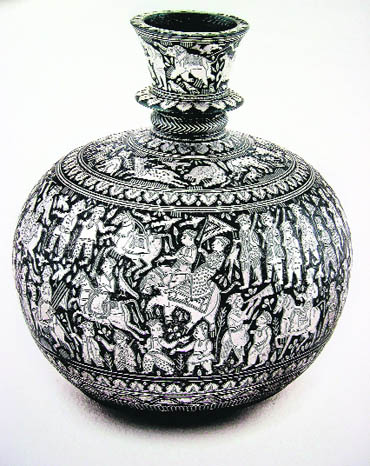 Huqqa base with hunting scene. Bidri ware; coll. Jagdish and Kamla Mittal Museum of Art, Hyderabad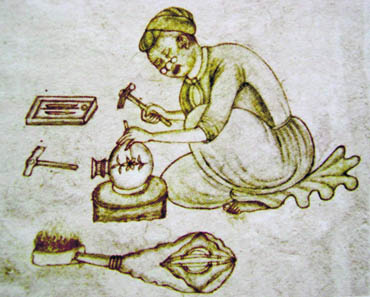 Bidri craftsman at work. Leaf from a sketchbook: coll. Jagdish and Kamla Mittal Museum of Art, Hyderabad

Consisting essentially of fine inlay of silver on objects made of metal alloy, it seemed to be everywhere in the South from the 17th century onwards. An early researcher, writing in 1885, had linked its beginnings to "the Hindu kings of Bidar ... who used the articles to hold flowers and other offerings which he daily presented to his household gods", but there can be little doubt that the craft owed far more to Muslim patrons and craftsmen. It is not that copper and silver inlay was unknown in early India — great bronzes going back to the fifth and sixth centuries feature the technique — but the inspiration of Bidri, as we know, it seems to have come from Islamic lands like Iraq and Persia where the art of metal engraving and inlay had been perfected, and attained greatness centuries ago.
Even a cursory look at the terms used to identify the various types of Bidri objects and techniques — taarkashi, teh-nishan, mahtabi, aftabi, zarnishan, zarbuland, and the like — would confirm that, for all of these belong to Persian, whether describing inlay with wire, inlay that looks flush with the surface of the object, inlay with pieces in low relief etc.
The process of making Bidri object is complex and painstaking. A drawing from the sketch book of a craftsman gives one some idea of how intensive the workmanship must have been. Contradictory in terms as it might sound, Bidris, literally the work of Bidar, began to be produced at other centres in India, too, apart from Bidar and, later, Hyderabad.
The Nawabs, who rose to power on the ruins of the great Mughal Empire, seem to have been especially fond of Bidri and that is how at Lucknow, in Murshidabad and Purnea, Bidri workshops sprang up from the 18th century onwards. Everywhere, however, the same six stages of the process, as summarised by Mittal, seem to have been followed equally by Muslim and Hindu craftsmen.
A cast, using metal alloys — mostly copper and zinc, with some addition of tin — is first made from a clay mould; then the surface of the cast object is given its precise shape and polished. This is followed by the object being given a temporary black coating; on the black surface then stands out the design that the craftsman draws with a sharply pointed stylus.
The inlay process then begins, with the master craftsman chiselling the design and filling it most delicately with silver; finally the object is polished again and a paste applied to it making the inlaid designs — ranging from exquisite plants that remind one of Mughal pietra dura work at the Taj to intricate trellis work and florals to human or animal figures — glisten and sparkle against the black ground. The effect can be dazzling.
There are some refined examples of Bidriware in the Mittal collection: huqqa bases and spice boxes and corner weights for carpets and floor coverings, among them. There is a superbly patterned bowl with flaring sides, obviously meant for holding water for ritual use, which is completely filled with suras from the holy Quran, calligraphed in the naskh script, beginning with the auspicious words:
'In the name of Allah, the Compassionate and the Merciful'.
And then, there is that wonderful huqqa base with a spherical belly, which features a whole hunting scene — prince and followers and musicians and scurrying beasts — that runs uninterruptedly along the body of the object rising right up to the rim. The one object that comes to mind immediately upon seeing it is the Bidri bowl in the National Museum which features an equally exquisite scene from the Padmavat, that great lyrical work of the 16th century poet, Jayasi. Somehow, one is back in the world of poetry again.