The sacred feminine
Harbir K. Singh
Women Awakened: Stories of Contemporary Spiritually in India
By Swati Chopra.
HarperCollins. Pages 328. Rs 399.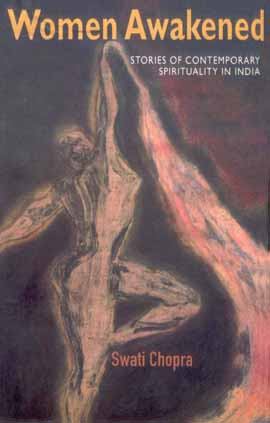 THIS book explores the idea of feminine spirituality through the lives of women gurus who were able to renunciate and break the social bonds such as matrimony, children, families and extended families to move further in their chosen field with courage and determination.
Divided into three parts, the book unfolds the lives of eight awakened women—Sri Anandamayi Ma, Sri Sarda Devi, Mata Nirmala Devi, Nani Ma, Jetsunma Tenzin Palmo, Mata Amritanadamayi, Ven. Khandro Rinpoche and Sadhvi Bhagwati. Two important strands run through their lives: each of them showers love unconditionally on one and all like a universal mother and secondly, that enlightenment and wisdom are not gender based.
Author Swati Chopra had to do lot of travelling to meet these great women and quench her thirst of knowing about feminine spirituality. The first chapter is about mystic mother Anandamayi Ma. Though she passed away in 1981, Swati wanted to feel her way into Ma's area of influence through her "girls" at Hardwar, who had always been with Ma and were her constant companions. Anandamayi was born in 1896 in a small village of Bangla Desh as Nirmala Sundari. Married at a young age, she did her duties as daughter-in-law, wife and later as a widow. Due to her religious nature, people started visiting her to seek her guidance and solace. She was mother to everybody.
After Hardwar, Swati carries on her journey upwards following the Ganga River to her sacred source. She reaches the ashram of Nani Ma at Bageshwar. Nani is a foreigner who had come to India after finishing her college. She found her guru in Babaji who remained her spiritual guide. Nani was the name given to her by Babaji in jest, but it stuck to her. Along with meditation, she is now involved with Ganga Prem Cancer Hospice to ease others' pain through her spiritual learning.
From Nani Ma's ashram, Swati moves to Rishikesh to meet Sadhvi Bhagwati at Paramarth Niketan Ashram, which, with a thousand rooms, is the largest ashram in Rishikesh. Like Nani Ma, she is also a foreigner. Bhagwati was pursuing her PhD when she visited India with a group of her friends. She had not come with any religious strings but had kept her mind open. Later, Swami Chitrananda Sarswati became her guru and guide in her journey towards attaining spirituality.
Swati has compared Anandamayi Ma, Nani Na and Sadhvi Bhagwati with the Ganga River that keeps flowing rhythmically, inspiring everyone.
The second part, "Mothers of My Soul's Quest", describes the lives of Mata Nirmala Devi and Mata Amritanandamayi. Mata Nirmala Devi follows Sahaja Yoga, a path of sadhana formulated by her that includes raising the kundalini in mass gatherings. This has earned her the ire of traditionalists who say that kundalini awakening is "secret" knowledge and, therefore, it can only be practised by advanced yogis.
Mata Amritanadmayi Devi is identified with motherhood. People call her Amma also. Born into a fisherfolk family living in abject poverty in the coastal village of Kerala, she had intensive love for the divine.
Her ashram at Amritapuri is the nerve centre. Amma's global mission is to nourish humanity's body and soul. Whenever she notices sufferings of others, she feels compelled to respond which is beyond religious or political boundaries.
The third part, "When Women Go Forth", describes how Swati meets Pravrajika Vivekaprana at Sri Sarda Math, where she is the senior nun of the order who runs their retreat centre in Pangot in the Himalayas. She helps Swati explore feminine spirituality through interconnected work of Sri Ramakrishna, Sarada Ma and Swami Vivekananda, most importantly Hindu women receiving the right to ordain as sannyasins. Vivekaprana says real identity of human being is not gender based; it is up to the women all over the earth to deepen their sense of identity beyond gender.
Jetsunma Tenzin Palmo and Khandro Rinpoche are the followers of Budhism. Tenzin Palmo had to struggle a lot to get due place for Budhist nuns. She is like mother to entire sangha, remover of the obstacles in their paths, enabler of their quests and inspirer of potential women Budhas. On the other hand, Rinpoche would rather be strict than motherly because "people should practise not because they love me, but they should find value in teachings". The connection has to be with the truth of the dharma and absolute freedom, says Rinpoche.
Written in a lyrical prose, the book has raised questions pertaining to the women's vulnerabilities, insecurities and even exploitation as they renounce everything to enter a world that demands unquestioning surrender, unswerving faith and absolute obedience.