Driving force of dhrupad
Leading artistes and scholars recapture the legacy of dhrupad exponent Ustad Rahim Fahimuddin Dagar
S. D. Sharma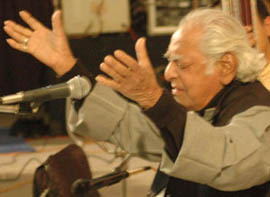 Rahim Fahimuddin Dagar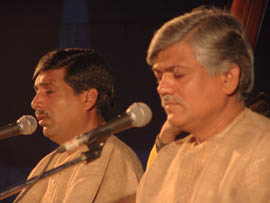 Umakant and Ramakant Gundecha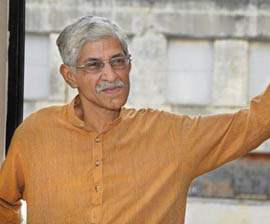 Kiran Seth

We were fortunate enough to interact with Ustad Fahimuddin many times when he visited our gurukul, the Dhrupad Sansthan at Bhopal, to guide and bless our students. We are sure that his legacy will be continued by his disciples, which will be a befitting tribute to the legend

— Gundecha brothers,
Dagarvani dhrupad duo
It will be difficult to see a replication of the excellence of the Dagarvani era. His valuable contribution in propagating the dhrupad genre will go a long way in promoting classical music among the youth...The promotion of dhrupad must be taken up as a mission and patronised as a national endeavour

— Kiran Seth,
founder of Spic-Macay
THE Indian classical music heritage has been constantly enriched with the contribution of ancient masters, among whom was dhrupad exponent Padmabhushan Ustad Rahim Fahimuddin Dagar (84), who passed away recently.
Born in 1927 in Alwar, Rajasthan, Rahim Fahimuddin Dagar hailed from an eminent family of dhrupad musicians. He was initiated into music by his illustrious father Ustad Allahbande Rahimuddin Khan Dagar, and later trained under Nasiruddin Dagar, Imamuddin Dagar, and Hussainuddin Dagar. He also learnt the rudra veena from Ustad Ziauddin Khan Dagar. Rightfully decorated with the Sangeet Natak Akademi award (1993) and Akademi Fellowship (2010), the Bihar Dhrupad Ratna Sahitya Kala Parishad Samman and Padmabhushan, Delhi-based Ustad Rahim Fahimuddin Dagar belonged to the 19th unbroken legacy of dhrupad maestros.
Other maestros of dhrupad and khayal gayaki share their views on the significance of this music form and the legacy of Ustad Fahimuddin Khan.
Says Padamshri Dr Kiran Seth, founder of Spic-Macay, New Delhi, "There was an old-world charm in the way the revered Ustad Fahimuddin Khan saheb had guarded and nurtured the Dagar legacy of dhrupad-dhamar, but it pains me to say that it will be difficult to see a replication of the excellence of the Dagarvani era."
"His valuable contribution in propagating Indian classical music, especially the dhrupad genre, as a saint-scholar-performer will go a long way in promoting classical music among the youth. He lived the life of dhrupad — symbolised by serenity, sanctity and meditation —and was music personified. Content with simple living and no socialising, no self-promotion and no proclaiming of his intellectual or musical potential, Ustadji lived like a celestial musician," observes Dr`A0Seth. "The preservation and promotion of dhrupad must be taken up as a mission and patronised as a national endeavour," stresses Seth.
The leading Dagarvani dhrupad duo of Umakant Gundecha and Ramakant Gundecha, known as the Gundecha brothers from Bhopal, hail Ustad Fahimuddin Dagar `A0as the torchbearer of their `A0Dagar Gharana. `A0"He was a gem and a treasure trove of knowledge, which he acquired from his father Ustad `A0Rahimuddin Khan Dagar. As he was a cousin of our teachers, Ustad Zia Fariduddin Dagar and the late Ustad Zia Mohiuddin Dagar, we always held him in high esteem. He exhorted us to dedicate our whole life to propagating dhrupad in India and abroad. We were fortunate enough to interact with him many times when he visited our gurukul, the Dhrupad Sansthan at Bhopal, to guide and bless our students. We are very sure that his legacy will be continued by his disciples, which will be a befitting tribute to the legend," say the Gundecha brothers.
Remembers Pt Yashpaul of the Agra Gharana, "A few years back, Ustad Fahimuddin gave a memorable performance at Panjab University. The octogenarian spelt magic with the purity of ragas and immaculate presentation."
Elaborating on the meteoric rise and gradual fall of dhrupad, Yashpaul maintains that the dhrupad form of gayaki finds its origin in the 12th-century Prabandha spiritual music tradition, known for strict adherence to the specified rules, which came under royal patronage. Raja Man Singh of Gwalior pioneered its new concept, form and musical treatment, which, however, blossomed during the reign of Mughal Emperor Akbar as 'darbari' (royal court) dhrupad and 'haveli' (spiritual) dhrupad.
Of late, it has been split into four genres called banis to represent the cultural ethos of four regions in their respective compositions, such as Gaurahari, Nauhari, Dagari and Khandari. Of these, the Dagar bani flourished under the able stewardship of Ustad Fahimuddin Khan and his ancestors, who had kept their gharana leading all the way in performance level and popularity, adds Yashpaul.
Says M. R. Chandla, classical vocalist and former station director of Chandigarh and programme executive (music), AIR, New Delhi, "Dhrupad and khayal are the favoured genres of classical singers I came across while in AIR, New Delhi. Fahimuddin Khan saheb deserves special mention among its proponents. With a sound grasp of Sanskrit and brilliance in gayaki, he had the calibre to bring alive a raga in its pristine originality (sakshaat swaroop). The persona of Khan saheb and dhrupad-dhamar gayan are undeniably complementary to each other and synonymous in spirit," adds Chandla.