Tete-a-tete
Diva of classical music
Nonika Singh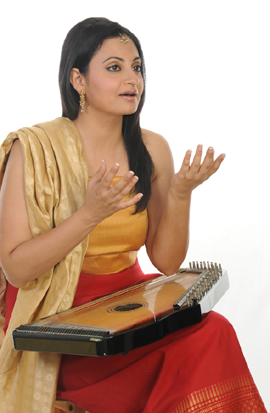 NO one word can describe young classical vocalist Meeta Pandit. Lovely, vivacious, spirited, articulate, gifted and, of course, hugely talented and a mellifluous singer, the qualities of this daughter of Gwalior Gharana scion Pandit L. K. Pandit and granddaughter of Pt Krishna Rao Shankar Pandit are very many. Yet, the glamorous face of Hindustani classical music, who has had encomiums heaped on her by the dozens from the 'golden voice' to 'young power', refuses to comment on her diva status. She quips, "What can I say or add to what others choose to call me?"
Having tasted success at a rather young age, she, however, agrees that early recognition is a double-edged sword as "the chances of burnout are rather bright." She escaped the trap perhaps, for she muses,"I was not motivated by peripherals. I simply love what I do." Well, passion for music may have prevented success from going to her head, nevertheless the weight of legacy of six generations can't be light. More so since she has to balance it with the demands of being a young ambassador of music. Does she feel the pressure to innovate all the time? She laughs, "In creativity there are no pressures. I just follow my heart." Of course, her heart is swathed in many colours of music. From traditional musical repertoire of the Gwalior Gharana to fusion, Meeta defies conventions and straddles different worlds with consummate ease. So, at one moment she renders delectable tappas her forte, the very next she is corroborating with French jazz pianist Alle Delfau. Right now, she is all agog with her new project with Dutch percussionist Heiko Diejker. So, how does her father a staunch traditionalist react to her fusion forays? First things first, she doesn't like the word fusion. Coming together of different cultures, a mix of great Indian songs, jazz melodies and deep electronica is how she would describe her upcoming project.
Going back to father dearest, she reveals that the doyen of the Gwalior Gharana had no problems with her musical partnerships with western musicians ever since she went for an artist-in-residence programme to France. Having a father as a guru, she reveals, is heavenly, "What could be better? To be taught by the same person who can hear you while you are doing your riyaaz and who can come down to correct you that very moment is an amazing and an incredibly learning experience." Till today, it's him she turns to for guidance and support. The beauty of the Gwalior Gharana, in which she has even done a Ph.D, she proffers lies in its divine notes and would never consider compromising its purity.
Ask her as to whether she gets more satisfaction from singing pure ragas or experimental music and she point blank refuses to compare. But, yes, she does appraise the classical musical scene over the years. "On the upside", she says, "music is attracting younger listeners but on the downside, the media has stopped promoting the classical arts." While the space for the classical arts in the Indian media, she rues, is dwindling as Bollywood has become the ticket to all, in the West, "the audience for Indian classical music is growing." Excitedly she talks of concerts like the one at a chapel in France during Festival de Automne where audiences sat in rapt attention (in Indian baithak style at that) listening to her for three hours at a stretch. With equal fondness she remembers her performance at Vienna's palace.
Looking forward to her trip to Australia, where she will be conducting workshops, she can't say what her future course would be. Right now in her capacity as consultant to the Indira Gandhi National Centre for Arts, her focus is on putting finishing touches to a project that involves archiving the traditional bandishes of 60 great musicians and vocalists of the country. By traditional she means compositions spanning at least three generations. The idea, she reveals, is to make the timeless music available to listeners, At the same time, she is getting ready to release her first cross-cultural album. She, who believes in jugalbandis, not only with fellow musicians but also with artistes from other streams of art like painting is also contemplating a performance with a contemporary painter. She has already danced to themes of miniature paintings. One step at a time might be this petite singer's motto but that hasn't stopped her steady march dotted by prestigious awards like the Ustad Bismillah Khan Yuva Puruskar, Indira Gandhi Priyadarshini Award and Young Achiever Award, etc to the top.