Short Takes
Sexploitation, cops and verse
Randeep Wadehra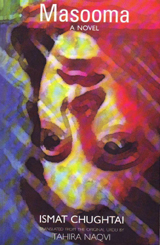 Masooma
by Ismat Chughtai (Translator: Tahira Naqvi)
Women Unlimited. Pages: 143. Rs. 250
THOSE were the days when women were not expected to even think, let alone speak or write, on social-political issues. A privileged few could, at the most, indulge in inane versification or perfunctory reading within the four walls of their homes. This was especially true of Indian Muslim women who remained veiled, walled and voiceless. But Ismat Chughtai broke that mould in a manner that shocked the conservatives and stirred up the slumbering, shackled feminine populace like never before. Of course, her Lihaaf scandalised the traditional litterateurs as much as the extant patriarchal hierarchy. In the process, she created a new literary template that tore apart the layers of societal hypocrisy; raising issues that were, later on, fashionably labelled as feminist.
Masooma is a novel that delineates its protagonist Nilofarís brutalisation in a male-dominated society. Born in an aristocratic family, her childhood was a protected one. But, one day, her father and brothers migrated to Pakistan leaving her and her siblings, along with her mother, behind with no income to sustain them, forcing them to leave for Bombay to seek an acting career for Nilofar in the movies. But good looks alone were not enough. They fell into the trap of pimps and seths; and the nubile and na`EFve Nilofar metamorphosed into a high-class call girl Ė skittish, foulmouthed and amoral. The narrative is gripping, taking one on an emotional rollercoaster along with the protagonist, who goes through soul-sapping vicissitudes. The translation is so good that you would think that you were reading the original. Of course, readers would miss some of the flavours of the Urdu language, including the highly wrought greetings and graphic gaalis. Fortunately, the sensibility remains intact.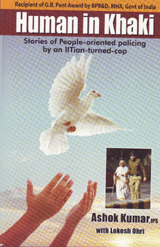 Human in Khaki
by Ashok Kumar with Lokesh Ohri
Diamond Books. Pages: 198. Rs. 140
WAY back in the early 20th century, the late Irish playwright Brendan Behan once remarked, "I have never seen a situation so dismal that a policeman couldnít make it worse". You could say that about our police force today. An average Indian policeman is looked upon as a predator in uniform Ė ever ready to exploit the vulnerable, either on his own or in collaboration with the landís rich and powerful. You get the glimpses of this in Ashok Kumarís book, too. The very first "story" highlights the plight of a poor village woman, who is gang-raped by the Thakurs and the local police protect the perpetrators. Only the IPS officer Kumarís intervention helps bring the culprits to book. There are other chapters that tell us of Kumarís journey from the hinterland to the IIT-Delhi and subsequently to the IPS. Readers would be impressed with his idealism and his propensity for taking up cudgels on behalf of the underdog. How one wishes the tribe of such officers was larger!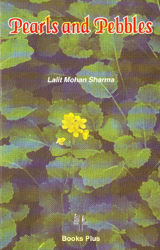 Pearls and Pebbles
by Lalit Mohan Sharma
Books Plus. Pages: 78. Rs. 200
POETRY fascinates me. Its ability to put across a message in short, crisp sentences, its rhythmic articulation and lingering imagery impel one to pick up a poetry book and read it, because "The world is out to catch whispers/Out to intercept gestures" (Pearls and Pebbles). Indeed, poetry is both a product and progenitor of quiet contemplation with "A cool head/wary of rage" (A love poem). Such contemplation takes the poet back in time when an ancestor had died, stirring up emotions and "The inner and the private/Are held captives..." (Ancestral rumblings).
Sharmaís ability to churn out imaginative verbiage is praiseworthy. Quite a few of the poetís poems reach out to oneís soul. However, some of the poems are rather too long and winding. In some cases, one is unable to understand what the poet wants to convey. But, most of them are quite readable.