Globoscope
Breezy romcom
There is much of the old-fashioned charm in Tom Hanks' Larry Crowne

NOT to be confused with Norman Jewison's The Thomas Crown Affair, this Crowne is with an "e" as the hero Tom Hanks says in Larry Crowne but allow me to recall that 1968 classic not because of the lead pair Steve McQueen and Faye Dunaway, both at their prime but because of cinematographer Haskell Wexler's 360 degrees pan, which was a first at least for Hollywood.
This Larry Crowne also has two major stars, may be past their prime but boxoffice stuff all the same. We also know that two big stars do not mean the film will be great.
But, at least, it isn't like the eminently avoidable romcoms that masquerade as entertainers in Hollywood these days.
Don't look for realism or the plot but there is much of the old-fashioned charm and like Paul Coelho's adage the journey is more important than the arriving.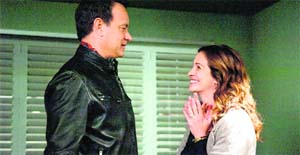 Tom Hanks and Julia Roberts may be past their prime but boxoffice stuff all the same
It is also Tom Hanks' second directorial venture. The establishing shots are weak and tend to meander but later on the narrative picks up. Still it is flashes of the old-world charm that give the otherwise tolerable script by Hanks and Nia Vardalos (My Big Fat Greek Wedding) a definite thrust.
A victim of downsizing because he hasn't been to college, he decides to remedy that error by enrolling for as lame a course as "the art of making informal comments."
But the teacher is the bait, it seems, an attractive Mercedes Tainot (Julia Roberts), who believes in spelling out her surname and will not start her class unless she has a minimum of 10 students.
But like Larry, she too has a problem and a bigger one at that. Her free-loading, husband (Bryan Cranston, in one scene only) is looking for pastures new. It is also an excuse for the leading pair to find each other. Just for the record, Larry finds a part-time job at a diner where his culinary skills come in handy.
Larry is, of course, a simpleton, a slight improvement on Forrest Gump, but his attitude changes after joining a macho gang led by pretty Tahlia (Gugu Mbatha-Raw) and her Latino boyfriend Dell-Godo (Wilmer Valderrama) and they speed around the town on their scooters reminding one of Jessica that gave the Lambretta a big boost.
For variety or dramatic relief, we also have a good cameo in Chinese professor (George Takei), who teaches economics. They comprise the journey that keeps the story going.
The situations are exaggerated and the action fairly disjointed. Cinematographer Philippe Rousselot is no Haskell Wexler but he has his moments as does James Newton Howard's music.
But it's Julia Roberts, two decades after Pretty Woman, who is still in good fettle, looks and skill wise.
Gugu Mbata-Raw, Wilmer Valderrama and George Takei provide adequate support in this fresh and breezy romantic comedy, well worth a dekko.