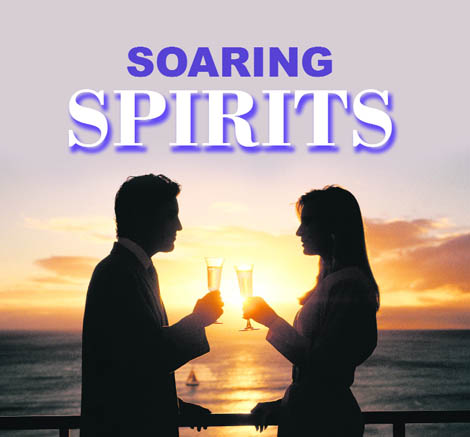 From wine-tasting sessions to the production of indigenous labels, the
wine culture in the region is alive and evolving, writes Rajnish Wattas
English wine and beer' is the usual sign in front of liquor stores in small-town India. What the sign denotes is the availability of hard liquors like whiskey, gin, rum, vodka and, of course, beer, but certainly not wine!
This is just a small indicator of the level of ignorance that exists regarding the fine beverage called wine. Leaving aside metropolitan towns, the only city indicating the correct differentiation is perhaps Chandigarh; where all liquor stores now read, 'Liquor, Beer and Wine', and they actually do stock wine. Not that the issue is of national importance, but it does indicate a paradigm shift occurring in people's tastes and preferences in big cities in the choice of alcoholic beverages.
Move over whiskey, rum and beer — the land of murga and whiskey-shiskey now has another choice that is gentler, nobler and more sophisticated in its subtle nuances. No wonder, at most upper middle-class weddings, parties and home soirees, wine makes its appearance now; besides having a much greater visibility in clubs and restaurant bars. And people who prefer healthier, more refined tastes are happy for the third option now available. Especially ladies, who earlier suffered from the terrible ennui of sipping endless colas and nimbu panis at men's drinking binges, huddled together in one corner, now happily hold a shapely wine glass of their favourite 'red or rose', enjoying the evening with the same verve and zing. And many men, especially young corporates, the arty, literary, and more culturally evolved souls or those with a little awareness about the health benefits of drinking wine, are merrily joining the bandwagon.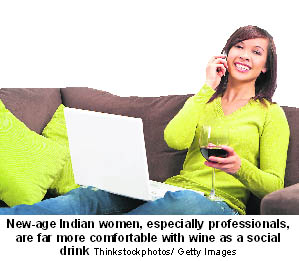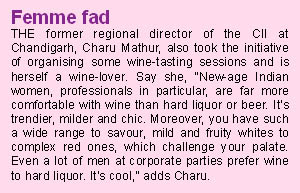 All it takes is a little initiation or knowledge to enter the seemingly complex world of wines. It's almost like getting into any other acquired taste, be it music, art or even a game of golf or bridge. But once you have shown a little perseverance with your new-found interest, the transition to becoming its aficionado or even a connoisseur is just a short step away. There is no rocket science or Zen Buddhism involved in this transition.
Is it just the intimidating wine jargon or ignorance that makes people shy away from drinking wine? Many will have a point of view on this, which is all right, ultimately what you enjoy is legitimately your personal choice. But a new idea is always worth a try. And at present you have many opportunities to further your wine curiosity, be it promotional events organised by wine makers or wine clubs beginning to show up, at least in bigger cities, and the opening of exclusive wine stores offering a large range of products, both from within India and imported ones. Today, you can get wines imported (or bottled in India) both from the Old World wine countries like France, Italy, Spain, and Portugal and the New World wine nations like California, Australia, New Zealand, Chile, Argentina and South Africa.
Chandigarh today can happily boast of many exclusive stores selling these products and a small amateur wine club, besides many wine-tasting events organised by clubs, and institutions like the CII (Confederation of Indian Industries) etc.
It may be recalled that there was a time when the only Indian wine available in the market was the brand called Riviera, available mostly at Army canteens or select stores. Or one occasionally tasted a Goan port wine. And then about 15 years back, Himachal-made fruit wines appeared in North India.
Initially, there was the popular Kalpa wine made from plums, which made a popular entry, as it was very economically priced, and had simple fruity flavours and a strong punch. But it certainly lacked many subtle attributes of a good wine. Today, this young industry has grown in a phenomenal way. But the big shift in the Indian scene came with the appearance of pioneers like the Chateau Indage, Grovers and Sula wine houses. Today, of course, many Indian wines are being produced around Nashik in Maharashtra and near Bengaluru in Karnataka. Some of these conduct wine tours and provide excursions that include stay and tasting sessions.
Besides the colour and state of a wine, one of the most delightful, unfathomable pleasures of a wine is in discovering its 'nose' or bouquet or, simply speaking, savouring its rich aromas. Once you have smelt the wine, you can move forward to deciphering its taste and the 'after taste' as well.
Wine tasting and recording its taste may vary from dry (relatively sugar free) to sweet and fruity with echoes of a gritty feel in the mouth, indicating its tannins.
So, just sit back and relax, open a good bottle of wine, and take a sip of the ambrosia of the gods. Santé! Cheers!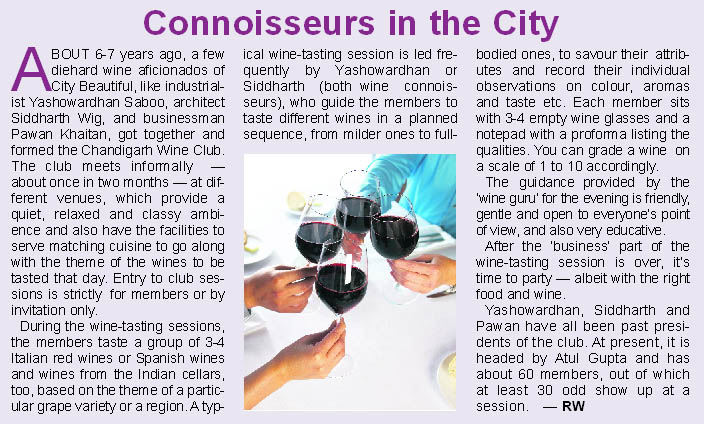 Fruity flavours
The fruit wines of Himachal are finding more and more takers, writes Pratibha Chauhan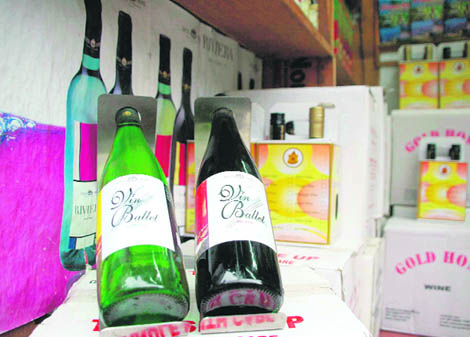 Though the government-owned HPMC had started the trend of making fruit wines in Himachal
Pradesh, several entrepreneurs are joining the bandwagon now Photo: Amit Kanwar
RATHER than carrying cheap factory-made Ludhiana Kulu shawls or caps as gifts for family and friends back home, tourists visiting Himachal Pradesh are finding the wide variety of fruit wines — ranging from kiwi to rhododendron to ginger — as a better and more authentic present from the hill state, which has come to be known as the fruit bowl of the country.
Even though it was the government-owned HPMC which started the trend of making fruit wines called "Kalpa wines" in the state, now several entrepreneurs are also joining the bandwagon, considering the bright prospects that the business seems to have as wine drinking seems to be fast catching up in India. There are luscious wines from every fruit you can think of — right from apple, peach, pear, apricot, kiwi, strawberry, plum, ginger and grape to rhododendron, cherry, pineapple and orange.
No doubt, the wine producers are totally dependent on tourists for the sale of their produce, as there is negligible consumption of the products within the state. "The scope for wine within the state is not too great but the wine coolers that I have recently come out with are being very well received and I intend to export them," says Pronob Ghosh, director, Solan Food Products.
Incidentally, the unit set up by his grandfather in Solan in 1946 was the first winery in the country as the cider made there was exhibited at the First Apple Show in New Delhi in 1951. "People in India are getting initiated into wine drinking but they still do not have great taste for the drink. They readily part with a hefty amount to buy a French wine rather than trying our own home-made products," says Ghosh.
Another entrepreneur, Sanjeev Chaddha, who is into wine production and sees a very bright future for the industry, says there is so much demand that he is unable to procure quality fruits that are required for making good-quality wine. Having a 10-year experience in the field, he has set up a unit at Suki Bain in the Chachiot area of Mandi district with almost 100 per cent local staff.
Chaddha, who has worked as a commercial pilot, makes wines by the name of "Gold Home" in 16 fruit flavours, with the latest addition being ginger wine. He is exploring the possibility of exporting his products to Sri-Lanka, Nepal and other neighbouring countries as they have shown great interest in his wines. Considering the fact that his unit is just one year old, the good business prospects have encouraged Chaddha to look for a tie-up with some French and Italian companies not just for technical advice but also for exporting his wines abroad after undertaking his expansion plans.
There are some other units like "Wonder Wine" being produced by Dinesh Gupta at his unit in Shoghi, close to Shimla, There is another brand by the name of Green Valley, owned by Girish Minocha, who, too, is experimenting with wine and other fruit products.
Efforts of the state government to set up a winery in the apple belt of Shimla with private partnership have, however, not yielded positive results. The proposed winery projects to be set up at Pragatinagar, near Gumma and Nagwain in Mandi, ran into rough weather as Indage India Ltd failed to start production here. The company has been issued a notice by the government to return the land that had been given to them on lease for the winery.
"I was very keen to see a winery project come up in the apple and middle belt so that growers could sell their fruit close to the orchards, thereby saving transportation charges and saving a lot of fruit from decaying,' says Narender Bragta, Horticulture Minister. He had even imported several varieties of grapes from France to check their agro-climatic suitability and distribute them to the growers after undertaking propagation in the farms of the department.
"People still have very little knowledge about wines in India but the wide range of fruit wines Himachal is offering is a major hit with the tourists, who carry it back home as a gift from the state," says Rajinder Sood, who sells every brand of the drink through his shop on the Mall. Those dabbling in wine production, however, rue the absence of adequate government support.