In the name of honour
Ajai Sinha's thriller Khap deftly handles the controversial issue of love marriages within the same gotra, writes M. L. Dhawan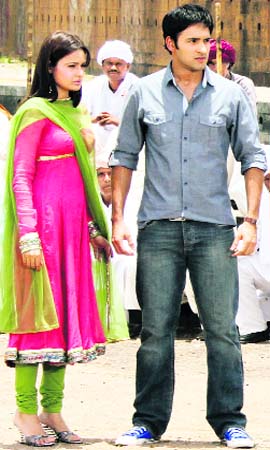 The film talks about the honour killings that have rocked Haryana, Punjab, Rajasthan and Uttar Pradesh etc where youngsters are being butchered by their own kith and kin
Social struggles and achievements have provided inspiration for many a film. Social reform movements protesting against the evils of dowry, child marriage and exploitation of women have found their rationale echoed and their arguments expounded in many films made during those times.
Though art imitates life but very often when filmmakers try to depict reality on screen, a furore is created on and off screen. Sometimes the subject of the film raises a storm. Sometimes political parties make a capital out of it and sometimes it is the audience's which sensibility plays a spoilsport.
Ajai Sinha's Khap — A Story of Honour Killing is in the eye of storm. The film which was not released in Haryana after the khap panchayats urged the Haryana Government to ban its release since the film portrays khap panchayats in poor light.
Khap debunks the age-old custom which mandates that the whole community will be ruined if the boys and girls of the same gotra marry each other.
Om Puri plays sarpanch of the khap panchayat, who initially believes in the khap tradition but later revolts against the dictatorial attitude of khap panchayats.
What makes the film stand out is not just the original storyline but also the sensitivity with which the delicate subject is handled.
Closeness to reality, no melodrama and real-life situations leave the audience touched and feeling for the theme of the film. Ajai Sinha's Khap will act as a benchmark for filmmakers, who want to make movies on offbeat and real-life subjects.
It is an engaging tale of the hero (Sartaj) and the heroine (Yuvika), who are to be burnt alive by the villagers because they want to marry one another despite belonging to the same gotra.
The film talks about the controversial issue of honour killings that has rocked Haryana, Punjab, Rajasthan and Uttar Pradesh etc where youngsters are being butchered by their own kith and kin in the name of gotra.
The lifeline of the film is the intelligent narrative which never deviates from the unique storyline and is devoid of the usual clitches of six-pack abs, item numbers and size-zero figures.
The dialogues are natural and lend an aura of authenticity to the whole set up.
The movie, which is a thriller, scores for its brilliant execution. It does not meander into the zone of commercial masala and puts its message upfront.
The film is a sobering critique of the dangerous times we live in. It shows how customs, conventions and tradition play a massive role in making the society what it is.
The filmmaker clarifies that he does not mean to endorse any kind of vigilantism through his film.
With the help of medical reports and scientific evidence, the film sets out to educate people that there is no danger to the community if boys and girls from the same gotra get married.