Dying tradition
Jangams are a shrinking tribe in North India. The younger members of the
community are opting for more lucrative jobs, writes Varinder Singh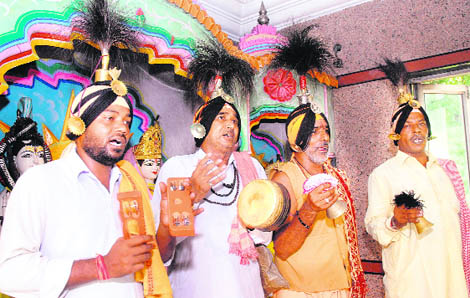 Jangams, the kul purohits of Lord Shiva, reciting Shiv katha at Ma
Annapurna Temple in Jalandhar. Tribune photo Malkiat Singh
THE distinctly colourful and legendary tribe of Shiv Jangams ó wandering religious mendicants and kul purohits of Lord Shiva ó is fast shrinking. These Shiv bhakts are not only embracing education but are also exploring new vistas and opting for more lucrative fields like medicine, law, engineering, real estate, education and even insurance in a big way.
On the other hand, a number of fake Jangams have sent alarm bells ringing amongst the tribe seniors, who are busy finding a solution to the vexed problem of saving the sacred identity of their unique community and the ethical practices of the original ones.
Brass flowers behind their ears and peacock feathers in their headgears give a distinct identity to the Jangams, who are popular for their uniquely rhythmic recitation of Shiv katha in Shiv temples for centuries. They only approach devout Shiv followers to seek alms.
Jangams were a common sight in the region till about a decade ago. But these days only a few of them are spotted in the e-driven world, thanks to the ongoing fast-paced modernisation.
It is a different matter that technology has caught their fascination, too, as they are frequently seen using mobile phones and other modern gadgets. What, however, has generated a big degree of concern amongst senior Jangams is that the population of the authentic ones has dwindled roughly from about 3000 to just about 1000-1500 during past about two decades in North India, mainly for the reason that the "lesser religious" and Internet-savvy Gen-X has allegedly ceased to extend "due respect" to them.
" The new generation just compares them with beggars, which they are not. In fact, the prestige or self-esteem of the community is at stake. The social stigma has led to shrinking of the population of practising Jangams by about 50 per cent during past two decades," says Prof Ram Niwas Jangam, a Safidon (Haryana)-based lecturer and an authority on the community. He says the biggest threat to the tribe is, however, the emergence of fake Jangams, who dress up like the original ones but bring about a bad name to the sect by indulging in unethical practices.
"We have already taken up the issue with the Governors of Punjab and Haryana and have urged the state governments to check these malpractices by directing the administration to nab fake Jangams," says Prof Ram Niwas, who is also the director-general of the Veera Siva Samaj of North India (VSSNI), an NGO working for the welfare of Jangams.
"More and more Jangams are changing their profession and lifestyle. A large number of them are now doctors, advocates, educationists and management degree holders. My nephew is not only doing his postgraduation but is also working as an insurance adviser," says Som Nath Jangam of Shiv Temple at Malkon-Taror village on the Jalandhar-Nakodar road.
He feels the reasons behind the diversion from the purely religious practices to other fields are rising inflation and low earnings. "At the maximum, like any other Jangam, I am not able to earn not more than Rs 100 a day. How can you run your family with this paltry sum?" questions Som Nath, adding that a majority of Jangams of South India have been able to make more inroads into other fields as compared to North India.
"In fact, the reach of TV and Internet has distracted young generation of Jangams, who donít want to lag behind in society by carrying forward the legacy or by adopting the profession of their ancestors. They want to move ahead even if it is at the cost of their tradition," says Som Nath. He makes an interesting revelation that the new generation of Jangams has gradually started shunning the practice of consumption of bhang, except for partaking of its ritualistic prasad on Shivratri.