'I have no issues with nudity'
Shoma A. Chatterji chats up Nandana Sen, whose film Rang Rasiya, directed by Ketan Mehta, recently won the Audience Award at the London Indian Film Festival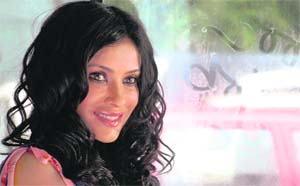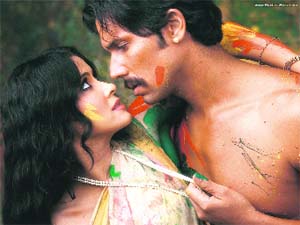 Nandana Sen plays Sugandha, Raja Ravi Varma's muse in Rang Rasiya
Nandana Sen has reason to rejoice. Ketan Mehta's Rang Rasiya recently won the Audience Award at the London Indian Film Festival. This Harvard graduate is the younger daughter of Nobel Laureate Amartya Sen and scholar-writer-novelist Nabanita Deb Sen. She takes on films only when she likes the script. She opens out on significant issues in her life, which includes her activism with RAHI and Unicef as one deeply involved with the girl-child.
Your interests lay more in scripting and direction. How did acting happen?
It is true that I have made several short films — on Super 8, 16mm and HD. I had lots of fun taking my short films to festivals (even sold a few to Star TV)! But I am definitely much more of a writer than a filmmaker. I love writing feature scripts and have already sold two which have been made into films. Acting happened almost by default. Whenever I am not acting, I am writing. I miss my writing when I get too busy with acting assignments. Writing and acting are parallel vocations for me. But a feature filmmaker is a different animal altogether. One has to be creative and has to keep everyone happy at the same time. I do not have them at all. My Hindi debut was as Rani Mukerji's sister in Sanjay Leela Bhansali's Black. It is one of my most favourite films.
What is your role in Ketan Mehta's Rang Rasiya?
The film is the story of the severely criticised painter Raja Ravi Varma (1848-1906), who painted without inhibition though he was distanced from the late M. F. Husain by nearly a century. The film has been adapted from the Marathi biographical novel Raja Ravi Varma by Ranjit Desai. I play Sugandha, a muse Raja Ravi Varma chances on while travelling across the country. Most of his paintings of Goddess Saraswati and other mythological goddesses were inspired by her beauty and her beautiful mane of hair. Raja Ravi Varma falls in love with Sugandha. It is a very significant role because underneath the mask of the muse, Sugandha is a thinking-feeling woman with a mind of her own.
Why did Ketan Mehta choose you over others?
You should ask Ketan this question, not me. But he said in interviews that when he visited our home in Kolkata, he saw Raja Ravi Varma's paintings and also learnt that I knew something about this painter, who belonged to another time and place and he said he felt I would understand the character who would have been his muse.
You have several intimate scenes in the film and your role also needed you to expose. How did you respond to them?
An actress cannot afford to turn prudish and coy once she has chosen to act. I have no issues with either nudity or intimate scenes if they are integral to the story and if I am made to feel comfortable doing them. I had to expose for a few scenes in this film but I consented because I felt that the scenes were integral to the context of the story and the character and was written and orchestrated very well. It was not an easy decision for me but by the time the shots were taken, I had made myself thoroughly comfortable.
But you reportedly gave up another film by Italian filmmaker Italo Spinelli that needed you to shed your clothes. Why?
The story by Mahasweta Devi is very powerful and I fully support the ideology it perpetuates. But I felt that the 1950s' tribal girl's semi-nudity would not be able to avoid becoming unintentionally voyeuristic even if I have faith that the director does not have that intention.
Tell us a bit about your work for the girl-child and victims of abuse.
I work with Unicef as an ambassador for child protection. Even when I was in college in the US, I worked as a survivor advocate i.e. support person for victims of physical and sexual abuse. Before joining RAHI (Recovering and Healing from Incest) as its Cause Ambassador, I played the traumatised protagonist of the play 30 Days of September at Prithvi, produced by RAHI, and completed Chuppee, a short feature sponsored by Unifem for raising awareness of child sexual abuse. Did you know that more than half of children in India are sexually abused? What's equally tragic is that most of these children never speak of their trauma and suffer its terrible pain all their lives.