M A I N N E W S
Hansi-Butana
Haryana farmers reach out to Punjab brethren
Slam Punjab govt for playing politics on a 'non-issue'
Geetanjali Gayatri
Tribune News Service
Kaithal, August 7
From an "inconsequential" toe-wall next to the Hansi-Butana canal, Punjab may now be up against a human wall of a "united Haryana" if the mood at the kisan mahapanchayat in Chika is anything to go by.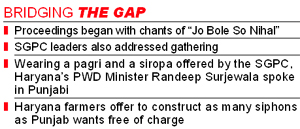 Haryana, its leaders and farmers, not only castigated Punjab and its SAD-BJP government for playing politics on the non-issue of a below-the-surface toe-wall which posed absolutely no threat of floods in Punjab, but also accused the state's government of attempting to divide the farmers on either side through a sustained "misinformation campaign".
That's not all. If they were tough on the SAD-BJP combine, they were equally concerned about their "brethren farmers" in Punjab. Pledging in one voice to protect every single farmer of Punjab from harm on account of Haryana's bundh-strengthening exercise, the leaders offered to address Punjab's concern by constructing as many siphons "as they wanted" on the Hansi-Butana link canal at absolutely no cost to them.
However, all of them were equally firm about defeating the nefarious designs of the SAD-BJP combine to create confrontation between communities on either side of the Punjab-Haryana border and "sacrifice" a few farmers at the altar of politics to score points and create an issue with an eye on the Assembly elections slated for next year.
The mahapanchayat, which brought together sarpanches of 82 villages, activists of the Kisan Congress, the Haryana Shiromani Prabandhak Committee, the Bharatiya Kisan Union and the Kisan Sangharash Samiti, began with the chants of "Jo Bole So Nihal" attempting to not only lend the mahapanchayat a Punjabi flavour, but also defeat the SAD at its own game of community politics.
Haryana's PWD Minister Randeep Singh Surjewala, wearing a pagri and a siropa offered by the SGPC, tried to strike an emotional chord with the gathering by attempting his speech in Punjabi.
Putting things in perspective, he said, "The underground toe-wall is our attempt to ensure that property, crop and lives of farmers can be protected by checking water seepage during floods which cause a breach and lead to the bundh's collapse. What the Punjab Government claims to be a dispute is merely a problem on the Haryana side. And they have nothing to do with it."
He expressed Haryana's willingness to construct as many siphons as Punjab wanted to address their concerns of flooding if its government made a written request.
"Their leaders have seen the toe-wall and admit that there is nothing amiss. But they still go out and spread a propaganda against Haryana.
"The fact that the issue has been raised after 51 years by Punjab indicates it is merely an election stunt. They want to create a confrontation, cause a few farmer deaths so that they get an election plank. That's all," he emphasised.
Surjewala questioned the reluctance of the "pro-farmer" Punjab Government in taming the Ghaggar when the UPA government had approved a Rs 1,100-crore project. He suggested the formation of an 11-member committee of the mahapanchayat to call upon Punjab Chief Minister Parkash Singh Badal and convince him to tame the Ghaggar.
The All-India president of the Kisan-Khet Mazdoor Congress Shamsher Surjewala, also the chairman of the mahapanchayat, moved a resolution that a delegation of farmers should also meet the Haryana Chief Minister to apprise him of the grievances of farmers.
Successive speakers drawn from various organisations minced no words in stating that Punjab's only game plan was to divert attention from its failings to other irrelevant matters and play divisive politics.
Former MLAs Dillu Ram and Tejinder Pal Mann, besides leaders of the SGPC, also addressed the crowd emphasising that this was not an "Indo-Pak" war like Punjab was making it out to be and urged the Punjab Government to come forward to resolve any issues they have with Haryana.