SC denies bail to Major accused of killing wife
R Sedhuraman
Legal Correspondent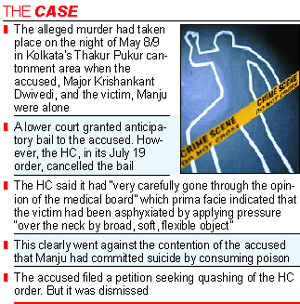 New Delhi, August 7
The Supreme Court has thrown out the bail petition of an Army Major, accused of killing his wife in Kolkata's Thakur Pukur cantonment area three months ago. The victim was allegedly killed within a week of joining her husband from Shimla. The marriage had taken place 12 years ago.
A Bench comprising Justices HS Bedi and Gyan Sudha Misra dismissed Major Krishankant Dwivedi's petition seeking quashing of the Calcutta High Court order cancelling the anticipatory bail granted by a lower court. The apex court Bench virtually snubbed his counsel for approaching it instead of asking his client to join the investigation.
Since the medical board had found that the cause of death of Manju Dwivedi was asphyxia there was no question of the apex court intervening in the case, Justice Bedi observed.
A Division Bench headed by Chief Justice Jainarayan Patil of the HC had also reprimanded the trial court for the "arbitrary" use of judicial discretion even before the police had begun the investigation.
Manju's father, Dr LN Negi, had approached the HC seeking justice. According to Negi, local Army authorities are putting all sorts of "obstacles" in the investigation despite the matter being reported to Defence Minster AK Antoy and GoC Eastern Command Lt Gen Bikram Singh.
The alleged murder had taken place on the night of May 8/9 in the staff quarters of 1831 Light Regiment when the accused and the victim were alone.
The HC had, in its July 19 order, recorded that it had "very carefully gone through the opinion of the medical board" which prima facie indicated that the victim had been asphyxiated by applying pressure "over the neck by broad, soft, flexible object." This clearly went against the contention of the accused that Manju had committed suicide by consuming poison.
"In our considered view, it was not proper on the part of learned Sessions judge in-charge to have directed the respondent/accused to allow pre-arrest bail as it is not a case where custody of the accused is not required for the purpose of the investigation," the HC had said. The HC also directed Maj Dwivedi to surrender to the police within 14 days and transferred the case to the Crime Investigation Department of the West Bengal Police as the local police had failed to subject the accused to custodial interrogation.
During the 14-day time for surrender, the HC had asked Maj Dwivedi to report daily at Bishnupur police station. According to the victim's father, the accused was going to the police station escorted by four to five army personnel, effectively preventing custodial interrogation.