M A I N N E W S
Now packaged foods to come with less salt
National Institute of Nutrition wants high sodium content in ready-to-eat foods reduced
Suresh Dharur
Tribune News Service
Hyderabad, August 7
In a major initiative to ensure that people consume less salt, the Central government has asked the manufacturers of packaged foods to gradually reduce the salt content in their products. The changing lifestyles of people, both in urban and rural areas, has resulted in the increased intake of packaged, processed and ready-to-eat foods having high sodium content. Salt is identified as one of the culprits contributing to high incidence of hypertension and other problems.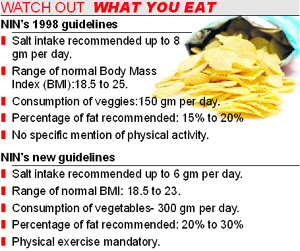 The Hyderabad-based National Institute of Nutrition (NIN), a premier research organisation under the aegis of Indian Council of Medical Research (ICMR), has recommended mandatory reduction of salt content by the packaged food industry.
"We have already directed the packaged food manufacturers to cut down salt content in their products on a gradual basis. One can see the difference over a period of time," the NIN Director Dr B Sesikeran said in an interview to The Tribune here.
As per the revised nutritional guidelines, the NIN has recommended a maximum daily intake of 6 grams of salt. The previous guidelines, released in 1998, had allowed 8 gm of salt intake per day. "We have recommended reduction in consumption of salt as it poses a great health risk," the scientist said. It is estimated that over 36 per cent of urban population in India are hypertensive.
Following NIN recommendation, the Food Safety and Standards Authority of India (FSSAI) has asked the packaged food manufacturers to use less salt in their products. "It is felt that reducing the salt content drastically and suddenly could affect the consumption of packaged goods in general. The idea is to gradually decrease the sodium content. This will go some way in ensuring that consumers become accustomed to the reduction in the salt intake without a marked change in taste, and the manufacturers also would not suffer as a result of the health measure," the Director said.
The manufacturers will also be asked to display the sodium levels on their packaging. The prevalence of hypertension is low among populations consuming less than 3 gm of salt per day. The usual increase in blood pressure with age is also not seen with such intakes, Dr Sesikeran said.