Devika Rani's estate to get a facelift
Shubhadeep Choudhury/TNS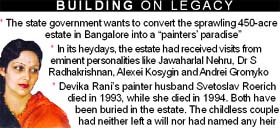 Bangalore, August 9
A Supreme Court order today upholding Karnataka government's acquisition of the over 450-acre estate in Bangalore belonging to yesteryear actress Devika Rani and her Russian painter husband Svetoslav Roerich has paved the way for giving a massive facelift to the estate by the state government.
"Today is a big day for us. A constitution bench headed by none other than Chief Justice SH Kapadia himself has upheld the verdict given by the Karnataka HC in favour of the state government," Mujeeb Ahmed, chief executive officer of The Roerich and Devika Rani Roerich Estate Board, told this reporter.
He said the state government wanted to convert the sprawling estate into a "painters' paradise". Explaining the concept, Ahmed said: "The plan is to refurbish their residence and the adjoining studio, with all the trappings of the days when the famous couple lived there. Some choice works of Roerich will be displayed in the studio alongside charts describing his activities and ideals. A few studios, pergolas developed in the vicinity may impress artists to pursue their creative urge. There will be an international centre for creative arts besides a few galleries for exhibitions, guest rooms and dormitories for artists to sojourn. Facilities will be created for holding artist camps, demonstrations, and slide shows, all with an eye on promoting creative pursuits in arts. All this will surely make it a veritable painter's paradise."
In its heydays, the estate had received visits from eminent personalities like Jawaharlal Nehru, Dr S Radhakrishnan, Alexei Kosygin and Andrei Gromyko. Roerich passed away in 1993 when he was 89, while Devika Rani died in 1994. Both have been buried in the estate. The childless couple had neither left a will nor had named any heir.
Since 1996, the legal battle for rights over the property is going on. A private company, KT Plantations, and Mary Joyce Poonacha, who was a personal assistant to Devika Rani, claimed shares in the estate. They challenged in the Supreme Court after the Karnataka High Court upheld the acquisition of the estate by the state government. The matter was pending before the Supreme Court since 2004.
"Due to the litigation, the estate was closed to visitors, Mujeeb Ahmed said and added that waiting to be displayed in the studio are 210 of Roerich's paintings, stored now at the Venkatappa Art Gallery in the city.
However, only 21 pieces remain from the couple's legendary and well-documented jewellery collection. What happened to the other 319 pieces is not known.
Besides a bungalow and a studio, the Tataguni estate also has an 11-acre lake which is maintained by the Lake Development Authority.