SHADOWS OF THE PAST
It's literally a phhir in ways more than one. Post the horror flick 1920, the same production house once again repeats Adah Sharma and Rajniesh Duggal. The storyline goes on to say that the future is nothing but the past again. And with this, the star cast and director of Phhir settle down to explain what lies ahead in the movie.
ACT TWO: Rajniesh Duggal & Adah Sharma — Photo: Vinay Malik


Making of an artist
Film-making can best be described as a fine art. And when it comes to the art of learning film-making, it really does not get any bigger than the New York Film Academy (NYFA). With the intent to polish the acting skills of the youth, the NYFA, in collaboration with Yellow Submarine Films, will be conducting hands-on intensive filmmaking and acting workshops in India during October.

We know who kissed Elvis Presley
A US magazine has identified the mystery woman seen kissing singer Elvis Presley in a backstage theater stairwell in an iconic 1956 photograph. Barbara Gray, now 75 and living in Charleston, SC, told Vanity Fair magazine that she didn't reveal her identity for the money or fame. "I just wanted to get my name on the damn picture," she said.

Name's sake
After Simi Garewal, Karan Johar, Farah Khan and Farhan Akhtar, actress Preity Zinta will now be seen getting up close and personal with her industry friends on a new chat show. The 36-year-old actress, who has been missing in action on the big screen for sometime now, will be making her television return after her flop debut with Guinness World Records: Ab India Todega.


SHOW TIME: Preity Zinta



Fashionista


Access charm
Accessories add charm and charisma to our appearance. A layered neckpiece, a classic watch, smart tote, delicate charm bracelets, coloured gemstone earrings, can earn you a ten on ten in terms of style and fashion. Jewellery is a style statement.

it's rocking
Meet the rock chick
Not that Katrina Kaif's fans have forgotten her look, dance, style in Sheila Ki Jawani but her new track from the movie, Mere Brother Ki Dulhan is for sure a pleasant surprise. Well the song is not a bare dare competition like it was in the hit item track.

In the Groove: Katrina Kaifin the song Dhunki from Mere Brother Ki Dulhan



GET PHYSICAL
Workout your mistakes
There are some common mistakes in our exercise routine that we need to avoid.
There are some common mistakes in our exercise routine that we need to avoid.
Before and after
Muscles need time to adjust to the demands put on them during exercise. Before hitting the weight room or jumping into your regular cardio workout you should take a few minutes to gently prepare the body for heavier activity.


Joy of living
The room is suffused with silence. An aromatic candle burns at the altar. Sunlight plays gently on the bamboo mat that's spread on the floor. A singing bowl rests nonchalantly on a designer table. A thirty something woman, dressed in a tank top and slacks, is sitting in a meditative pose.


— Photo: Himanshu Mahajan
Courting controversy
Saif Ali Khan plays a Dalit in this film about reservation. Some Dalit groups took objection to the film way before the film was even released. Saif said it was unfair of people to raise objections before the movie's release on August 12.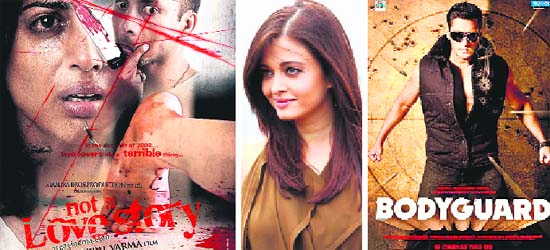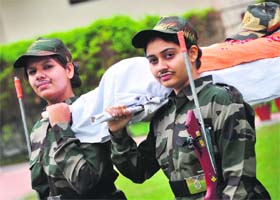 free spirits:

Participants in the Independence Day celebrations at Lakshmi Ladies' Club in Ludhiana on Wednesday. The ladies played tambola while the choreography on the Independence Day theme was the highlight of the programme. — TNS Photo: Himanshu Mahajan
Angad Hasija will miss Shankar
He shot to fame as Alekh and then as Shankar, Angad Hashija, is one talented actor. He got noticed for his role as Alekh in Star Plus' Bidaai. He then bagged the role of Shankar, the angry young man in Colors' Phulwa. Like all good things, his role comes to end after acting for five months. He will die just before the leap.
In a different ROLE
People are raving about Katrina Kaif's rockstar image in her upcoming film Mere Brother Ki Dulhan, but not just in films, the Bollywood actress is trying to master the art of strumming even in real life and Pakistani actor-musician Ali Zafar is helping her achieve this goal.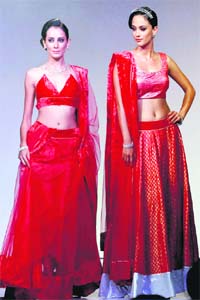 RAMP TALK: Models display the Avon Jewellery 'Indian Diva' collection at a fashion show to launch the Avon Fashion Tour 2011 in Bangalore. — PTI
The good guy
Gerard Butler is set to star as a rough former FBI agent in the movie adaptation of The Bricklayer, written by Noah Boyd. Millenium Films has acquired the rights to the book, written by former FBI agent Noah Boyd.
Matter of chemical bonding!
Brad Pitt initially pulled out of Mr & Mrs Smith as he felt he had no chemistry with the film's original female lead Nicole Kidman, a book claims. The 44-year-old Australian actress was cast as the lead, which was later played by Angelina Jolie and the 2005 film also marks the beginning of the Pitt-Jolie romance.
On the trail
Oscar-winner Russell Crowe has joined the star cast of Mark Wahlberg's Broken City. The political thriller is being directed by Allen Hughes from a screenplay by Brian Tucker. The film's story is about an ex-cop who is hired by the mayor to look into whether his wife is cheating on him.


PUN'JAB' Sandeep Joshi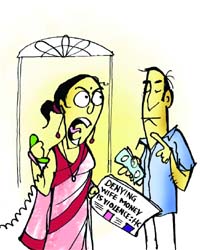 Money matters:

From now on give me more money, lest I shall file a case of domestic violence.
Fast love!
Hollywood beauty Anne Hathaway has revealed that she believes in love at first sight. And the actress - who has been dating The Dukes of Hazzard: The Beginning actor Adam Shulman for three years - thinks it would be a 'shame' if people did not think they could fall for one another as soon as they meet.