M A I N N E W S
Food inflation soars to 9.9%
Hits 4-month high as effects of hike in diesel rates start showing
Sanjeev Sharma/TNS
New Delhi, August 11
Food inflation climbed up to 9.9 per cent for the week ending July 30, its highest level since mid March as the effect of the hike in diesel prices used for transportation of food items started to kick in.
Prices of onions, fruits, vegetables and protein-based items went up during the week and food inflation which had started to settle down spiked up.
This has created a tricky situation for the RBI to handle the interest rate situation as the US downgrade and subsequent global turmoil coupled with slowing down of industrial growth and demand for consumer goods like cars was leading to some expectations that the interest rate hike cycle would abate.
However, now with inflation going up instead of moderating, the RBI will have little choice but to continue with its anti-inflationary stance and either hold rates or hike them marginally. The RBI has hiked interest rates 11 times since March last year. The pressure on interest rates can be gauged from the fact that the SBI further increased deposit rates by 50 basis points.
The government had hiked prices of diesel by Rs 3 in end of June which will slowly get reflected in the inflation index. Trucks used to ferry fruits, vegetables and other food items use diesel and since transport costs have gone up, prices of these items are also going up. Coupled with that is the issue of supply bottlenecks and increasing purchasing power of the people who are now demanding a better mix of items in their meals.
A survey released today by the RBI on households shows that inflationary expectations of a year ahead has only gone up from 12.7 per cent to 12.9 per cent.
Interestingly, industry chamber FICCI today argued for rate cuts by the RBI to mitigate the impact of global economic turmoil following the downgrading of the US debt by S&P.
It has argued that with the S&P downgrade of the US and the possibility of a double dip-recession accompanied with anemic growth in Europe and Japan, global commodity prices have weakened considerably. This will reduce pressure on domestic prices and bring down inflation at much faster pace and earlier than what has been anticipated so far.
The trend of declining commodity prices (excluding metals like gold and silver) since the rating downgrade also augurs well for a RBI rate cut, FICCI feels. The Reuters-Jefferies CRB commodities index is now at an 8 month low on global growth fears, perfect foil for a RBI rate cut.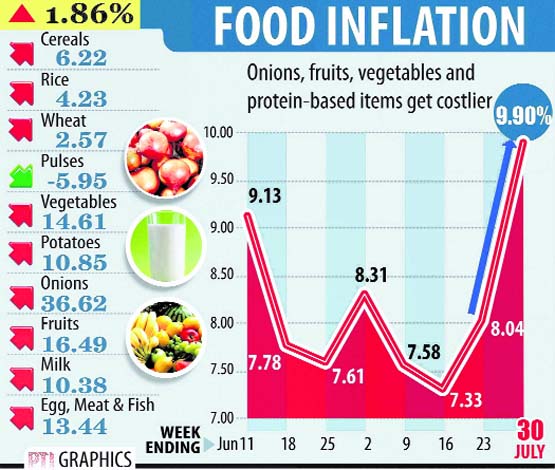 Sensex falls 71 pts
Mumbai: The BSE Sensex fell 71 points on Thursday to 17,059.40 on investor worries that a sharp rise in food inflation may lead to further hike in interest rates, amid reports that earnings of blue-chips will be hit by high borrowing costs.

FM on US downgrade
New Delhi: Worried over the fallout of the US downgrade on Indian economy, Finance Minster Pranab Mukherjee on Thursday said he could make a statement on the issue in the current session of Parliament.